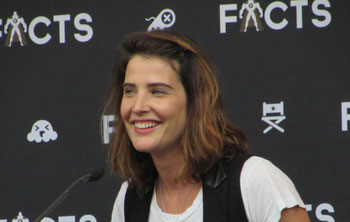 This week Marvel's "Avengers: Infinity War" hit the cinemas worldwide. I haven't had the chance to see it yet, but as you may know I'm a big fan of superhero movies, so I will go and see it soon. In this 19th movie in the Marvel Cinematic Universe, we will see familiar "Avengers"- faces like: Robert Downey Jr. (as Iron Man), Chris Hemsworth (as Thor), Mark Ruffalo (as Hulk), Chris Evans (as Captain America), Samuel L. Jackson (as Nick Fury) and so on. Besides there will also be some heroes from other movies in the Marvel Cinematic Universe, like: Benedict Cumberbatch (as Dr. Strange), Tom Holland (as Spiderman), Chadwick Boseman (as Black Panther), Chris Pratt (as Star-Lord) and many more. And then there is Cobie Smulders! She has played the role of Maria Hill in multiple MCU-movies. A few weeks ago, Cobie was one of the guest stars at F.A.C.T.S. in Ghent, Belgium. I attended both of her Q&A's and got her autograph. I was really looking forward to meeting her, because I also love "How I Met Your Mother". In this sitcom Cobie played the role of Robin Scherbatsky for 9 years. 
Who is Cobie Smulders?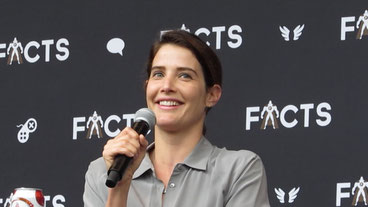 Cobie was born Jacoba Francisca Maria Smulders at April 3th, 1982 in Vancouver (Canada), to a Dutch father and an English mother. When she was young, Cobie wanted to be a marine biologist or a doctor. After appearing in several school productions at high school, she decided to explore acting. After she was scouted by a modelling agency, Cobie traveled the world doing modelling jobs. She did, however, manage to keep attending high school and she graduated in 2000 (with honors might I add). After graduating high school Cobie kept on doing modelling jobs all over the world. Apparently, Cobie did not really like being a model and this feeling almost kept her from pursuing acting. She was tired of walking into a room and being judged, but physically, but at one point she discovered that there was more to acting than just the physical appearance. She noticed that you actually had to perform and do a good job to get a role. Her first real role was a guest role in the TV show "Jeremiah" in 2002. After that she had some guest roles in other TV shows and she even had a recurring role in "The L Word" (as Leigh Ostin). Her first real permanent TV role came when she was cast as Juliet Drol in the ABC's "Veritas: The Quest". Unfortunately, the show only ran for one season. Not long after the cancellation of "Veritas", she got her big break, when she was cast as Robin Scherbatsky in the immensely popular sitcom "How I Met Your Mother". She played this role for 9 years and her star kept rising ever since. In 2012 she was cast for the Marvel movie "The Avengers" and the rest is history. Cobie also played in other movies/series, like: "Safe Haven" (as Jo), "Delivery Man" (as Emma), Netflix' "Friends from College" (as Lisa Turner) and "Jack Reacher"(as Turner).
Cobie Smulders at FACTS
Earlier I already mentioned that I got Cobie's autograph, but more about that later. At day one of FACTS I already planned to go and see Cobie Smulders' Q&A, because I prefer to see a how the actor/actress is in real life before I decide to go and meet them. Sometimes when a guest is announced for a convention, you almost know for certain that you want to get an autograph or a photo op. But it also happens that when you are actually at the convention, the actor or actress is not who you thought he/she would be. It does not happen very often, but it does happen. For this edition, FACTS had so many amazing guests and since there really is no fairy slipping an envelope under my pillow every week, I had to make choices. Just a few minutes into Cobie's Q&A, I knew for sure I wanted to meet her. Let's just say it like this: Cobie Smulders rocks! She was so nice. There wasn't a dull moment in the Q&A. Cobie kept on interacting with the audience and she was just so funny. At her Sunday Q&A she seemed even more relaxed. When a phone in the audience rang and she asked the guy who it was. When he said it was his dad, she said that he should call him back, because it could be important. She even said it probably was more important than what she had to say. She also mentioned that she had the ongoing dream to become a mermaid. At one point a girl in the audience got the microphone and she said exactly what everyone in the audience seemed to think. The girl mentioned that she had attended a lot of Q&A's at a lot of conventions and that this one was such a relief from the standard Q&A's. And it was! One tip: if you ever get the chance to attend a Q&A/panel with Cobie Smulders just go! I will guarantee you, you will have a great time! Curious? Check out the videos below!
Meeting Cobie Smulders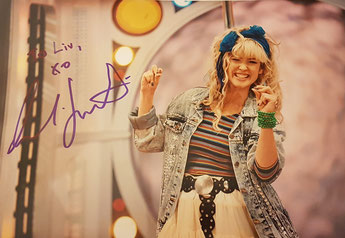 After the Q&A on Saturday, I knew I had to meet Cobie. So, after my photo op with Isaac Hempstead-Wright I got my game face on and made my move. It was late in the afternoon and the queue was not that long. I convinced Tristan to go with me and we got in line. Normally I would be very nervous, but while we were waiting we saw Isaac put on a Deadpool mask and get into Joe Keery's queue, while Joe was on a small break. He just queued with some girls, who were waiting for Joe. When Joe came back he walked up to him with the girls and shook his hand. After some talking, he suddenly pulled of his mask and surprised Joe. It was very funny to watch from a distance and before I knew it was almost my turn. While I was waiting for the girls in front of me to get the autograph I asked the guy next to Cobie if Tristan could make some pictures and that was allowed. All the nerves that I had, just vanished when that Cobie was as fun behind her table as she was at her Q&A. She took her time and was joking around with the girls in front of me. And then it was my turn and I must say that it was one of the best meets I ever had. Cobie instantly started talking and asked me how my day was. I told her about how I almost melted in the Q&A area (because of the glass ceiling) and she told me that she noticed everyone was sweating and red headed. I also asked her about her favorite pizza and she described a pizza with caramelized onions (yum), but she said she will eat every pizza you will put in front of her. Now you might think: Why would you ask her about her favorite pizza? Well, I read somewhere that she is a huge lover of pizza and so am I!
To sum it all up, I once again have those three words for you: Cobie Smulders rocks!