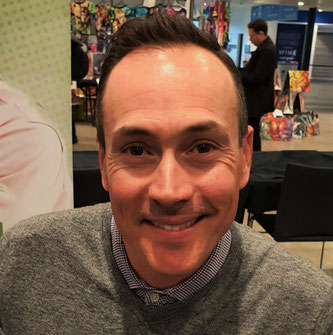 Last March we went on a trip to England...and in the week we came back our world turned upside down and we have been staying home ever since (because of the Covid-19 pandemic). We were back just in time and now we look back on that trip as a gift, because it was most probably the first and last holiday for 2020. One of the reasons we went to the UK was Comic Con Liverpool by Monopoly events. A few years ago, I made a trip to Manchester and visited For The Love of Horror, which was also hosted by Monopoly Events and I had an amazing time. So I was very eager to go to another one of their events and the best of all was that we would be able to go there together. We became even more excited (excited is an understatement) when we took a look at the guestlist. What to think of Elijah Wood, David Harbour, Ryan Hurst, Melissa Joan Hart and Lori Petty (just to name a few). I got even more excited when I saw Comic Con Liverpool would be the host of an "American Pie" reunion, with Thomas Ian Nicholas (Kevin), Chris Owen (Sherman), Shannon Elizabeth (Nadia) and Chris Klein (Oz). Unfortunately Tara Reid (Vicky) had to cancel, but nonetheless it was a great line-up. We would be at Comic Con Liverpool on Friday and Saturday, but the guests of "American Pie" would not be attending on Friday. On Saturday we had a jam packed day and I knew it was going to be difficult to catch one of them, but we were going to try. Before we went to England, I had been watching the four original "American Pie" movies and especially because Chris Klein would be a guest I also watched "Day Zero" and "Election". I always loved Chris Klein's character Oz in the "American Pie" movies, so I really wanted to meet him...
Who is Chris Klein?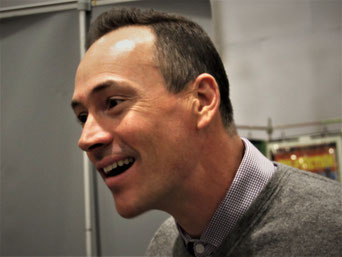 Frederick Christopher Klein was born on the Mrch 14, 1979 in Hinsdale, Illinois, where he grew up as the second child (he has two siblings) of Fred and Terese Klein. His father Fred was an engineer and his mother Terese was a kindergarten teacher. When he was a child, Chris made his stage debut singing a song in a community theatre at the Sheraton Convention Centre, Chicago.When Chris was 13 years old, the Klein Family moved to Omaha, Nebraska, where he went to Millard West High School. He was a real sportsman and played on the corner-back and line-back position in the American Football Team. Chris also was a part of the Swimming Team. But there was more then sports to Klein, because during his time on Millard West High School, Chris made a big impression on his teachers and fellow students in a school production of "West Side Story". His biggest dream was to become a professional actor and what he did not know was: his dream was about to become true.... While he was in his senior year, Chris got the chance of a lifetime, when director Alexander Payne was scouting high schools and other locations in Omaha for his upcoming film "Election" (1999).
When Payne visited West Millard, the principal of the school told him about Chris Klein and his work on the school's production of "West Side Story" and other stage and musical productions. The principal thought it was best to let Payne and Klein meet 'by chance' (at least that would be what it looked like). Chris' teacher (who was a part of the plan) sent Chris over to bring some papers and Payne would pass him in the hallway. The next day Alexander Payne called Chris and asked him over for a cold reading (a reading of the script, without preparations). At that point Klein had no idea, what he was reading for and he later said that he if he had known it was for "Election", he would have screwed it up. Luckily he did a good job and landed the role of Paul Metzler in the movie.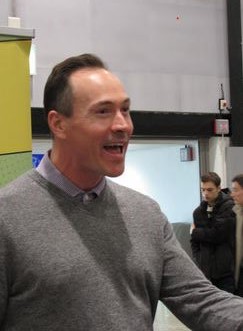 "Election" was Chris' first professional acting job and also his first time on a movie set. It all was like a dream come true and he kept on living the dream when he landed the role of Christopher Ostreicher (Oz) in the 1999 movie "American Pie". Thecomedy about Jim, Kevin, Finch, Oz and Stiffler getting ready for 'the next step' in their senior year became a big success and over the years it spawned three sequels. Klein reprised his role as Oz in "American Pie 2" (2001) and "American Reunion" (2012). Unfortunately he had to pass on "American Wedding" (2003), due to conflicting schedules. Over the last two decades, Chris has starred alongside names like Mel Gibson, Madeleine Stowe, Elijah Wood,and more. But most of you will know him as the not so smart, but very lovable jock Oz in the "American Pie" movies. If you want to know more about Chris, check out the article about the "American Pie" guests of Liverpool, we wrote. You can also check his IMDb page.
Chris Klein at Comic Con Liverpool
At Comic Con Liverpool, we had a very tight schedule. I really wanted to see the "American Pie" reunion panel, but unfortunately some of the photo ops ran late. But these things happen at comic cons and there is nothing you can do about this. That did not make it less painful, because I also did not have the time to go for a photo op. But in the last hour, our luck changed and we did have some time to make some pictures and talk to some people. We also made some pictures in the area, where the "American Pie" actors were signing. While I was taking the pictures, I noticed that Chris was so nice to the people that came to see him. He really took the time for a talk and he was constantly smiling and joking around. We also walked over to him and had a little talk and he also had something to say on the video you can see below. He was very spontaneous and seemed to have an awesome time, talking to everyone. If you ever have the chance to meet him, just do it. He is awesome!