Since we write a lot about comic cons, we decided to give you some more insight in details of our comic con visits! We'll show you more of the places we stayed, the places we ate and all our other adventures. Today we're talking about the look for a convention! When I go to a comic con I always think about which make-up to wear and which outfit. Especially when I have a lot of photo ops planned! And for Bloody Night Con, I had a photo op with every guest so I definitely thought about the make-up I wanted to wear!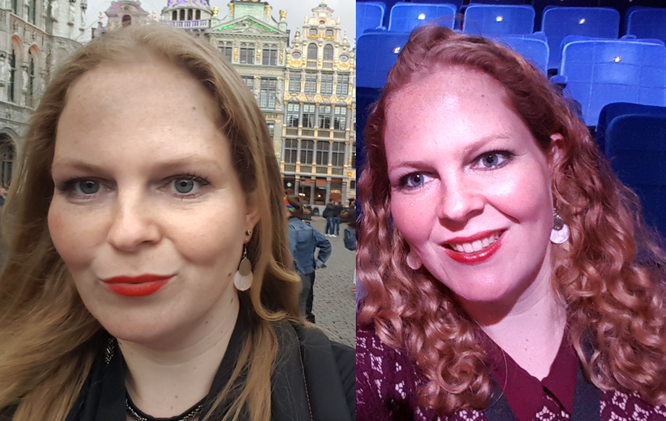 Saturday
You can see the Saturday and Sunday look at the top of this post! So, let's talk about the make-up I used for Saturday. But let's start with the hair. Saturday, I straightened my hair. It usually takes me about 1,5 hour to do it and I use a John Beerens straightener. I must say, that I wear less make-up in Spring and Summer than in during Winter and Autumn.. On Saturday I started with a primer from Smashbox (I always use this primer. I love it). It's the photo finish foundation primer.
The eyes
I use a different primer for my eye shadow: the anti-aging eye shadow primer potion from Urban Decay. I totally love Urban Decay and especially their Naked palettes. Do you own any of them? As eye shadow  I used the Naked 3 from Urban Decay. For this day, I combined the colors mugshot and dust. I'm very happy with this Urban Decay Naked 3 palette. I think the quality is very good. The eye shadow stays on my eyes all day long. By the end of the day, it's still looking the same as in the morning. I used a mascara from Make Up Forever. I've only started using this mascara a few weeks ago. But it has become my favorite one! It looks good all day and doesn't clutter my eyelashes. I also used the Mac pro longwear eyeliner! 
Contouring
I also decided to do some contouring. I used a contouring palette I bought just a few weeks ago: the Bellapiere contour & highlight pro palette. It worked well, but I still like my regular one (Smashbox) better. 
Lips
I always scrub my lips. Every morning. And every evening. Today, I used the Sara Happ brown sugar lip scrub. I love it! The Sara Happ lip scrubs are the best I've ever tried. It really makes my lips feel soft. After the lipp scrub, I applied my lipstick: Chanel rouge allure ink: 148: Libéré. I love how the red color looks on my lips. I feels great: not sticky and not dry. There is a disadvantage though:  It gives off easily and you have to touch it up multiple times a day. 
Sunday
As you can see on the picture at the top of this post, I had my hair curly on Sunday. This how my hair naturally falls. I do use the casual styling spray from Toni & Guy. I started again with the primer from Smashbox! 
Eyes
I used a few products I also used on Saturday: 
- the anti-aging eye shadow primer potion from Urban Decay
- Make Up Forever mascara
- Mac pro longwear eyeliner
I chose different eye shadow. On Sunday I used the Smokey palette, also from Urban Decay. I chose to combine the colors smolder and dirtysweet. 
Contouring
When I contour, I always use y contouring palette from Smashbox. I bought it during my holiday in Poland at Sephora and I really love it. I do prefer this one over the Bellapiere palette. I feel like this one has more effect and stays in place longer. 
Lips
I picked another lip scrub to use on Sunday: the Lush Sugar Plum Fairy. It's a nice and sweet lipscrub. Though I prefer the one I own from Sara Happ. I feel more result after using that one: My lips are softer. As a lipstick I used the L'oréal Infalible grenadine color. I love that this lipstick stays in place all day! I do sometimes use the white balm a few more times to keep my lips hydrated. 
How about you?
How about you? What's you favorite make-up to wear to a comic con? And which one did you like better my Saturday picture or the Sunday picture? Let me know in the comments!