Well hello! It's that time of the month again: we are unboxing the new Lootcrate. The theme of the May crate was "Guardians" and we already got some spoilers about the franchises in the crate, like: Star Wars, Guardians of the Galaxy: vol. 2 and The Goonies.  These are three of my favorite franchises, so I couldn't wait for this month's crate to arrive.  Are you curious what was in it? Check out our unboxing video! Below the video are some screenshots from the video, with a short explanation. Enjoy!
The Video
Rocket & Groot Q-Fig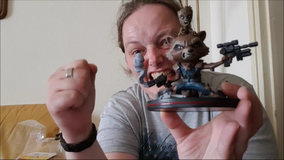 The first item is this awesome Q-Fig of Guardians of the Galaxy Vol. 2. It depicts Rocket Raccoon and Baby Groot on his back. The details of the figure are so cool. The figure is licensed by Marvel and made by QMx (Quantum Mechanix). I love it!
Exclusive Goonies Shirt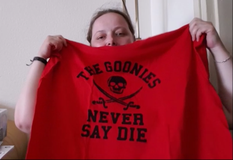 As you may know I love The Goonies (who doesn't) and I am so happy with the second item in the crate: an exclusive The Goonies Shirt. It features the trademark motto: "Goonies never say die", along with the  Goonies skull.  The shirt is licensed by WB and made by Ripple Junction. Aaargh!
Star Wars Adult Coloring Book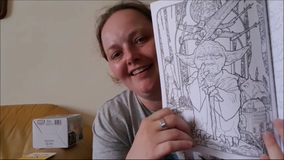 Whoop whoop! You can never go bad with a Star Wars item and I really like this one. It's an adult coloring book. I really like coloring it has a calming influence. The book comes with a set of pencils and a sharpener. It is licensed by Lucas Film and made by Disney Publishing. Can't wait to get started with this one.
Destiny Patches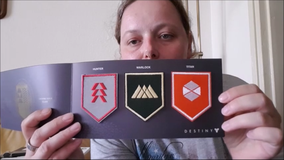 I have to be honest, I did not know exactly what Destiny was. I knew it was a game and when I googled it later that day it came to me. Destiny is a first person shooter suitable for Playstation and XBox. Lootcrate gives us some pretty cool patches to sow on yor clothes or bag. But you can also frame them. Licensed by Bungie, made by Jack Nadel.
LootPin: Avatar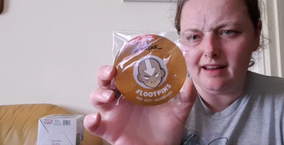 I have ever watched Avatar: The Last Airbender, butI do like this pin. Especially because it glows in the dark and that is a Lootcrate first!. The pin depicts Aang and according to the booklet you won't find it anywhere else. It is licensed by Nickelodeon and made by Lootcrate. This month's bonusloot consists of two Guardians comics: "Groot #1" and "Rocket #1".
The Crate: Destiny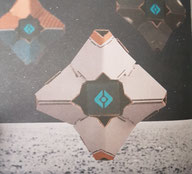 This month's crate turns into a Ghost. In Destiny Ghosts are in-game collectibles and if you follow the instructions on the crate it turns into one of them. Pretty awesome right?
I did not have the time to make it, so I made a photo of the picture in the booklet.
Well that's it for this month's crate. I loved it and I can't wait for next month's crate. Do you want to know what's my favorite item? Checkout the video. What is your favorite item?
Check out the website of Lootcrate for more info!