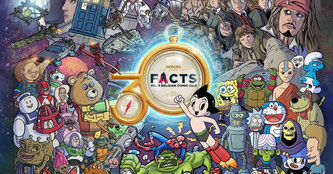 Next weekend (in the weekend of October 21-22) it's time for the FACTS Fall Edition 2023! The first edition of FACTS was held in 1993 in a pub called "Het Tonneke" in Ghent (Belgium), which means that 2023 is the year of their 30th anniversary. We already celebrated 30 years of FACTS at the Spring edition in April and we keep on partying at the Fall edition. As you may know, we always write at least one article about the movie- and TV guests of FACTS in the weeks leading up to the con, which we will also do for this edition. We will start out with a special spotlight article about one of the guests of this edition, because oh... my... God... they really outdid themselves with this guest. None other than James McAvoy is making his way to Flanders Expo for FACTS and we are so excited about that (and yes, that IS an understatement! In this article we will tell you everything about the man behind so many amazing roles: Scottish actor James McAvoy.
Who is James McAvoy?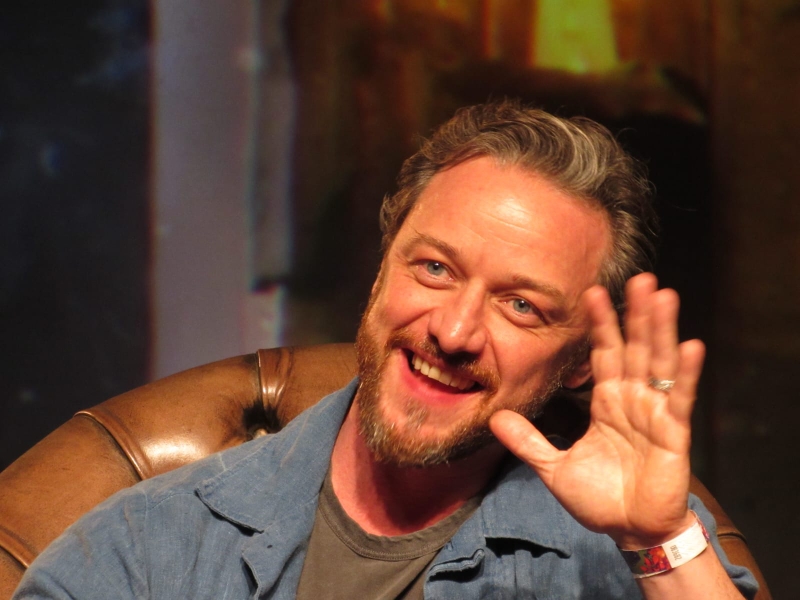 James McAvoy was born on 21 April 1979 in Glasgow (Scotland, UK). His father (James McAvoy Sr.) was a bus driver/builder and his mother (Elizabeth Johnston) was a psychiatric nurse. James' parents separated when he was 7 years old and eventually divorced when he was 11 years old. James' mother Elizabeth suffered from health problems all of her life (she passed away in 2018) and she had to make a though decision, after the divorce. Because of her health issues, she decided it would be best if James and his sister Joy, would go and live with their grandparents Jim and Mary Johnstone (her parents). They lived in the nearby area of Drumchapel. While the children were brought up by their grandparents, their mother was never far away and lived with them from time to time. James and his little sister, did not have any contact with their father anymore, but James Sr. did have another son from a later relationship, called Donald (which makes him James and Joy's half-brother.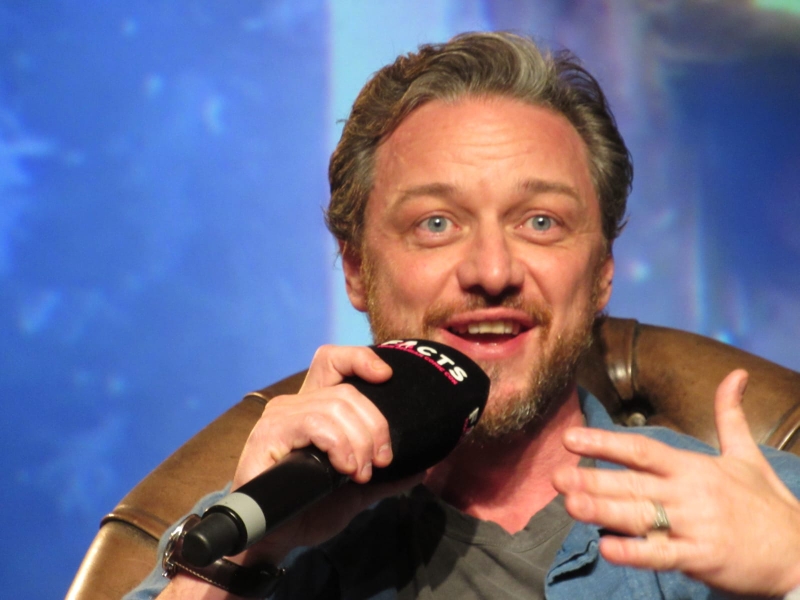 James attended St. Thomas Aquina Secondary school in Glasgow. During his time in school, he briefly considered joining priesthood. James was brought up as a Roman Catholic (although his granddad was a Protestant) and he went to church regularly. James saw joining priesthood as a way to explore the world through missionary work. Then he discovered that the church did not allow the use of contraceptives (especially in Africa). It was the time of the AIDS epidemic and he saw that people were dying of sickness and starvation. This made him rethink his decision to join and he decided he did not want to represent an institution like that. During his time at school James worked in a bakery to earn his keep. When he was 16 years old, actor and director David Hayman came to his school to talk about Shakespeare. During this talk, Hayman was heckled by the class bullies and James felt bad for him. At the end of the talk, he went to Hayman and thanked him for the interesting talk. He also told Hayman that he would love 'to make the tea or sweep the floors' in one of his future projects. James' grandparents taught him to take opportunities, give something a try and see what happens. His straightforwardness paid off, because some months later, David Hayman gave him a call to come in for an audition for his new movie "Near Room". James auditioned for the role of Kevin and got it. James recalls that he was very nervous at his first day of shooting. He was 16 years old and never thought about becoming an actor, he never even did Drama at school. He sat down next to Andy Serkis, who asked him how to do a Glaswegian accent. Talking about this with Serkis actually calmed James' nerves. In later interviews, he stated that he thought his performance in the movie was rubbish, but it did pique his interest in acting.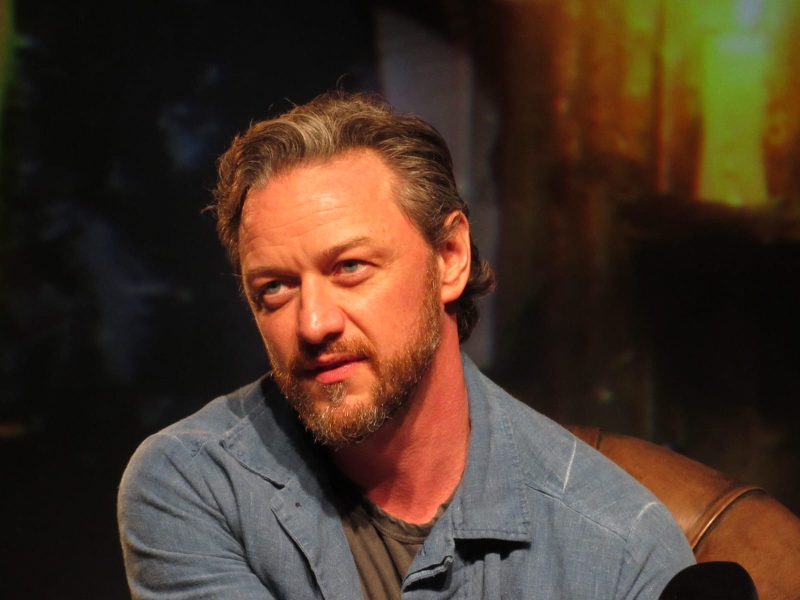 After secondary school James worked as an apprentice in Sainsbury's Bakery and he considered joining the Royal British Navy at one point. In fact, it was either joining the Navy or drama school. He only applied for and Drama school and luckily, he got in! James went on to study acting at the Royal Scottish Academy of Music and Drama (now the Royal Scottish Academy). In 2000, he graduated with a Bachelor of Arts and he moved to London. During his years on the RSAMD, he had some minor roles in TV series and movies. In 2000 he played the role of Sergeant Bloxham in the tv drama "Lorna Doone". His early work made him come to the attention of Tom Hanks, when he cast James for a small role in the Spielberg/Hanks production "Band of Brothers". A 10-episode mini-series about the true story of the Easy Company (the 506th Parachute Infantry Regiment of the U.S. Army) during WWII. McAvoy played the role of James W. Miller in episode 4 called "Replacements". In the years that followed, James kept on working steadily to make a name for himself. He played roles in movies and TV shows, like: "White Teeth" (2002, as Josh Malfen), "Children of Doom" (2003, as Leto Artreides II), "Bright Young Things" (2003, as Simon Balcaim), "Early Doors" (2003, as Liam), "State of Play" (2003, as Liam) and "Wimbledon" (2004, as Carl Colt). In 2004, he got his breakthrough role as Steve in the critically acclaimed comedy series "Shameless". He played the role for 13 episodes in 2004-2005. In the show Steve is the love interest of Fiona, played by Anne Marie Duff. They had great chemistry on screen and also in real life, because they became a couple and married in 2006. In 2010, their son Brendan was born and although they divorced in 2016, they still remain good friends.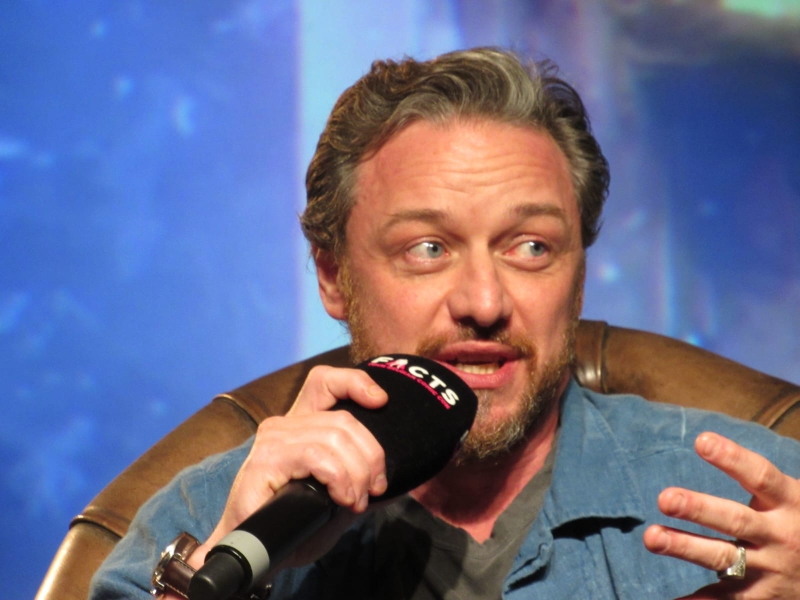 In 2005, he got the role of Mr. Tumnus in the movie "The Chronicles of Narnia: The Lion, The Witch and The Wardrobe", based on the 1950s novel by C.S. Lewis. Mr. Tumnus is a faun, which is half human and half goat. James later recalls that he spent weeks in an American studio, with infrared cameras everywhere around him. He spent most of this time walking around the room in different manners, to find out how the special effects crew could best place the goat legs over his lower body, without it looking fake. They tried all kind of shoes like high heels, stiletto heels and even stilts to see what was the best way of walking. It turned out that it would be best, if James walked on the tip of his toes with his knees bent and hunching over. To become Mr. Tumnus, James had to endure 3 hours in the make-up department. On his head he had a prosthetic piece with radio controllable ears, as well as horns, nose pieces, forehead pieces, wig and much more. His legs were turned into goats legs by CGI, to achieve this, he had to wear furry hot pants and green tights. James also recalls, that the American producers were fine with him doing his Scottish accent for Mr. Tumnus. James, however, had read the books of C.S. Lewis and he knew that the characters had an English speech pattern, so he decided he had to take on the English accent. It was very important to him, to portray the faun as accurate as possible.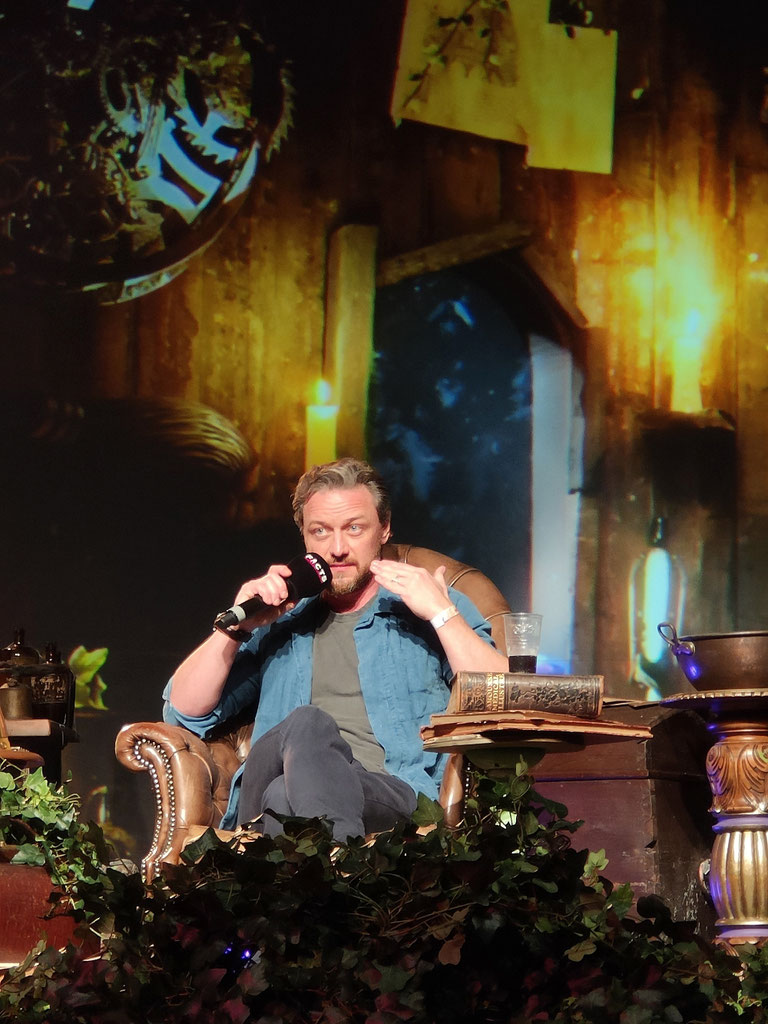 In 2006, James played the role of Dr. Nicholas Garrigan in the Academy Award winning movie "The Last King of Scotland". The movie is based on the brutal events during the regime of Ugandan dictator Idi Amin (played by Forest Whitaker. James plays the role of the Scottish physician Nicholas Garrigan, who becomes the personal physician of Amin. Although the movie is based on true events, James' character is fictional. The year 2007, was the year of James' definitive international breakthrough, with his role as Robbie Turner in the 2007 movie "Atonement", also starring Keira Knightley. The movie (based on the Ian McEwan novel of the same name) was a big success and won a lot of prices. James' star rose to fame and in 2008, he starred in the action thriller "Wanted" (also starring Angelina Jolie and Morgan Freeman). James plays the role of Wesley, an average frustrated office worker, who finds out that his father was a world-renowned assassin and that he shares these abilities. The movie was a box office success. In 2009, James starred as Valentin in the historical drama "The Last Station", together with his wife (at that moment) Ann Marie Duff. The movie also stars Christopher Plummer and Helen Mirren and tells the story of writer Leo Tolstoy's last months. In 2010, McAvoy plays alongside Robin Wright, Evan Rachel Wood and Kevin Kline in the historical drama "The Conspirator". The movie revolves around the process of Mary Surratt, the only woman who was convicted (and brought to dead) for her role in the conspiracy around the murder of Abraham Lincoln. James plays the role of Mary's lawyer Frederick Aiken. 
2011, is a fruitful year for the Scottish actor as he does two voice roles, in: "Gnomeo and Juliet" (as Gnomeo) and "Arthur Christmas" (as Arthur). Besides these voice roles, he also sets his first steps in the world of Marvel, when he is cast as a young Charles Xavier (Professor X) in "X-Men: First Class". The movie is the first installment of a franchise that serves as a prequel to the original trilogy. In the movie (that concentrates on the relationship of X and Magneto), James stars alongside other big names, like: Michael Fassbender, Jennifer Lawrence, Nicholas Hoult.  In 2013, James plays the role of Simon in "Trance", directed by English director Danny Boyle (also known for movies like "Trainspotting", "T2 Trainspotting", "Slumdog Millionaire" and "127 Hours", to name a few). In 2013, James played the (amazing) role of Bruce in the psychological black comedy thriller "Filth", which is based on Irvine Welsh's novel with the same name. In 2014, James stars in a collective of three movies, telling the same story from different angles. The project is called "The Disappearance of Eleanor Rigby" and tells the story of Connor Ludlow (James McAvoy) and Eleanor Rigby (Jessica Chastain), a young married couple that lives in New York. The project consists of three titles, that follow the same time line from a different perspective. In "The Disappearance of Eleanor Rigby: Him", looks at the story from Connor's perspective. "The Disappearance of Eleanor Rigby: Her" tells the story from Eleanor's point of view. The third one "The Disappearance of Eleanor Rigby: Them" edits Him and Her into a linear story. "Them" was released first, followed by "Him" and "Her" in a double feature (a month later). Also in 2014, James reprises his role as Charles Xavier in "X-Men: Days of Future Past", which brilliantly brings the cast of the original trilogy together with the cast from the prequels.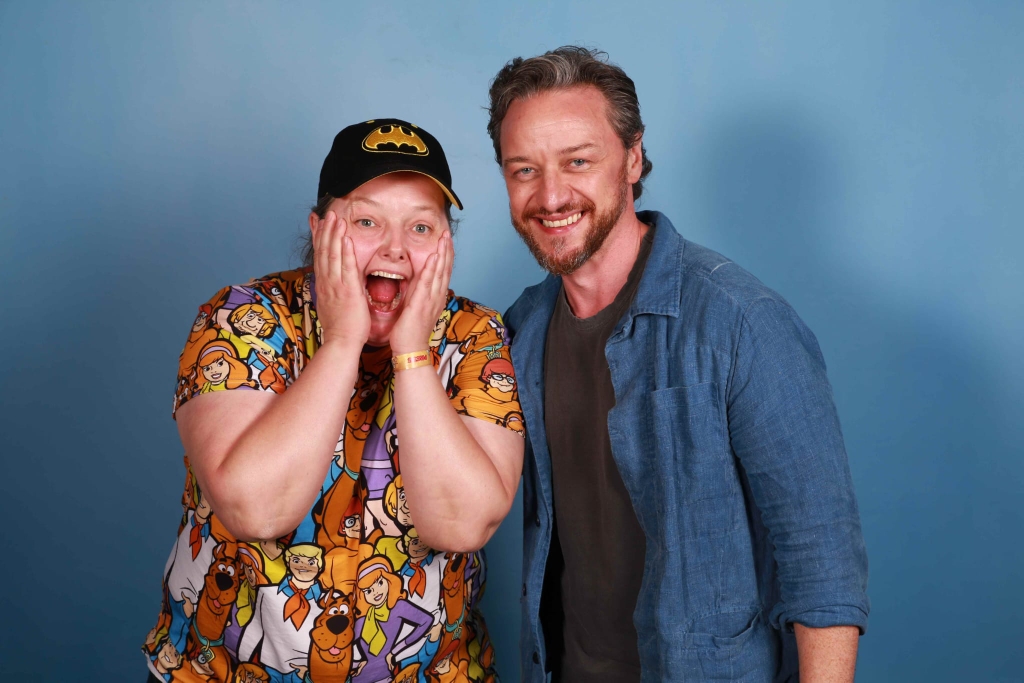 In 2016, the third prequel movie: "X-Men: Apocalypse" hits the theatres. Also in 2016, James stars in the M. Night Shyamalan movie "Split" as Kevin Wendell Crumb, a man who suffers from dissociative identity disorder and kidnaps three teenage girls. The movie serves as a sequel to the 2000 movie "Unbreakable". James' portrayal of Crumb gets critical acclaim and is seen by many as one of the best roles of his career. In 2017, James stars alongside Charlize Theron and John Goodman in the action thriller "Atomic Blonde". In 2018, James returns to voice acting, when he reprises the role of Gnomeo in "Sherlock Gnomes" and voices Hazel in "Watership Down". In 2019, he reprised the role of Crumb in the movie "Glass", which brings together the casts of the previous two movies and concludes the "Unbreakable" trilogy. Also in 2019, he reprises his role as Charles Xavier for the fourth time in "X-Men: Dark Phoenix" and he plays the role of adult Bill Denbrough in the movie "It: Chapter Two". Over the last years, James has voiced the character Dream in the podcast series "The Sandman" (adapted from Neil Gaiman's critically acclaimed comic book series). He also played the recurring role of Lord Asriel in the TV series "His Dark Materials". 
In my opinion, James McAvoy is one of the best and most versatile actors of his generation and I am so excited that he will be a guest at FACTS Fall 2023!
James McAvoy will be attending FACTS on SATURDAY ONLY!
Prices:
Photo Op: €110
Autograph: €100