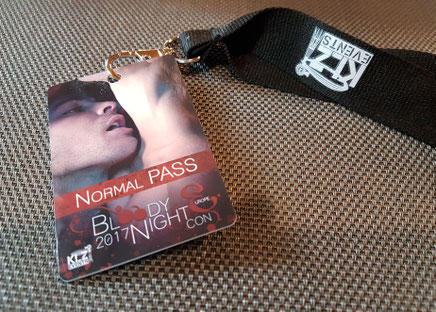 Last month (May 20th&21st) we went to Bloody Night Con (by KLZ Events) at The Egg in Brussels (Belgium). BNC is a fan convention that focuses on The Vampire Diaries and its spin off The Orignals. We had been looking forward to it for months and that was mainly because of the amazing guest list. In the weeks leading up to the convention there were three cancellations: Ian Somerhalder (Damon Salvatore, TVD), Daniel Gillies (Elijah Mikaelson, TVD & TO) and Claire Holt (Rebekah Mikaelson, TVD & TO). Of course we were very disappointed , but the girls from KLZ made sure there were some great substitutions. Because of this the final guestlist was the following: Paul Wesley (Stefan Salvatore, TVD & TO), Kat Graham (Bonnie Bennett, TVD), Michael Malarkey (Enzo  St. John, TVD), Riley Voelkel (Freya Mikaelson, TO), Nate Buzolic (Kol Mikaelson, TVD & TO; Saturday only) and Charles Michael Davis (Marcel Gerard, TVD & TO; Sunday only). In the upcoming weeks we will tell you all about the convention, the guests, the meetings (photo& autographs), the panels and of course the fun we had. Today we will talk about (and show you some of the highlights of) the panel of Kat Graham and Michael Malarkey.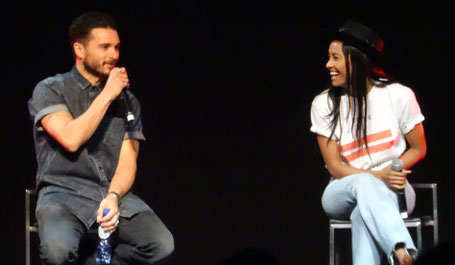 Kat Graham plays the role of the powerful witch Bonnie Bennett in The Vampire Diaries. Bonnie is one of the main characters from the show and has been from the pilot episode until the end. Michael Malarkey plays the role of vampire Enzo St. John from season 5 until season 8. SPOILER: In the last seasons Enzo finds the love of his life in Bonnie END OF SPOILER. 
Well let's talk about the panel: Just like their on screen characters, Kat and Michael have an amazing chemistry. They seem to be good friends. At one point Kat talked about how she used to ask Michael for clothing advice. They also talked about how much fun they had while working together (their favorite scene was the scene where they were trying to kill each other). Kat talked about how she loved working with Malarkey, because she thinks he was the most talented actor on the show. She also talked about saying goodbye to Bonnie. She says she really has the feeling she  put everything she had in this role and during the span of the show she always put Bonnie first. That is why she doesn't feel sad about saying goodbye to the show and her character. When someone asked them which role they would like to play in The Vampire Diaries, Michael said he would play Bonnie. Want to know why and see what else they talked about? Check out the video below...