Today we have an amazing interview for you! Kelly Lentjes is 34 years old, married and mother of 2 children. She's addicted to everything horror related. In her daily life, she provides care for ill people. She's also very busy with SFX and works as an actor during Autumn for Halloween Nightmares. 
We're very happy to publish an interview with Kelly! We see her at conventions regularly and she's so talented. We asked her about how she started with SFX and she told us it started in October 2015. 2 Friends asked her if she wanted to try to do their makeup for them for the yearly Halloween party. She didn't have any SFX make-up experience. But she looked around on the internet (Youtube!) and she decided to give it a try. She noticed she loved making scary creations!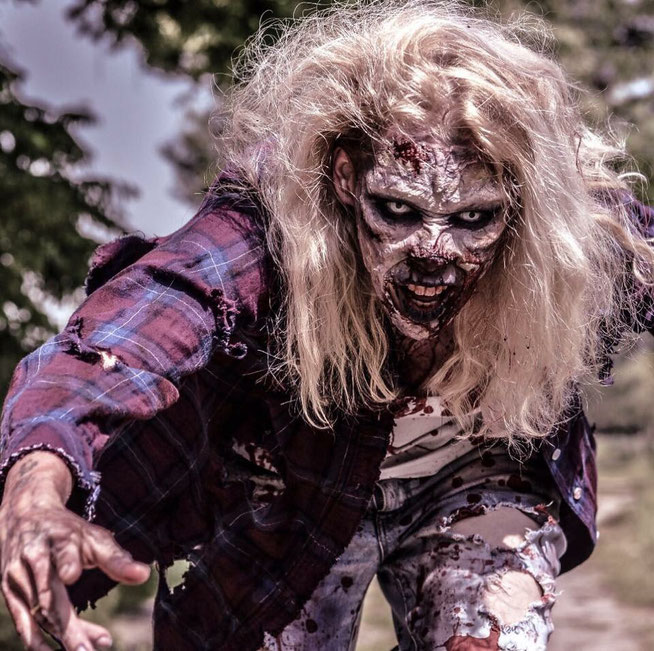 Let's talk about horror!
What is your personal top 3 of horror characters and why? 
John Kramer a.k.a. Jigsaw (Tobin Bell) is my most favorite horror character because I understand his way of thinking. So many people take their lives for granted and ruin their lives with wrong choices they make. No matter how hard life can be, you are the one who decides which path you walk. John is a genius brain. How on earth do you think of such sick traps ?!
Freddy Krueger (Robert Englund), because I just find it genius that he attacks his victims in their dreams. I also like his dark humor and I actually really like him very much! Freddy has a special place in my heart because my love for horror movies started with A Nightmare on Elmstreet.
 Jason (Friday the 13th), because he simply can not be killed, he keeps coming back. Actually, I find him very sad because he was bullied as a child.
What is your personal top 5 of horror movies and why?
Saw, because those films are genius. The idea that the traps would actually work is really sick.
A Nightmare on Elm Street, because the idea that Freddy catches you in your dream is so well thought of. And because of the humor.
Hostel, because I think it's pretty realistic, it could really happen. The idea that you are sold online to rich people and then be tortured to death ... brrrr.
The Human Centipede,  also because it is so sick. Who thinks of sewing people together to make a human centipede ?!
Insidious, because of the constructive tension and shock effects in things that you don't see coming. 
What are your favorite horror events and who would you like to meet at these events?
My favorite horror events are Weekend of Hell and House Of Horrors. (former Weekend of Hell) Unfortunately, you have no horror conventions here in the Netherlands. As far as I am concerned, that should change! I really hope that I can meet Tobin Bell, he is at the top of my list. I would also like to meet Mark Patton (from A Nightmare on Elmstreet).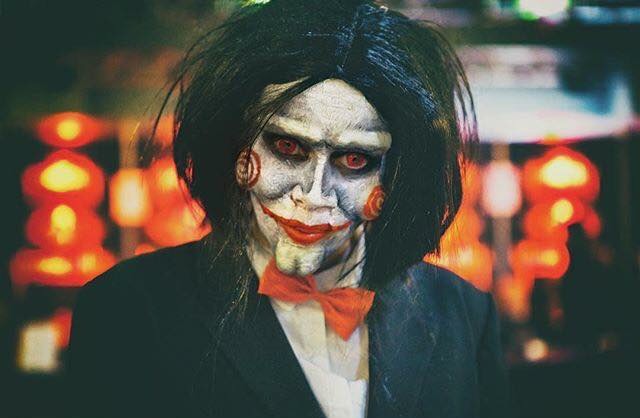 Comic cons
Do you often go to comic cons and what are your best memories? 
Unfortunately, I don't go often enough. I would like to go more often, but the busy family life doesn't always allow it. I always go to conventions where horror sister Anne and my brother-from-another-mother Jan Bartels and his A Nightmare On Elmstreet screen-used movie props are going. I actually only have nice memories of the conventions I've been to, but some of them really stand out. 
The most beautiful memory is of course my meeting with Robert Englund.  I will tell you more about that later. In November 2016 I was at Weekend of Hell and met Ken Kirzinger (Freddy vs Jason) and had a photo shoot with him. That was extremely exciting! Ken turned out to be a big friendly giant (That man is big!) He likes to have contact with fans. When I went to his signing table after the photo shoot, he laughed a lot about our genial photo together with table companion Sharni Vinson (Friday the 13th). The people at the print service had also printed the failed photo, and Sharni gave Ken the idea to draw his Jason mask over his face on the picture. That moment was so funny! 
My meeting with Sean Patrick Flanery (SAW 3D, Boondock Saints) is also a moment to never be forgotten. He's a very nice and funny man, (and handsome, haha).  I even got a big hug from him. It was really nice that he reacted so enthusiastically to my Freddy face. He grabbed my head and shouted 'I wanna lick your face!' Then you don't know where to look! 
Another great memory was when his Boondock Saint's colleague David Della Rocco saw me in my Freddy cosplay and called me to ask if he could take a picture of me. That really felt like the opposite world! I was so flabbergasted that I did not have the idea to ask him for a selfie, and I still regret it! But at least I will not forget the memory of our chat.
SFX
What is the best thing you did in SFX and what would you really like to do?
I am never really 100% satisfied, but one of my most beautiful creations so far is the zombie look I did for a photo shoot in the Belgian ghost town of Doel. At the beginning of last year, I took a prosthesis workshop at Schminkengrime and made a mold for my Dutch Fredette prosthesis, which I am very pleased with. In 2018 I will be present at the Halloween Event The Villains as a scare-actor and I'm going to do the makeup of actors there. If someone had told me this a few years ago I would have never believed that! This year, I'll also be working with a German movie producer and SFX artist! I'm really excited about that. At House of Horrors, I met Tom Savini. He complimented me on my Freddy prosthesis. When I told him that I'm a self-taught artist who's just trying out some things, he told me not to stop! It was such an honor that he said that. 
Who is your example in SFX?
My biggest examples are Omar Sfreddo and Eric Fox. And Ellimacs on youtube!
The Dutch Fredette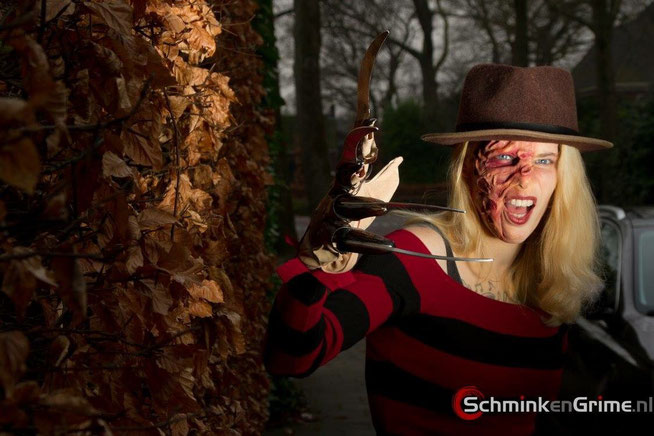 Can you tell about your love for the character Freddy Krueger and your alter ego the Dutch Fredette?
As an 11-year-old girl, A Nightmare on Elmstreet was one of the first horror movies I saw. I have never been scared of it, and yet A Nightmare on Elmstreet was one of the few films that stuck with me that way. I immediately thought Freddy was great & funny and not scary at all. I was secretly hoping that I would dream about him at night hahaha. 20 years later I was asked by my buddy Jan if I would like to go to conventions with him and his A Nightmare on Elmstreet collection. Of course, I didn't even have to think about that! After the first convention, the idea arose to go into Freddy's look, just as a joke and because that seemed so nice for our stand. Last year during Weekend of Hell I would go for 1 day in Freddy look, which I actually thought was very scary. What if people would laugh at me or not like it? However, my concerns turned out to be in vain. We only received very nice comments from visitors and were often asked for photos. I liked it so much that I decided to always go that way, and that is how The Dutch Fredette came into existence. Now, I also do a cosplay of Billy (Saw). And I was asked to come to a cinema as the Dutch Fredette on October 13th last year. That was great! 
There is already a Freddy vs. Jason, but who would you like to see as an opponent to Freddy?
I would love to see Freddy and Jigsaw battle! 
Have you ever met Robert Englund?
Last year at Comic Con Amsterdam I had the honor to meet Robert Englund. I found it very exciting to meet him, and was almost too afraid to say anything. He turned out to be very nice and very friendly to his fans. I had my Jason mask signed by him, and I did a photo shoot with him. He also recorded a voice message for me on my phone, which I still have as a ringtone. When I met Robert for the second time, I let him sign my tattoo. 
Want to know more?
We would like to thank Kelly for this amazing interview. She's so talented and we always love seeing her as the Dutch Fredette or Billy. Do you want to know more about Kelly, follow her or book her as the Dutch Fredette for an event? Check out her Facebookpage and give it a like ;).