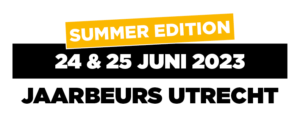 In just a few weeks time (24-25 June 2023), Heroes Dutch Comic Con will be back at the Jaarbeurshallen in Utrecht for their first Summer Edition (instead of the Spring Edition). Last edition took place in November of last year, so you can imagine that we are experiencing some DCC withdrawal symptoms. Ever since their first edition in 2015, Heroes Dutch Comic Con is amongst our favorite comic cons and we have been present on every edition ever since. In this article we will tell you all about two movie- and TV guest that have been announced for this edition.
Cobie Smulders (Cancelled)
Unfortunately Cobie Smulders had to cancel her appearance, due to personal circumstances. We hope to meet her again in the future. 
We are so excited about this first guest, because one of us already met her and that was one of the best meets ever! She is mostly known for her role as Robin in the immensely popular "How I Met Your Mother". She is also known for her role as Maria Hill in the MCU movies and she will also play this role in the upcoming Disney+ series "Secret Invasion". Canadian actress Cobie Smulders will be one of the guests at Heroes Dutch Comic Con!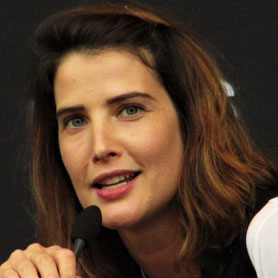 Cobie Smulders was born Jacoba Francisca Maria Smulders at April 3th, 1982 in Vancouver (Canada). Her father (dentist/teacher Dr. Bert Smulders) is Dutch and he immigrated to Canada in 1969. The name of Cobie's British biological mother is unknown. Her parents probably divorced at some point and her father married Cobie's stepmom Lura Osborn-Smulders. For as far as we know, Cobie has a total of 7 siblings (4 sisters and 3 brothers).
When she was a young girl, Cobie wanted to become a marine biologist or a doctor. Later in her career, she stated she wanted to be a mermaid (as a back up plan for if acting did not work out), so she hasn't given up her love for the ocean yet. When Cobie was in high school (Lord Byng Secondary School), she changed her mind after appearing in several school productions. This made her decide she wanted to explore acting. Cobie was scouted by a modelling agency and traveled the world doing modelling jobs. Besides this she did manage to keep attending high school. Cobie graduated in 2000 (with honors might I add) and kept on doing modelling jobs all over the world. Apparently, Cobie did not really like being a model (in fact she stated she kind of hated it) and this almost kept her from pursuing acting. At one point in her modelling career she was tired of walking into a room and being judged physically.  Later on she discovered that there was more to acting than just the physical appearance. In acting, you actually had to perform and do a good job to get a role. And as an actress she would have a voice...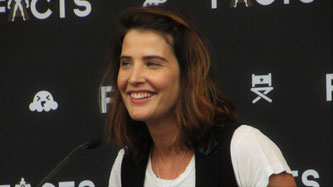 Her first real acting role was a guest role in the sci-fi TV show "Jeremiah" in 2002. After that she had some guest roles in other TV shows. Her first real regular TV role came when she was cast as Juliet Drol in ABC's "Veritas: The Quest". Unfortunately, the show only ran for one season. She appeared in several TV shows (like a recurring role in "The L Word") and her hard work paid off. Not long after the cancellation of "Veritas", Cobie got her big break. In 2005, she was cast as Robin Scherbatsky in the series "How I Met Your Mother". This sitcom revolves around the (romantic) adventures of Ted Mosby and his best friends: Marshall, Lilly, Barney and Robin. The show became legen .....wait for it....dary and Cobie played the role of Robin for 9 years. During these HIMYM years, her star kept rising and in 2012 the second big step in her career came. Cobie entered the Marvel Cinematic Universe, when she was cast as S.H.I.E.L.D. agent Maria Hill, for the movie "The Avengers".  As preparation for this role, Cobie was trained by a trainer of the Los Angeles S.W.A.T. team.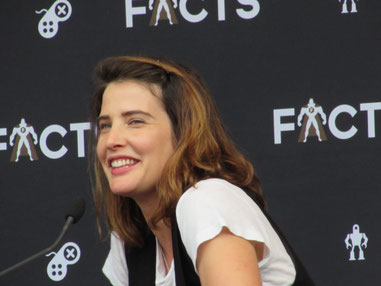 This was just the beginning of her journey through the Marvel Cinematic Universe. Cobie reprised the role of Maria Hill in: "Agents of S.H.I.E.L.D. (3 episodes from 2013-2015),  "Captain America: The Winter Soldier" (2014), "Avengers S.T.A.T.I.O.N." (2014), "Avengers: Age of Ultron" (2015), "Avengers: Infinity War" (2018), "Avengers: Endgame" (2019), "Spider-Man: Far From Home" (2019), "What if...?" (2021, voice) and the upcoming Marvel series "Secret Invasion", which will be streaming on Disney+ from 21 June 2023. Besides these roles in the movies and series of the MCU, Cobie played in some other projects over the last decade. In 2013, Cobie played the role of Emma in the comedy movie "Delivery Man".In 2014 she voiced Wonder Woman in "The Lego Movie".In 2016, Cobie starred alongside Tom Cruise, as Turner, in the action movie "Jack Reacher: Never Go Back". In 2017, Cobie played the recurring role of Mother in the Netflix show "A Series of Unfortunate Events" and from 2017 until 2019 she played the role of Lisa Turner, in "Friends from College", also on Netflix. In 2019, she reprised her voice work as Wnder Woman in "The Lego Movie 2" and she got her own show as private investigator Dex Parios in "Stumptown" (still can't believe this never got a second season). In 2022, Cobie took a stroll down memory lane, when she reprised her role as Robin in the season finale of the HIMYM spin-off "How I Met Your Father". Also in 2022, she played the role of Sione Bates in "High School".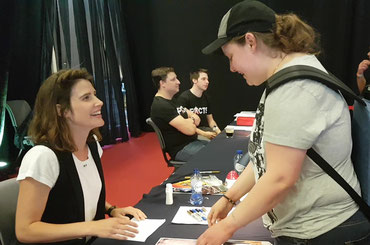 Our experience:
I (Liv) already met Cobie Smulders at FACTS Spring Edition 2018 and I can honestly say that it was one of the best meets ever. Cobie is so nice and down to earth and her panels are the best. At FACTS 2018, I got an autograph, but when I et the chance to meet her again in a few weeks, I will not hesitate. Check out the videos of Cobie's panels here.
Cobie Smulders will be a guest at Heroes Dutch Comic Con Summer Edition 2023 on both days.
Autograph: €60
Selfie: €60
Selfie and autograph: €110
Photo op: €70
Meet & Greet: €200
Combo Meet&Greet & Entrance ticket: €179,50
Q&A: Free (with entrance ticket)
Times:
Signing Sessions (both days): 
10.45 - 11.15  /  14.00 - 15.00  /  16.00 - 17.00  /  17.30 - 18.00
Photobooth (both days): 
12.00 - 13.00 (Photobooth 1)   /   15.00 - 16.00 (Photobooth 2)
Meet & Greet (both days):
10.15 - 11.15 
Q&A (both days):
11.15 - 12.00 (Main Stage)
Danny Trejo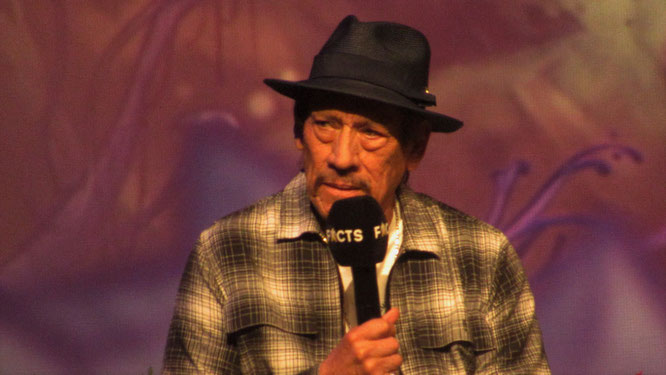 If you have never seen this guest in a movie before, that means you don not watch enough movies! The man has a whopping amount of 400+ credits on his name and a lot more coming up. Most of you will know him as (Uncle) Machete, he is known for being one of the nicest guys in Hollywood and now he is coming to Utrecht. We are talking about the one and only Mister Danny Trejo!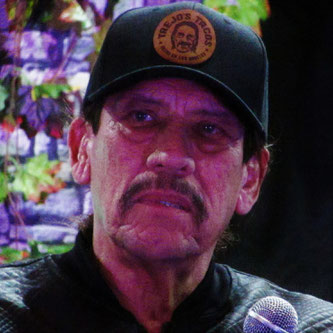 Daniel Trejo was born on 16 May 1944, in Echo Park, Los Angeles (California, United States) to Mexican-American parents Delores Rivera King and Dionisio 'Dan' Trejo. Danny was the result of an affair his mother had with his father, while her husband was fighting in WO II. Danny did not have a very happy childhood. His father was abusive and kept him way from his mother, after Danny strained his arm under her care. Besides this, Danny grew up in Echo Park, which was one of the toughest neighborhoods of Los Angeles at that time. His uncle, a drug addict and armed robber, mentored Danny. This resulted in the fact that Danny was addicted to drugs from a very young age and he spent his time in and out of jail. In the aftermath of a prison riot (facing the death penalty), Trejo turned to God and swore to turn his life around, if God would give him another chance. Well Mr. Trejo got his second chance and he kept his promise ever since.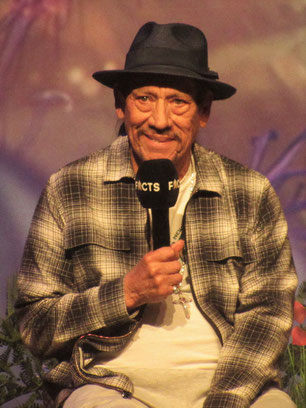 In the late 60s, Trejo started boxing as a part of his rehabilitation program in the prison. Trejo became quite good at it and won lightweight and welterweight titles in the prison circuit. When he came out of prison, he was ready to make some changes in his life. He joined Alcoholics Anonymous as well as Narcotics Anonymous and from that day on he is clean of drugs. Danny also spends a lot of time helping troubled youth, not to make the same faults as he did. Trejo also got involved in the entertainment industry, when he became a counselor on sets. In 1985, through a twist of fate, he ended up on the set of the movie "Runaway Train" starring Eric Roberts and Jon Voight. Danny got a job as a boxing trainer for Eric Roberts and when Andrei Konchalovski (the director of the movie) saw him box, he offered Danny a role as an extra in the movie (he played Roberts' opponent). In the years following, Danny got supporting roles, playing the bad guy, because of his very distinctive rugged look and posture. In 1987, Danny got his first billed role, when he played See Veer in "Penitentiary III". Now, more than 35 years later, the man is still going strong and over the years he worked together with great names like Tarantino and Rodriguez. Fun Fact: Danny Trejo and Robert Rodriguez are second cousins, but they were not aware of that, until they started filming "Desperado".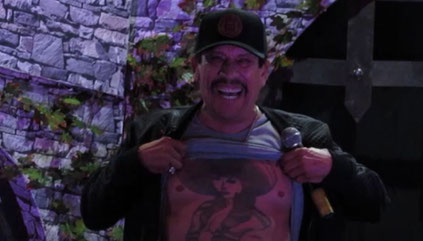 Let's just sum up, some of Trejo's more notable roles and you will know why the man has gained a cult status. Over the last 35 years, Trejo starred in movies, like: "Marked for Death" (1990, as Hector), Baywatch (1991-1992, as Chulo), "Blood in, Blood out" (1993, as Geronimo), "Mi Vida Loca" (1993) as Frank, "Desperado" (1995, as Navajas), "Heat" (1995, as Trejo), "From Dusk 'till Dawn" (1996, as Razor Charlie), "Anaconda" (1997, as Poacher), "Con Air" (1996, as Johnny-23), "Six Days, Seven Nights" (1998, as Pierce), "Animal Factory" (2000, as Vito), "Reindeer Games" (2000, as Jumpy), "Spy Kids" (2001, as Machete), "Spy Kids 2: Island of Lost Dreams" (2002, as Machete), "xXx" (2002, El Jefe), "Spy Kids 3: Game Over" (2003, Machete), "Once Upon a Time in Mexico" (2003, as Cucuy), "The Devil's Rejects" (2005, as Rondo), "Planet Terror" (2007, as Machete), "Halloween" (2007, as Ismael Cruz), "Fanboys" (2009, as The Chief), "Breaking Bad" (2009-2010, as Tortuga), "Machete" (2010, as Machete), "Spy Kids 4: All The Time in The World" (2011, as Machete), "Bad Ass" (2012, as Frank), "Sons of Anarchy" (2011-2012, as Romeo Parada), "Machete Kills" (2013, as Machete), "Dead in Tombstone" (2013, as Guerrero), "Bad Ass 2: Bad Asses" (2014, as Frank), "From Dusk 'Till Dawn: The Series" (2015, as The Regulator), Dead Again In Tombstone" (2017, as Guerrero), "The Adventures of Puss in Boots" (2015-2018, voice of El Moco), "3 Below: Tales of Arcadia" (2019, voice of Tronos), "Dora and The Lost City of Gold (2019, voice of Boots), "3 From Hell" (2019, as Rondo), "The Flash"(2017-2019, as Breacher), The SpongeBob Movie: Sponge On The Run" (2020, voice of El Diablo), "American Gods" (2021, as Mr. World), "Fast & Furious Spy Racers" (2021, voice of Tuco), "The Book of Boba Fett" (2022, as Rancor Keeper), "Minions: The Rise of Gru" (2022, voice of Stronghold) and "The Muppets Mayhem" (2023, as Danny Trejo). 
Besides this pretty impressive career, Danny is also quite the entrepreneur. He has a multimillion dollar chain of Taco restaurants, called Trejo's Tacos. And then there is Trejo's Donuts, also located in Los Angeles. Let's hope he brings some of his donuts to Utrecht!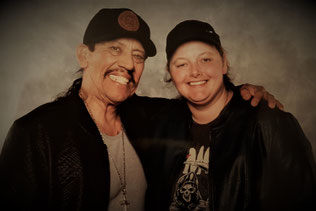 Our experience: 
I (Liv) met Mr. Trejo at For the Love of Horror 2018 in Manchester, England, United Kingdom. I attended his panel and went for a photo op. Later on we both attended Danny Trejo's panels at Weekend of Hell Fall Edition 2019 and at FACTS Spring Edition 2022. We can only say good things about this lovely man. Sure he looks like a tough guy and he probably is, but he is so nice towards his fans. Also, go and see his panel, because with the stories he tells, you will hang on his every word. Besides this you never know, what to expect. In Manchester, Danny called Robert Rodriguez, to tell him that the people want "Machete in Space". Of course he got the voicemail, because while it was afternoon in England, it was in the middle of the night in the US. But Danny did not give up and told the audience to et Robert know that we want "Machete in Space". Everybody (including me)  shouted as hard as they could. You can find the video on our YouTube channel or by clicking this link.
Danny Trejo will be a guest at Heroes Dutch Comic Con Summer Edition 2023 on both days.
Autograph: €50
Selfie: €50
Selfie and autograph: €90
Photo op: €60
Q&A: Free (with entrance ticket)
Times:
Signing Sessions (both days): 
11.15 - 12.00  /  13.15 - 14.00  /  15.00 - 16.00  /  16.45 - 18.00
Photobooth (both days): 
10.15 - 11.15 (Photobooth 2)   /   14.00 - 15.00 (Photobooth 1)
Q&A (both days):
16.00 - 16.45 (Main Stage)
Well that's it for the first part of the guestlist! Keep an eye on our socials and website for the second part that will come soon. Also, check out the website of Dutch Comic Con for tickets.