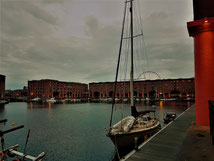 By now, you must know that we are visiting Comic Con Liverpool in the weekend of 6-8 March 2020. We already wrote two articles about the guests of Comic Con Liverpool and you can read them, by clicking the tiles, below this article. Today it's time for part three and we will talk about one of the reunions at Comic Con Liverpool: the "Sabrina The Teenage Witch" reunion. Are you curious who will be at the reunion? Just keep on reading. First let us tell you something about the show itself.
Sabrina the Teenage Witch
"Sabrina the Teenage Witch" was an American sitcom that ran for 163 episodes between 1996 and 2003. It starred Melissa Joan Hart in the title role and is based on a comic book with the same name. The story revolves around Sabrina Spellman (Melissa Joan Hart). She lives in Westbridge (Massachusetts) with her two aunts Zelda (Beth Broderick) and Hilda (Caroline Rhea) and talking cat Salem (voice of Nick Bakay). Yes, that's right...their talking cat. When Sabrina turns 16 years old, she finds out that she is the daughter of a witch (her father) and a mortal woman, which makes her a witch too. When Sabrina turns 16 years old she gets her powers and her aunts tell her she is a witch. At first she doesn't believe them, but when she talks to her father through a magical book this all changes. She also finds out that her aunts are actually 500 years old and their black cat Salem is actually a witch that tried to take over the world and then turned into a cat. As a new witch, Sabrina has to learn how to balance her powers and often her spells go wrong. Fortunately she has her aunts to guide her. Let's get back to Comic Con Liverpool and we will tell you, who will be attending the convention...
Melissa Joan Hart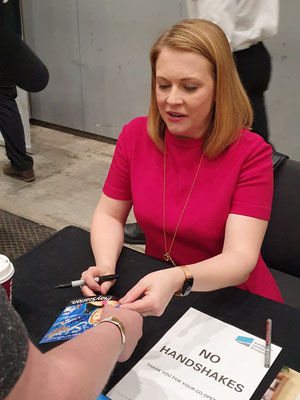 Yes! That's right! Sabrina herself will make her way to Comic Con Liverpool for her first ever UK appearance...
Melissa Joan Hart was born in Smithtown New York on 18 April 1976 as the daughter of Paula and William Hart. She is the oldest of 8 children. After her, her parents had four more children (Trisha, Elizabeth, Brian and Emily). In the early nineties her parents divorced and her mother remarried Leslie Gilliams. Out of this marriage Melissa got three more half sisters (Alexandra, Samantha and Mackenzie).
Melissa grew up in Sayville (New York) and at the age of four it became clear that Melissa was born to be an actress, when she appeared in a TV commercial for Splashy (a bathtub doll). This paved the way for her to appear in other TV commercials and before she turned 5 years old, Melissa had already appeared in 25 commercials. In 1985 and 1986 Melissa started to appear on TV shows, like: "Kane & Abel", "The Equalizer" and "Another World". Also in 1986 she had her first starring role in the Emmy Award winning movie "Christmas Snow".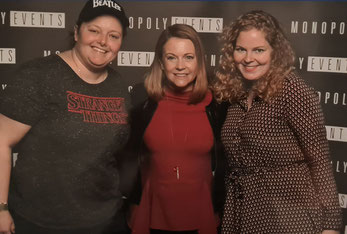 In 1991, Melissa made her definitive breakthrough when she landed a lead role on Nickelodeon's "Clarissa Explains it All". Melissa played the title role of Clarissa, a teenage girl in every day situations that explains the motivations of the actions of people. The show ran for 5 seasons (1991-1994) and there were a total of 65 episodes. The show was quite successful and Melissa won awards for her role as Clarissa. She also recorded two albums as Clarissa Darling ("This is what 'Na Na' means" and "Peter and the Wolf").After the ending of the show in 1994, Hart enrolled at the New York University. But in 1996 she earned the title role in the TV movie "Sabrina the Teenage Witch". It was a movie adaptation of Archie Comic Book series "Sabrina the Teenage Witch". In the movie, Melissa plays the role of Sabrina Sawyer. She is sent to Riverdale (the fictional town which is the center of all the Archie Comics) to live with her aunts. When she turns 16, Sabrina finds out she is a witch and has to come to terms with this as well as with being a teenager in love with the most popular guy in high school. The movie can be seen as the unofficial pilot of the TV series that followed later that year on ABC. The surname of Sabrina was changed into Spellman and Caroline Rhea and Beth Broderick replaced Charlene Fernetz and Sherry Miller as Sabrina's aunts. The show was a huge success and it ran for 7 seasons (containing 163 episodes) from 1996 until 2003.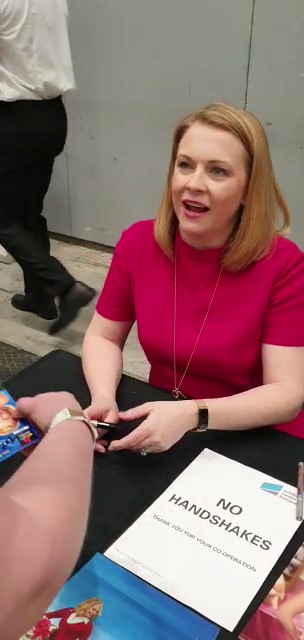 But besides the TV show there were a whole lot of other projects that were part of the "Sabrina" franchise, including cameos as Sabrina Spellman in TV shows like: "Clueless", "Boy Meets World" "You Wish", "Teen Angel" and "TGIF". There were TV movies, like: "Sabrina goes to Rome" and "Sabrina Down Under" as well as a videogame ("Sabrina the Teenage Witch: Spellbound")  and an animated series where Melissa was the voice of the aunts.During the 7 season run of "Sabrina", Melissa also did other projects. In 1998, she had a small role in the movie "Can't Hardly Wait" and she also played the role of Mary Stuartson in the TV movie "Silencing Mary". In 1999 she played alongside Adrian Grenier (known for "Entourage") in the movie "Drive Me Crazy". Hart and Grenier also appeared in Britney Spears' music video for the song "Crazy", which was one of the songs of the soundtrack. Also in 1999, Hart made her directorial debut when she directed an episode of "So Weird" (her sister Emily guest starred in this episode). In 2001 and 2002, Hart also directed an episode of Nickelodeon's "Taina" as well as 6 episodes of "Sabrina the Teenage Witch". She also did some voice work and kept on acting in (TV) movies, like: "The Specials"(2000) and "Rent Control" (2003). In 2003, Melissa married musician Mark Wilkerson. They are still together at the moment and have three sons: Mason (2006), Brayson (2008) and Tucker (2012).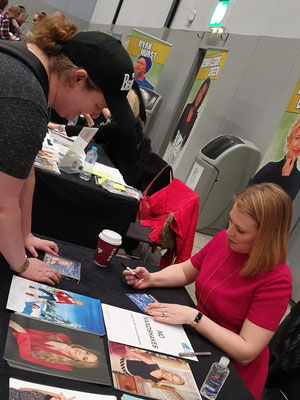 After "Sabrina" Melissa kept on doing what she does best and in 2005 she directed her first (short) movie, called:   "Mute" (starring her sister Emily). From 2005 until 2010 Melissa had a steady flow of work. Next to directing and voice work she acted in (TV) movies and TV shows, like: "Jesus, Mary and Joey" (2005; as Jackie), "Dirt Bags" (2006; as Kate), "Criminal Minds: Special Victims Unit" (2007; as Sarah, a school teacher accused of rape), "Whispers and Lies" (2008; as Jill Roperson) and Nine Dead (2010; as Kelley). In 2009 she also contested in "Dancing with the Stars", where she was eliminated after 6 episodes (out of 10). 2010 is the year that Melissa returned to weekly television with her role as Mel Burke in ABC's "Melissa and Joey". The show revolves around Mel, who takes in her sister's children. To help her she hires male nanny Joe (played by Joey Lawrence, known from "Blossom"). The show ran for 4 seasons (104 episodes) from 2010-2015. In 2011 she returns to her role as Sabrina in the short video: "Sabrina & Salem: Together Again".. Melissa started acting at the age of four and she has acted ever since. Most recently she appeared alongside Sean Astin (known for "The Goonies", "Lord of the Rings" and "Stranger Things") in the Netflix comedy series "No Good Nick". It is also rumored that Melissa will be returning to her role as Clarissa Darling in a reboot of the show that started it all back in the 90s.
 Melissa Joan Hart will be appearing at Comic Con Liverpool on Saturday and Sunday.
Autograph: £52 (€61)
Photo Op: £62 (€73)
Reunion Photo Op: £103 (€122)
Caroline Rhea (Cancelled)
Where would Sabrina be without her aunts...spoiler alert: they will both be joining her at Comic Con Liverpool! But let's start with aunt Hilda, played by Caroline Rhea. Just like Melissa Joan Hart (and Beth Broderick), Caroline Rhea will be making her first UK appearance at Comic Con Liverpool. But who is Caroline Rhea?
Caroline Gilchrist Rhea was born on April 13th 1964 in Quebec, Canada. In the late eighties, Caroline moved to New York City (US) to pursue a career in (stand up) comedy and study comedy at the New School for Social Research. She began performing stand up gigs in New York clubs and venues, like Catch a Rising Star and The Comedy Strip. Rhea quickly gained a reputation in the New York stand up comedy scene. She also made some televised appearances on "MTV's Half-Hour Comedy Hour","The Comedy Strip Live" and "Caroline's Comedy Hour". 
Rhea decided to move to Hollywood (Los Angeles) to pursue a career in acting. Back in 1986 she already made her acting debut as an extra on the movie "Meatballs III: Summer Job". In 1990 she had a role in Louis C.K.'s short film "Caesar's Salad" and she played herself in the TV movie "Fools for Love". She made her Hollywood debut in 1995 as Carol Green in the NBC sitcom "Pride & Joy" . Unfortunately the series was cancelled after only one season (6 episodes). Her breakthrough in Hollywood came with her role as aunt Hilda in "Sabrina the Teenage Witch", which ran from 1996 to 2003. During this time she also did other  projects, like the revival of the American game show "Hollywood Squares" and she appeared in movies and TV shows, like: "The Nanny", "Man on the Moon" (1999), "Ready to Rumble" (2000), "Mom's Got a Date with a Vampire" (2000) and more. In 2001, she was a contestant one the celebrity version of "Who wants to be a millionaire?" and she left with $125000. This money went to charity. From 2002 until 2003, she also hosted her own variety talk show called "The Caroline Rhea Show", which can be seen as a successor to the "Rosie O'Donnell Show". After "Sabrina" ended in 2003, Caroline played alongside fellow comedian Tim Allen in "Christmas with the Kranks" (2004). She also hosted the first three seasons of "The Biggest Loser", a reality show that revolves around people that want to lose large amounts of weight. After three seasons she stopped hosting the show, because it was not what she wanted. She did not like the competitive and ruthless atmosphere the show promoted. In 2005 Caroline was one of the contestants in "Celebrity Poker Showdown". In 2005/2006 she had a recurring role in Disney's "The Suite Life of Zack & Cody" as Ilsa Schiklegoobermeyger-Vanhelsingdekeppeloogerhoffer
In 2007, Caroline landed a steady job in voicing Linda Flynn-Fletcher (Phineas' mom) in Disney's "Phineas and Ferb". She voiced Linda for 124 episodes (2007-2015). In 2008, she played the role of Noleta Nethercott In "Sordid Lives: The Series". In the decade that followed Caroline Rhea kept on appearing on TV movies, series and as herself in multiple TV shows. She also stayed true to her passion for stand up comedy and has been doing stand up shows ever since she started out in New York. In 2019 she landed a leading role in Disney's "Sydney to the Max", which is currently going into its second season. The show revolves around 12 year old Sydney (Ruth Righi), who lives under one roof with her father Max (Ian Reed Kesler) and her grandmother Judy (Caroline Rhea). The show is set in the present, but there are flashbacks to the 90s (the time when Max was Sydney's age).
Caroline Rhea will be appearing at Comic Con Liverpool on Saturday and Sunday.
Autograph: £31,50 (€37,50)
Photo Op: £31,50 (€37,50)
Reunion Photo Op: £103 (€122)
Beth Broderick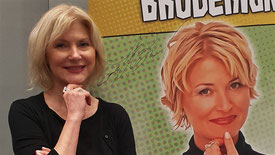 Oh yeah! I already mentioned that both aunts will be joining Sabrina in this reunion. This means that Beth Broderick (who played Aunt Zelda) will also be making her first UK appearance at Comic Con Liverpool. 
Elizabeth Alice Broderick was born on February 24th 1959 in Falmouth, Kentucky. Beth grew up in Huntington Beach (California). As a child she was already interested in theatre. After her graduation from High School, Beth enrolled at the American Academy of Arts in Pasadena. She got her degree when she was 18 years old and moved to New York to pursue an acting career. In the early 80s she made her on screen debut as Beth Alison Broderick. Her first role was the role of Ella in the adult movie "In Love"(1983). In 1985 she changes her name to Norris O'Neal and appears as Caz Wilcox in another adult movie called "Bordello: House of the Rising Sun". A year later she goes mainstream, but holds on to her name of Norris O'Neal for her role as Fran in the comedy "Sex Appeal". She also played in movies, like: "If Looks Could Kill" (1986), "Young Nurses in Love" (1987), "Slammer Girls" (1987) and "Student Affairs" (1987). These movies were (financially) unsuccessful, but in 1988 Beth got her first role of significance in the romantic sports drama "Stealing Home", starring Mark "NCIS" Harmon and Jodie Foster. In the meantime she had taken on her real name again. In the years following she makes appearances in episodes of TV shows, like: "Married with Children" and "Murphy Brown". In 1990 she plays a starring role of 6 episodes in the TV series "Glory Days" (as Sheila Jackson). Also in 1990, Beth plays a small role in the star studded comedy "The Bonfire of the Vanities". In this movie starring Tom Hanks, Bruce Willis and Melanie Griffith (among others), Broderick plays the role of Caroline Heftshank. Before she lands the role of Aunt Zelda in "Sabrina the Teenage Witch" in 1997, Broderick keeps on playing in both movies and TV shows, with a recurring role in "Hearts Afire" (36 episodes) and a leading role in "The 5 Mrs. Buchanans" (17 episodes).
And then in 2006/2007 Beth lands the role we all know her best from: Aunt Zelda in "Sabrina the Teenage Witch". Beth played this role in 141 episodes from 1997-2002. She left the show after the 6th season, because she had the idea that her role was no longer adding to the story (with Sabrina leaving for college). In 2000 Broderick appears in the horror comedy "Psycho Beach Party". In the years following the end of "Sabrina", Broderick appears in episodes of "CSI: Miami", "CSI: Crime Scene Investigation", "Castle", "E.R." and "Supernatural". From 2005 to 2008, Beth has a minor recurring role in the immensely popular TV series: "Lost". She plays the role of Diane Janssen, the mother of Kate Austen. In 2013 she has a minor recurring role in "Under the Dome", a show that revolves around a town that gets covered by a invisible force field. In 2014 she appears in 2 episodes of Melissa Joan Hart's new show "Melissa & Joey". Over the last couple of years, Broderick mainly focuses on (Hallmark) TV shows and movies, but when she is not acting she is fundraising. Beth is one of the founders of MOMENTUM, an organization that focuses on people living with HIV/AIDS (a cause where she has been supporting of ever since 1984). She is also very much concerned with the faith of women and children that are the victim of domestic violence.
Beth Broderick will be appearing at Comic Con Liverpool on Saturday and Sunday.
Autograph: £31,50 (€37,50)
Photo Op: £31,50 (€37,50)
Reunion Photo Op: £103 (€122)
Comic Con Liverpool will take place in the weekend from 6-8 March in the Exhibition Centre in Liverpool.
Tickets are still available on their website.