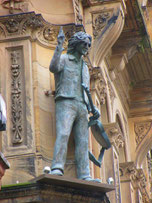 Let's get on with the amazing guest list of Comic Con Liverpool. Over the past weekes we already talked a lot about the guest that will make their way to Liverpool in the weekend of March 6-8. Below this article you can click the tiles to go to the other articles. Today we are talking about (in my opinion) one of the best British comedies ever made. For more than 20 years we followed the adventures of Del Boy and Rodney (and their merry friends) in "Only Fools and Horses". One of those merry friends is the pompous Boycie, played by John Challis. Well, hold on to your hats, because Boycie will be driving his Rolls Royce to the Liverpool Docks and of course he is bringing his wife Marlene (Sue Holderness).
Only Fools and Horses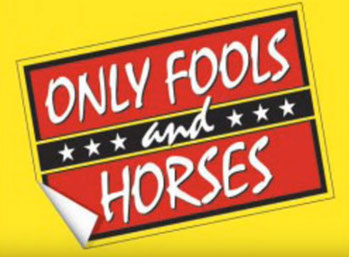 "Only Fools and Horses" was a British sitcom, that ran for about 20 years. There were 7 regular seasons that ran from 1981 until 1991 and over the 12 years that followed there were 16 more episodes aired (mostly around Christmas). It was written and created by John Sullivan.The story is set in Peckham (south London) and revolves around Derek 'Del Boy' Trotter (David Jason) and his much younger brother Rodney Trotter (Nicholas Lyndhurst). The two brothers live together with their Grandad (Lennard Pearce). They lost their mother when Rodney was a young boy and their father abandoned them, so Del took on the care for his brother (and their grandad). 
Del is a fast talking market trader (mainly black market), who can and will sell anything to anyone. While Del is street wise, his brother Rodney is more academically gifted. But Rodney is very dependent and he lacks his brothers fast talking skills. The two brothers (with their grandad as their sidekick) constantly cook up schemes to become very rich, very fast. When they are not scheming (or fighting), the brothers go and have a drink at the Nag's Head and one of the other regulars there is the shady but financially succesful used cars dealer Boycie (John Challis). He enjoys displaying his wealth and letting everyone (especially Del) know how much money he has. Boycie and Del have a love-hate relationship...they are friends, but Boycie is constantly trying to mock Del's lack of wealth. Nevertheless it's Del who mostly wins the upperhand, because of his popularity in the pub and with the ladies. Del often flirts with Boycie's wife Marlene (much to Boycie's dislike) and claims to have had multiple sexual encounters with her in the past...Initially "Only Fools and Horses" was a cult hit, but it grew out to be one of the best watched and most loved comedy in British television history.
John Challis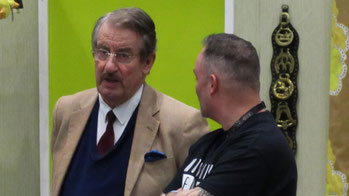 John Spurley Challis was born in Bristol on August 12, 1942. He is an only child and when he was one year old the family moved from Bristol to the South East of London. John's father was from Sheffield, where his father worked in the Northern steel mills. Because of this hard Northern background, John's father was very strict and he was not afraid of corporal punishment to disclipline John. Challis' mother was more soft hearted. John later stated, that although he knew his father was proud of him, he almost never showed it. He let his guard down once, when he told John he was proud of him. Following this John started crying, because he had never said that before. As a child, John enjoyed doing voices and impersonations. He wanted to act from a young age (ever since he saw Peter Pan on stage when he was 8 year old), but he was always encouraged to work hard at school, pass the exams and get a 'proper job'.His parents lived through two wars and his father urged him to earn his own money and never to spend more than you earned. John never got any pocket money (although his mother sometimes secretly slipped him some) and he earned some money delivering newspaper and some other jobs when he was young. His father worked very hard to get were he was (he had a steady job as a civil servant) and he was not very happy when young John stated that he wanted to be an actor. Challis attended Ottershaw Boarding School, when he left school he had a try at a 'proper job'. He was 17 years old and started to work as an estate agent (earning only £9 a week). It wasn't long before he got fired from this first job and he went on to work for another firm. But soon John found out that this was not what he wanted to do....John wanted to be an actor.
He joined a  group of actors travelling through the country bringing plays to schools. Many people warned him about acting being an unstable profession. They told him, he would often be without a job and he wouldn't have a steady income. But that was one of the things that attracted him to the acting profession. Challis says that it was quite easy for him, when he started acting. It felt very natural to be on stage and imperonating other people. He always loved doing that, even when he was a child. John started acting at exactly the right time, as the early 60s can be seen as the golden age of television. In the early 60s, John had made it to the stage of the Royal Shakespeare Company in Stratford-Upon-Avon (which is seen as the biggest stage of all for a British actor). Fun Fact: It was 1966, and the English football team made it to the finals of the World Championships. They were playing this final against Germany and as a sports fan John was very excited. There was only one problem, he was scheduled to appear in a production of "Twelfth Night" at the RSC. As all of the actors wanted to watch the finals, one of the electricians of the RSC installed a little TV beneath the stage. So during the moments they did not have to be on stage, the actors squeezed themselves in the small space and watched the final. The game went into extra time and by that time the entire cast had to be on stage. Challis later stated that the scene they were playing must have been the fastest scene in Shakespeare history. At the end of the scene they ran of the stage and were just in time to see England win the final.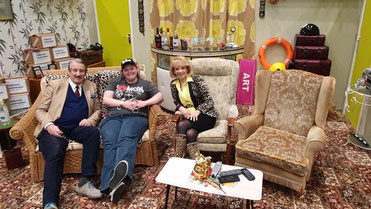 In 1967, John made his television debut in "The Newcomers" (he played the role of Harry Kapper in 5 episodes). It was also around this time that he had a very interesting meeting with The Beatles. It was in the mid 60's that The Beatles ventured into the movie scene and they were casting for their third film "Magical Mystery Tour". John's agent found out that they were searching for an actor to play the coach driver and he sent him to meet up with the Fab Four. When he walked into the room, he quickly noticed that there were only three of them (George wasn't there at the time). When John asked about his whereabouts, Lennon answered that George was kicked out of the band years before and they used a cardboard cut out at concerts. When they asked Challis what he thought about their music, he blurted out that he preferred the Rolling Stones. It was out before he knew it and at that point he was sure he blew it. Lennon looked right at him, started laughing and said that he preferred them too. He made a great impression and was asked to do the job, but due to a prior contract he was not able to do it. Challis still says that this is one of his biggest regrets. In the late 60s John made his proper debut on television and his first role was in the British soap opera  "The Newcomers". He played the role of Harry Kapper in 5 episodes of the show in 1967.  In the years that followed John made an appearance in multiple TV shows, one of them being the controversial "Big Breadwinner Hog" (1969). The show was condemned because of the violence and amorality.
Throughout the 70s John became a household name on British Television, with roles in shows, like: "Crossroads" (1971, 9 episodes as Jim Wright), "Z Cars" (13 episodes from 1967-1975), "Doctor Who: The Seeds of Doom" (as scorby for 6 episodes in 1976) and "Coronation Street" (10 episodes, 1967-1977). In 1981 John landed the job that would make him famous once and for all: the role of Boycie in "Only Fools and Horses". As I already mentioned, the show ran from 1981 until 2003 and John played Boycie in more than half of the episodes. Two years after  the show ended (2003), John reprised his role in the spin off series " The Green, Green Grass". This revolved around Boycie and his wife Marlene. They have been driven out of London by the Driscoll brothers and buy a farm in the rural area of Shropshire. This show ran from 2005 until 2009. Recently, Challis played the role of Monty Staines in the British sitcom "Benidorm". Of course John did a lot off work during his time on "Only Fools and Horses" and "The Green Green Grass". Check out his IMDb page for more information.
John Challis will be appearing at Comic Con Liverpool on Friday, Saturday and Sunday.
Autograph: £21 (€25)
Photo Op: £21 (€25)
Photo Op Boycie&Marlene: £41,50 (€49)
Sue Holderness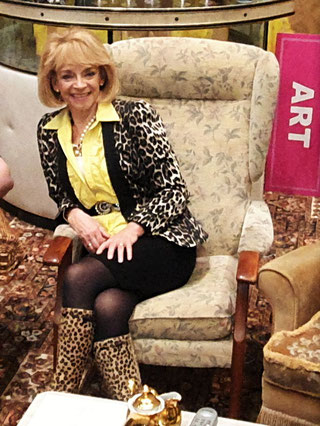 Sue Holderness is mostly known for her role as Boycie's wife Marlene in the TV show "Only Fools and Horses" and its spin off "The Green Green Grass". When looking back on her role Sue refers to Marlene as 'the biggest tart in Sout East London'. Marlene is known for her fake fur and her soft spot for Del Boy (much to the annoyance of her husband). Marlene was only supposed to be in one episode of the show, but she made such a big impression in that episode that she was asked back to do more. And the rest is history, but let us tell you some more about Sue...
Susan Holderness was born on May 28th 1949 in Hampstead, London. She completed her A levels and then trained at the Central School of Speech and Drama. She began her acting career with the Manchester 69 Theater Company (which evolved into The Royal Exchange Theater). She starred in plays like "A Midsummer Night's Dream" , "Peer Gynt" and "Catch My Soul". She has been doing Theater work throughout her entire career, but in the early 70s she also began appearing on TV and in movies. Throughout the 70s and early 80s, she played roles in:  "Tightrope" (1972, 5 episodes as Joanna), "Fly Into Danger" (1972, 7 episodes as Sarah Davenport), "It Could Happen To You" (1976, as Christine), "The Sandbaggers" (1980, 8 episodes as Marianne Straker), "End of Part One" (various characters in 14 episodes from 1979-1980) and much more. In 1985, she made an appearance as Boycie's wife Marlene in the 5th episode of season 4 of "Only Fools and Horses". At first Marlene was supposed to be a one episode character, like I mentioned earlier. In the episode, Del and Rodney agree to watch Boycie's dog while he is away. Marlene delivers the dog to the brothers and this scene was so well received that Marlene became a recurring character from that point. She reprised her role as Marlene in the "Only Fools..." spin off "The Green Green Grass". During her time on "Only Fools..." Sue also kept on acting in other British TV shows. Throughout her career, Sue always stayed true to her passion of theater. She regularly appears in "The Vagina Monologues" and toured the country doing plays in several theater companies. Throughout the years she did not only share the screen with her 'on screen husband' John Challis, but they also shared the stage. Recently Sue starred as Mrs. Rossi in the British sitcom "Still Open All Hours".
Sue Holderness will be appearing at Comic Con Liverpool on Friday, Saturday and Sunday.
Autograph: £21 (€25)
Photo Op: £21 (€25)
Photo Op Boycie&Marlene: £41,50 (€49)
Philip Pope
Although Pope only played in one episode of "Only Fools and Horses", if you are a fan of the show you will surely remember his fantastic performance as the singing dustman Tony Angelino is the episode "Stage Fright" in 1991. Still don't remember him? Well I've got one more hint for you: he sang the song Crying from Roy Orbinson, but he did it in a way Barry Kripke would...I can tell you one thing he made me 'cwy'....well cwy of laughing so hard..just check it out on YouTube. Philip Pope is a British composer and actor, who did voices on the popular show "Spitting Image" from 1984 until 1993. But he did a lot more, Pope worked on radio, television and worked on many soundtracks throughout his career. It's a lot to sum up, but just check out his IMDb page to find out more about this multi talented British performer.
Philip Pope will be appearing at Comic Con Liverpool on Saturday only.
Autograph: £16 (€19)
Photo Op: £16 (€19)