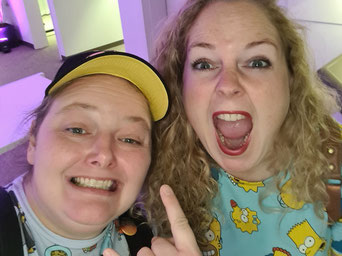 Thursday March 31, 2022
Although we are still recovering from an epic weekend at Dutch Comic Con Spring 2022, we are also looking forward to next weekend! Why? This Saturday we are going to the Spring Edition of FACTS in Ghent, Belgium. Well, I actually think we'll already leave on Friday, because there is no way of getting there on time if we leave on Saturday (we are travelling by train). We want to be there early, because we only have one day and there is so much, we want to see and do. In this article we will tell you about the guests and our plans...
The movie and TV guests of FACTS Spring 2022
First of all we are going to introduce the guests (as if they need introduction). I can already tell you that excitement is going to be the understatement of understatements this Saturday, because it's an amazing list.
Michael Rooker
The MCU is coming to Ghent and it's coming with the speed of an arrow ... a whistle controlled arrow that is. This legendary actor has played in a lot of awesome movies and TV shows and we are so excited he is coming to Ghent, we are talking about: Michael Rooker!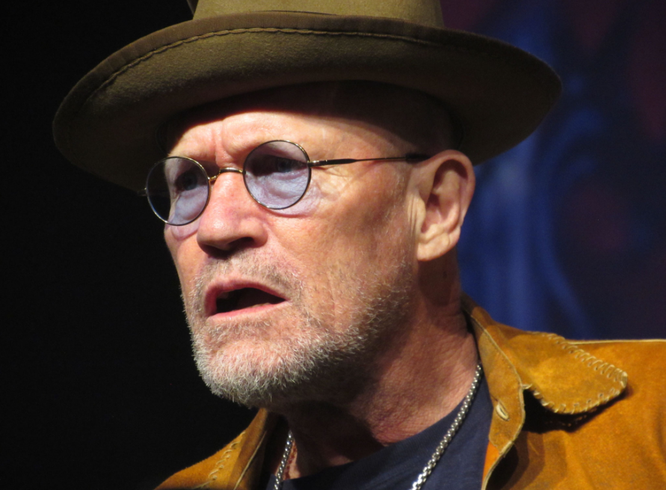 Michael Rooker was born on April 6, 1955 in Jasper, Alabama (US). Being a family with 9 children, there were a lot of mouths to feed. The Rookers lived in a house with a dirt floor and no indoor plumbing. When Michael was young, he and his cousin used to search for bottle caps to exchange for a ticket for the local movie theatre (six caps were enough for one ticket). His parents divorced (when he was only 13 years old) and Michael (and his 8 siblings) moved to Chicago, Illinois with his mother. They lived in a pretty rough neighborhood, but Michael never gave into the life of drugs and gangs. At first, he wanted to join the Marines, but he couldn't because of a hearing issue. While he was in high school, he noticed that he became interested in the performing arts and started performing in local school plays. He also worked as a lifeguard at Chicago's North Avenue Beach and he was good at it (he won the Rookie of the Year award). Someone encouraged Michael to do audition for admission at the prestigious Goodman School of Drama at DePaul University. Eventually he did and got accepted. Michael graduated in 1982 and started working in theatre in the following years.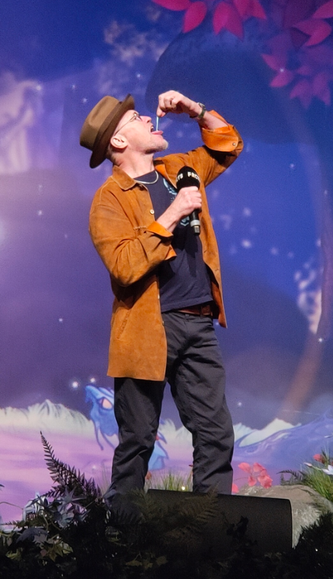 In 1986, he made his breakthrough in the movie world with his role as Henry in "Henry: Portrait of a Serial Killer". Because of an ongoing debate over its rating however, the movie did not get released until 1990. Michael received critical acclaim for his title role in the movie that is based on the life of serial killer Henry Lee Thomas. He used footage of the unreleased movie for auditions in the late 80s and he landed a role in the baseball movie "Eight Men Out", based on the true story of the 1919 match fixing scandal involving the Chicago White Sox. Rooker played the role of Chick Gandil and the movie was a big success at the box office. Rooker had made a name for himself and in the years that followed he played roles in some of the most popular and successful movie of the late 80s and early 90s. He played in: "Mississippi Burning" (1988, as Frank Bailey), "Sea of Love" (1989, as Terry), "Days of Thunder" (1990, as Rowdy Burns), "JFK" (1991, as Bill Broussard), "Cliffhanger" (1993, as Hal Tucker), "Tombstone" (1993, as Sherman McMasters) and Kevin Smith's "Mallrats" (1995, as Svenning). Over the next 15 years, Rooker had a steady stream of work on both TV and movies and some of these projects are: "Rosewood" (1997, as Sheriff Walker), "The Bone Collector" (1999, as Captain Howard Cheney), "The 6th Day" (2000, as Robert Marshall), "Slither" (2006, as Grant Grant), "Thief" (2006, as Detective John Hayes), "Jumper" (2008, as William Rice) and many more.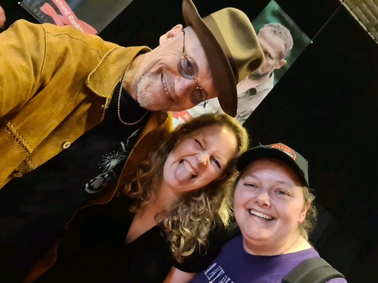 In 2010, Michael Rooker's career got a new boost when he was casted for the role of Merle Dixon in the first couple of seasons of AMC's "The Walking Dead". The show quickly grew out to be one of the most popular shows on television. Michael played the role of Merle Dixon for 17 episodes from 2010 to 2013. In 2014 Michael set his first steps in the Marvel Cinematic Universe, when he took up the role of Yondu Udonta in James Gunn's "Guardians of the Galaxy". In 2017 he reprised the role of the blue skinned Yondu in James Gunn's "Guardians of the Galaxy Vol. 2". In 2019, Rooker played The Big T in the horror/mystery movie "Brightburn" and in 2020 he played Damon in "Fantasy Island". In the following year he made his appearance in two major blockbusters: "The Fast and the Furious 9" (as Buddy) and James Gunn's "The Suicide Squad" (as Savant). There are a lot of new projects coming up to add to his spectacular list of credits...
In his free time Michael is a very avid target shooter and he even owns his own shooting range in Los Angeles. He is a lover of the martial arts and is very skilled in Aikido. Since 1979, Michael Rooker is married to Margot and they have two children.
Michael Rooker will be attending FACTS Spring 2022 on both Saturday and Sunday.
Photo op: €70
Autograph: €70
Selfie: €70
Autograph & Selfie: €130
Q&A Saturday: 13.00 - 13.30
Q&A Sunday: 14.00-14.30
Rick Hoffman
Oh yeah...Ghent is going to get Litt Up!!! We are so excited about this next guest. He is one of our favorite TV characters of all time and he is coming to Ghent! The series is "Suits", the character is Louis Litt and the man behind it, is none other than the amazing Rick Hoffman!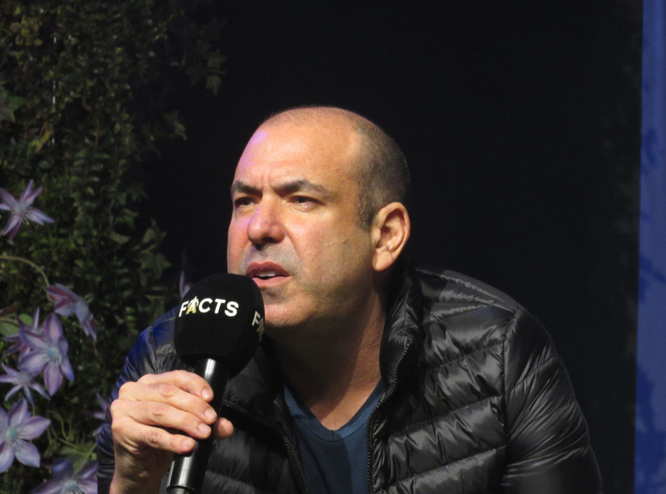 Richard Edward Hoffman was born June 12, 1970 in New York City, New York (US) to Gail and Charlie Hoffman. He had a modest Jewish upbringing in Roslyn Heights, New York (US). Rick has one younger brother named Jeff. He graduated high school (The Wheatley School in Old Westbury, New York) and went to college at the University of Arizona. Right after graduating with a degree in Theater in 1992, he moved to Los Angeles to pursue an acting career. He had to work his way up in Los Angeles and that meant had to wait tables to make ends meet. He got fired from nine waiting jobs and in hindsight he said he was a bit smug during these early years of his career in Hollywood. He was not prepared and never thought it would be this difficult to make it there...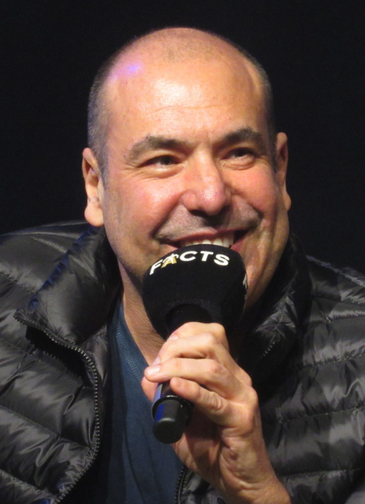 In 1997, Rick was cast for his first role. He played a security guard in the Mel Gibson and Julia Roberts movie "Conspiracy Theory". He had some other small roles, but the role that allowed him to stop cleaning tables came in 2000. Rick received the main role of Freddie Sacker in the TV show "The $treet". Unfortunately, it was cancelled after only 12 episodes, but it was enough to quit waiting and become a professional actor. His career took a flight and Rick was offered roles on prominent TV shows in the years that followed. From 2001 to 2002 Rick played the role of Terry Loomis in 22 episodes of  "Philly" and from 2002-2005 he played Jerry Best on 10 episodes of  "The Bernie Mac Show". From 2005-2006 he starred in John Stamos' comedy show "Jake in Progress" and he played the role of Patrick van Dorn for 21 episodes. From 2007 to 2009 Rick played the role of Chase Chapman in "Samantha Who?". Finally in 2011, Rick landed the role most of us know and love him for, he got a starring role as Louis Litt in the legal drama series "Suits'. It became a huge success and ran from 2011 until 2019. Most recently he has been playing the role of Dr. Swerlow in "Billions". Rick Hoffman made appearances in a lot of prime-time TV shows, but besides some small roles he never really got that big break on the big screen. But who knows what the future will bring?
Rick Hoffman will be attending FACTS Spring 2022 on both Saturday and Sunday.
Photo op: €40
Autograph: €30
Selfie: €40
Autograph & Selfie: €60
Q&A Saturday: 17.00 - 17.45
Q&A Sunday: 11.00-11.30
Danny Trejo
Now if you have never seen Danny Trejo in a movie before, that means you do not watch enough movies! Really, at the moment, this living legend has a whopping amount of 419 credits (and still counting) to his name.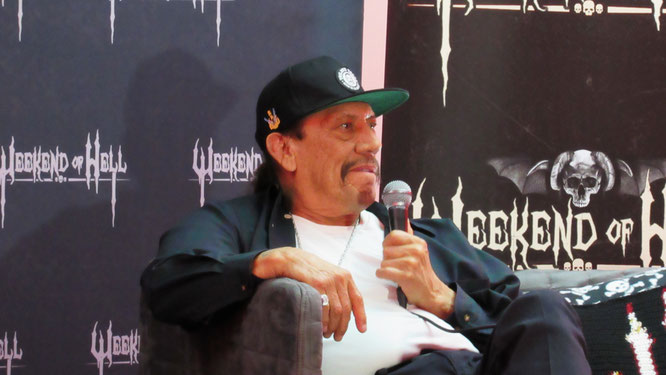 Dan Trejo was born on May 16th 1944, in Echo Park, Los Angeles, California (US). Echo Park was one of the toughest neighborhoods of Los Angeles at that time. Trejo's uncle (a drugaddict and armed robber) took him under his wing. At a very early age Danny was already addicted to drugs and in and out of jail. At one point, in the aftermath of a prison riot (facing the death penalty), he turned to God.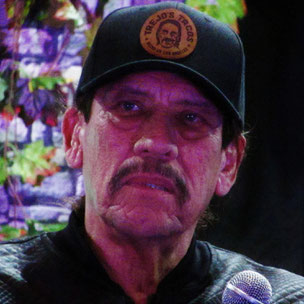 Trejo swore to turn his life around, if he got another chance... Well, he got that second chance and held his promise ever since. From that day on Trejo has been living clean and helping troubled youth. He joined Alcoholics Anonymous and Narcotics Anonymous.
In 1985, through a twist of fate, Trejo ended up on the set of "Runaway Train" starring Eric Roberts and Jon Voight. He got a job as a boxing trainer for Eric Roberts. When the director Andrei Konchalovski saw him box, he offered Danny a role as an extra in the movie (he played Roberts' opponent). In the years that followed, he got cast over and over again for supporting roles in movies, because of his very distinctive rugged look and posture. And now more than 3 decades later the man is still going strong. He worked together with great names like Tarantino and Rodriguez and gained a cult status. Fun Fact: Danny Trejo and Robert Rodriguez are second cousins, but they were not aware of that, until the y stared filming "Desperado". Furthermore, Trejo is known for roles in movies, like:  "From Dusk 'till Dawn" (he is the only one of the cast appearing in all three movies), "Heat", "Anaconda", "Con Air", "Once upon a Time in Mexico", "Blood in, Blood out", "Spy Kids", "Machete" and a lot more.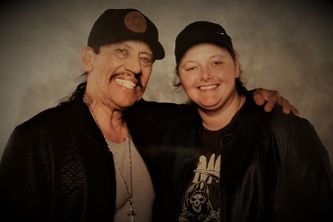 Our own experiences:
In 2018, Liv met Mister Trejo at For the Love of Horror in Manchester. She had a great time at his panel, which was very entertaining. During the panel, Danny called Michael Rodriguez (who was probably fast asleep, because of the time difference). He set this phone on speaker against the mic and got the voicemail. He left a message saying the crowd in Manchester demanded "Machete in Space" to be made and turned the phone to the crowd, that started cheering. It was such a great moment. Later that day Liv had a photo op with the man himself and he was so very nice. A year later Mr. Trejo was a guest at Weekend of Hell Düsseldorf and we both attended his panel. It is just great to hear the man tell stories about his extensive career and we definitely recommend you to go and hear for yourself at FACTS 2022.
Danny Trejo will be attending FACTS Spring 2022 on both Saturday and Sunday.
Photo op: €60
Autograph: €40
Selfie: €60
Autograph & Selfie: €90
Q&A Saturday: 15.00 - 15.45
Q&A Sunday: 13.15 - 13.45
Natalia Tena
We also already met this next guest and we can tell you she is awesome! This guest brings the Wizarding World to FACTS, but that is not all she brings. She is very energetic and her Q&A's are a lot of fun. We are talking about the one and only Natalia Tena, who is mostly known for her role as Nymphadora Tonks (or just Tonks, because she hates her first name;)) in the "Harry Potter" franchise and as Osha in "Game of Thrones". Besides this she is also the lead singer of the amazing band Molotov Jukebox.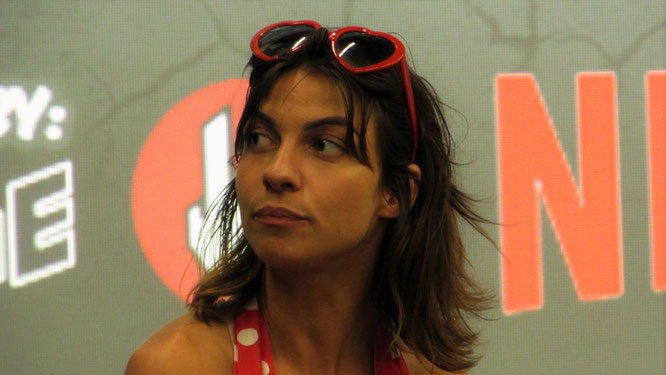 Natalia Gastiain Tena was born on November 1st 1984 in London, England (UK) as the daughter of Spanish parents: Maria Tena and Jesús Andrew Gastiain. At the age of 5, her mother taught her to play the piano (influenced by the music of the legendary Chuck Berry). In 2002, she made her professional acting debut in "About a Boy" starring Hugh Grant. She played the role of Ellie and this led to her becoming a full-time actress in 2003. The story behind her getting the role in "About a Boy" is a great one. Natalia was attending boarding school at that moment and she was caught smoking (which was normally punished by having to stay over the weekend). When she came out of a bush, her Drama teacher (Al Mule) caught her. Because of her love for theatre, the teacher had a soft spot for Natalia and instead of giving her in, he sent her to the Drama barn. When Natalia entered the room, she was flabbergasted, because there were a whole bunch of 10 year old boys. At first, she did not know what to think of it and thought she was tricked into a babysitting job. It turned out to be an audition for "About a Boy" and Natalia landed a part in it.  In the early days of her career, she was a part of a theater group called KneeHigh (an internationally touring group founded by Mike Shepherd). It was during her time here that Natalia learned playing the accordion (which is also her instrument of choice in Molotov Jukebox). She also performed as a busker in the London Underground (at around 18 years old). From 2003 to 2006, Natalia played lead roles is stage adaptations, as well as small roles in movies and TV.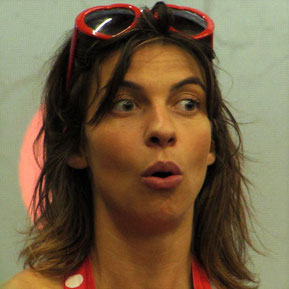 In 2007, Natalia's career got a huge boost when she was cast for the role of Tonks in "Harry Potter and the Order of The Phoenix" (the fifth installment of the franchise). In the years that followed Natalia reprised her role in the remaining three movies of the franchise. It was in 2008 that Natalia and her then boyfriend Sam Apley formed the gypstep band Molotov Jukebox. From 2011 until 2016, she played the role of Osha in "Game of Thrones", which was yet another huge production. Over the last decade Natalia has kept herself busy with acting and touring the world with Molotov Jukebox. Some of the movies and series she worked on are: "10.000 KM" (2014, as Alex), "Residue" (2015, as Jennifer Preston), "The Refugees" (2014-2015, as Emma), "Wisdom of the Crowd" (2017-2018, as Sara Morton), "Origin" (2018, as Lana Pierce), "The Mandalorian" (2019, as Xi'an) and "Wolfe" (2021, as Val Kinteh).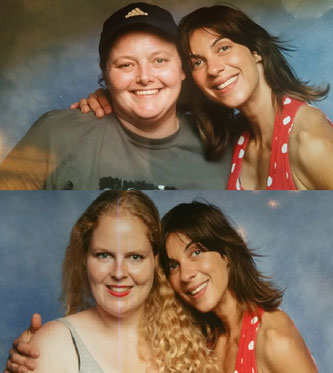 Our own experiences:
We both met Natalia Tena in Amsterdam in 2016 and it was so nice to meet her. The photo op was great, as Natalia is very energetic and she was constantly jumping around. She thanked each and every one of her fans, taking a picture with her. It was also great to attend her panel and hear her talk about all of her projects.
Natalia Tena will be attending FACTS Spring 2022 on both Saturday and Sunday.
Photo op: €35
Autograph: €35
Selfie: €35
Autograph & Selfie: €60
Q&A Saturday: 12.00 - 12.45
Q&A Sunday: 14.45 - 15.15
Richard Rankin
Had we already mentioned we love "Outlander"? Just to be sure: we LOVE "Outlander". We just recently started watching it, because FACTS announced Richard Rankin as a guest for the Spring Edition. Every free moment we have, we are watching the show! Richard plays the role of Roger MacKenzie Wakefield, but that's not all this Scottish actor is known for.
Richard Rankin was born Richard Harris on January 4th 1983 in Glasgow, Scotland. His father worked on the police force and his mother had a job in the hotel industry. He has three brothers. Richard spent part of his early childhood in the East End of Glasgow, but the family moved to King's Park when he was 10 years old. After attending Stonelaw High School, he majored in IT at Glasgow Caledonian University. In his early 20s, he went on a holiday to Los Angeles (US) and that trip changed his life. During a chance encounter with an executive in Hollywood, he was told he had the looks of an actor. When he returned to Glasgow, he turned his life around and went to audition For Langside College, together with his brother Colin. They both graduated and started their professional acting career. It was at this point that Richard changed his surname into the maiden name of his mother, to prevent confusion with Irish actor Richard Harris.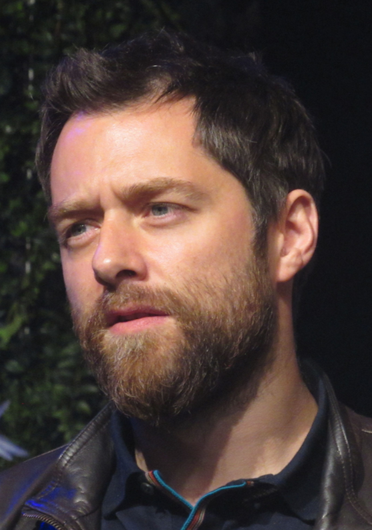 Rankin's career began in 2006 when he starred in "VideoGaiden" a Scottish video games TV show. Over the years that followed Richard played some small roles in Scottish TV shows. In 2009 Richard rose to fame with his roles in the Scottish sketch comedy show "Burnistoun", which ran for three seasons. Richard played various roles from 2009 to 2012. In 2014 Richard was cast as Captain Thomas Gillan in the WWI drama "The Crimson Field". From this moment on Richard has constantly been working on (mostly) TV shows, like: "Silent Witness" (2015, as D.I. Luke Nelson), "The Syndicate" (2015, as Sean McGary), "From Darkness" (2015, as Norrie Duncan) and "Thirteen" (2016, as DI Elliott Carne). Also in 2016, Richard Rankin joins the cast of "Outlander" as adult Roger Wakefield. His first appearance was in the last episode of season 2 and over the next seasons his role expanded. Just recently season 6 of the show premiered and Richard is still part of the show. During his time on "Outlander" he also appeared as Dr. Alex Kiernan in "Trust Me" (2019). 
Richard Rankin will be attending FACTS Spring 2022 on both Saturday and Sunday.
Photo op: €50
Autograph: €40
Selfie: €50
Autograph & Selfie: €80
Q&A Saturday: 16.00 - 16.45
Q&A Sunday: 12.30 - 13.00
Jacob Bertrand & Peyton List
Strike first, strike hard, no mercy! Cobra Kai never dies! Back in the 80s, every kid wanted to be like Daniel LaRusso in "The Karate Kid" and everyone knew what 'wax on, wax off' meant. "The Karate Kid" was one of the most iconic movies of the 80s and more than 30 years later the movies got a sequel in the form of a TV show called "Cobra Kai". More than 30 years of the events of the All Valley Karate Tournament, Johnny Lawrence and Daniel LaRusso get into it again when they both start a dojo. The last two guests of FACTS Spring Edition also play roles in this immensely popular show... we are talking about Jacob Bertrand and Peyton List, who play the roles of Eli "Hawk" Moskowitz and Tory Nichols.
Jacob Bertrand was born on 6 March 2000 in Los Angeles, California (US). He started acting at a young age and he appeared in some commercials before he got his first real role as Thomas Wilkins in the thriller "Duress". Jacob appeared in several Nickelodeon and Disney productions, like: "Marvin, Marvin" (2012-2013, as Henry Forman), "Jinxed" (2013, as Charlie Murphy), "Kirby Buckets" (2014-2017, as Kirby Buckets) and opposite Peyton List in "The Swap" (2016, as Jack Malloy). In 2018 he landed his breakthrough role as Eli 'Hawk' Moskowitz in "Cobra Kai". Jacob is also known for his voice roles in projects, like: "ParaNorman" (2012), "Rise of the Guardians" (2012, as Monty) and "Bubble Guppies" (2011-2016, as Gil).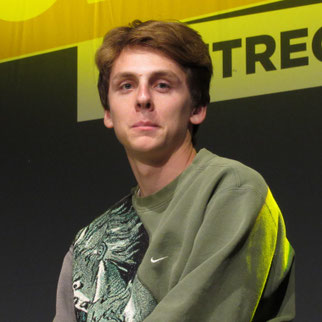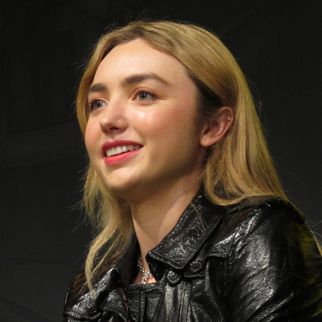 Peyton Roi List was born on 6 April 1998 in Florida (US). She began her career as a child model and made her acting debut at the age of 10 as young Jane in the 2008 romantic comedy "27 Dresses". In the years that followed List began to appear in more films and TV shows, like: "Cashmere Mafia" (2008, as Sasha Burden), "The Sorcerer's Apprentice" (2010, as Young Becky), "Bereavement" (2010, as Wendy Miller), "Diary of a Wimpy Kid: Rodrick Rules" (2011, as Holly Hills), "Diary of a Wimpy Kid: Dog Days" (2012, as Holly Hills). In 2011, Peyton landed the role of Emma Ross in "Jessie", a role she played for 98 episodes from 2011 to 2015. From 2015 until 2021, she played the role of Emma Ross in "Bunk'd". In 2016, she starred opposite Jacob Bertrand in the Disney film "The Swap", playing the role of Ellie O'Brien. In 2016, Peyton played the role of Laina Michaels in "The Thinning" and in 2018 she reprised this role in the sequel "The Thinning: New World Order". From 2018-2019 Peyton portrayed Olivia Richmond in "Light as a Feather". In 2019, she joined the cast of "Cobra Kai" as bad girl Tory Nichols. In 2020, Peyton played opposite Adam Sandler in "Hubie Halloween".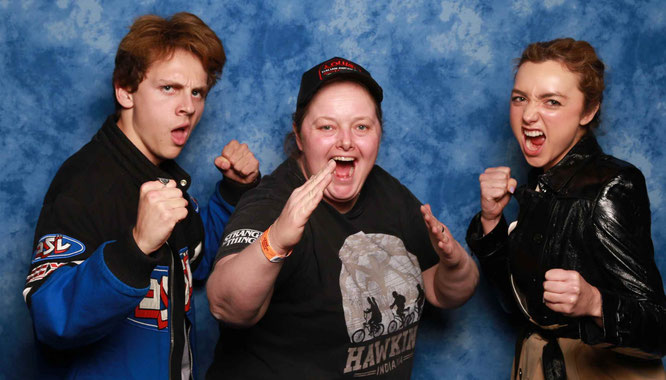 Our own experiences:
Just a few days ago Liv met Peyton and Jacob for a photo op at Dutch Comic Con 2022. We both attended the "Cobra Kai" panel and we had a great time!
Jacob and Peyton will be attending FACTS Spring Edition 2022 on Saturday and Sunday.
Jacob Bertrand
Photo op: €30
Autograph: €30
Selfie: €30
Autograph & Selfie: €50
Cobra Kai Duo Shoot: €60
Q&A Saturday (with Peyton List): 14.00 - 14.45
Q&A Sunday (with Peyton List): 11.45 - 12.15
Peyton List
Photo op: €30
Autograph: €30
Selfie: €30
Autograph & Selfie: €50
Cobra Kai Duo Shoot: €60
Q&A Saturday (with Jacob Bertrand): 14.00 - 14.45
Q&A Sunday (with Jacob Bertrand): 11.45 - 12.15 
What else can you do at FACTS Spring 2022?
Comic Artists: Besides these awesome movie and TV actors, FACTS will also be a Valhalla for the comic fans among us. There will be a varied mix of (inter)national comic artists setting up camp in the artist alley. From Nills Ham to Kenny Rubenis, you can find the complete list here.
Cosplay is an important part of the comic con experience and FACTS there will be an extensive Cosplay program at the Cosplay stage. There will be international Cosplay guests, like: Ainlina Cosplay, Ayuru Cosplay and Gehe. Furthermore, there will be a variety of contests and panels at the Cosplay stage!
The Geek Market will be the place to be for all of your merchandise wishes. A wide variety of dealers will open up their stalls for you to get your geek on and spent your hard-earned money on all kinds of goodies.
If you like games, the Gaming Hall is your place to be. From retro games to new releases to arcade machines. Go and take a look!
At the Fan Village you will find all kinds of fan groups for all of our favorite franchises. You can take a picture with a real Stormtrooper or dance your feet of at the K-Pop area. For a complete overview of the groups and areas to find in the Fan Village click here.
In all of these areas you can participate in Workshops and special panels. Take a look at the program at the FACTS website.
Be sure to take a picture in the special stands of FOX, Disney, Just Dance and many more!
Our plans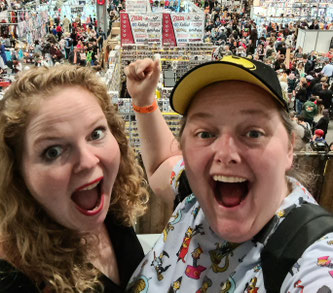 We are so ready for FACTS! We will be there on Saturday only, so our time is limited and that means we have to make some though choices. 
Q&A's:
We love attending Q&A's at comic cons and we would love to catch 'em all (pun intended), but that is just not possible. For Saturday we are thinking about attending three panels, being: Michael Rooker, Richard Rankin and Rick Hoffman.
Photo ops & autographs:
We know for sure that we want something from Richard Rankin and Rick Hoffman. Of course we would love to do something with Michael Rooker, but unfortunately we do have some financial restrictions. Of course, you never know with Liv. She can be very impulsive and on a day like Saturday everything seems possible.
Other: Of Course we will also be walking around in all of the other areas. We always love the Geek Market and the Fan Village. We'll play a game at the game hall for sure and we always love watching the props. We will also be visiting all kinds of photo opportunities at the various stands across the event. 
One day will not be enough to do everything we want to do, but one thing is certain: we will have a lot of fun as always! Will we see you at FACTS Spring Edition 2022?