Whoop whoop!!! We went to FACTS. Liv and I were so excited. It was Friday afternoon and as soon as we were finished working, we left by train. Off to Ghent! We were planning to visit FACTS for one day. It's quite a trip to Ghent, so we decided to leave on Friday, stay in a hotel and be early at FACTS on Saturday. This meant we had a train trip of about 4 hours to get HYPED up! Not that we need that by the way, just say FACTS and we're hyped!
Let's go!
Saturday morning ... we were awake early and ready for comic con! We always are. Excited is an understatement. After a short journey, we arrived at Flanders Expo. We had early entry, so it wasn't too crowded yet. An ohhhhhh, it all looked amazing! We did a quick round to scan all that was there. Loads and loads of merch (yay!), lots of photo opportunities, awesome guests (okay, they hadn't arrived yet at 9 am, but their seats were there!), the fan village and much more! We had a busy schedule and decided to start with some photo opportunities in the entrance hall. And we had a lot of so fun. At a promotion stand for the second Sonic movie, yo could race against Sonic himself. We were ready to find out if we could beat Sonic. It might come as a surprise to you that we are not. Sonic kicked our asses! We also took a picture with some great cars from movies and more. 
The guests of FACTS
After all these photo and video adventures, we decided to go and see if the actors were already there. The guest lists at FACTS was really, really great: Natalia Tena, Michael Rooker, Danny Trejo, Peyton List, Jacob Bertrand, Richard Rankin and Rick Hoffman. We were so excited about this guest list! Michael Rooker and Danny Trejo made a big entrance, they waved at the queues, motivated everyone to show their enthusiasm and made some videos of that. It was great! Could we BE any more excited?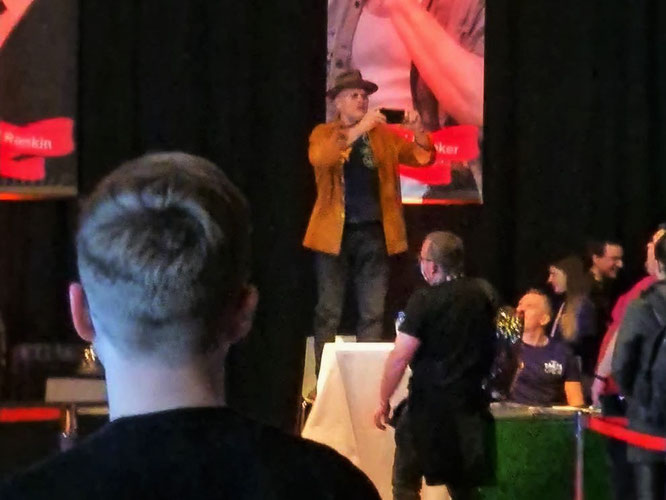 Meeting Rick Hoffman
There was no queue for Rick Hoffman yet and as soon as we noticed he arrived, we decided to get an autograph (Liv) and a selfie (both of us). We both love "Suits" and Rick plays the role of Louis Litt, which is such an iconic character! From the moment FACTS announced him as a guest, we knew we had to go. We really wanted to meet him. And luckily I can say: It was AMAZING. Rick was very talkative and super kind. He enjoyed being in Belgium and he was very happy with the 'Stroopwafels' we gave him. He said he would be sharing these with his son. He also mentioned this was his first comic con and he was excited about it. After Suits, he didn't do acting work for a while This had two reasons: first of all the "Suits" period had been really intense. He played the role for 9 years and when it stops, it takes some time to get back to real life. The second reason is an obvious one: the Covid pandamic struck the world. But now he was totally ready for new roles and coming to a comic con. It was truly such a big pleasure to meet RIck and it's so great to see that the actor behind Louis Litt is such a kind man. Curious how our selfies turned out? Check below! 
We enjoyed meeting Rick so much, that we decided to also buy a photo op and get another picture with him! His photo op was close to the Q&A of Richard Rankin, so at first we decided not to get the photo op, but go for the selfie (just to be sure). However, Rick was so great we decided to do it anyway. Queue in time, and hopefully be able to do both. And even though queueing took longer than we expected (the photoshoot started a bit later) it all worked out and we were still in time for the Q&A. As for the photo..... just take a look to see how it turned out!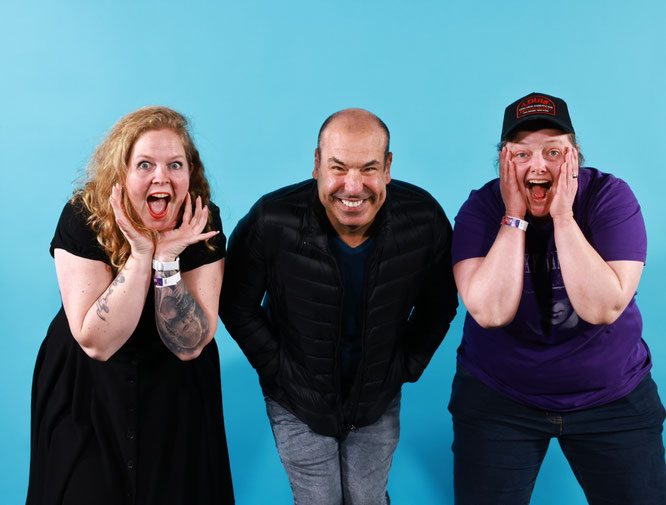 Fan village
We also had a lot of fun at the fan village. There was so much to see, great people to talk to and we made some awesome photos again. We spent quite some time here, because this hall was really big. Of course we also enjoy chatting with people about why they are at FACTS and what they are doing. We spent a lot of time at the "Star Wars" booths and the "horror' area (which we also saw at Brussels Comic Con). Of course Liv loved the "Harry Potter" stands and we also talked to some people that were making their own (wargame) figurines from scratch. All in all we had a lot of fun there...
The Q&A's we attended
We always love watching Q&A's, when we're at a comic con. It's great to see a bit more of the actors, being able to ask a question and learn a bit more about them. But there's only so much time in one comic con day (unfortunately haha). So we often need to make choices. For this day, we decided to visit 3 Q&A's: Michael Rooker, Rick Hoffman and Richard Rankin. And we loved these Q&A. They were three very different Q&A's, but all of them were awesome. Michael Rooker was very energetic and his panel was so much fun to watch. He made a lot of jokes. Rick Hoffman, was exactly how we was when we went to get the selfie/ autograph. So kind and modest. He really seemed to like being there and was answering all questions with enthusiasm. It was great to hear his stories and learn more about "Suits" too. We also saw Richard Rankin at main stage. He talked a lot about "Outlander", (we love Outlander!) and that was so great to hear. We really enjoyed all these panels
We also took some pictures at the other Q&A's, but we did not have the time to sit down for them. Luckily we already saw all of the other actors doing Q&A's at other comic cons...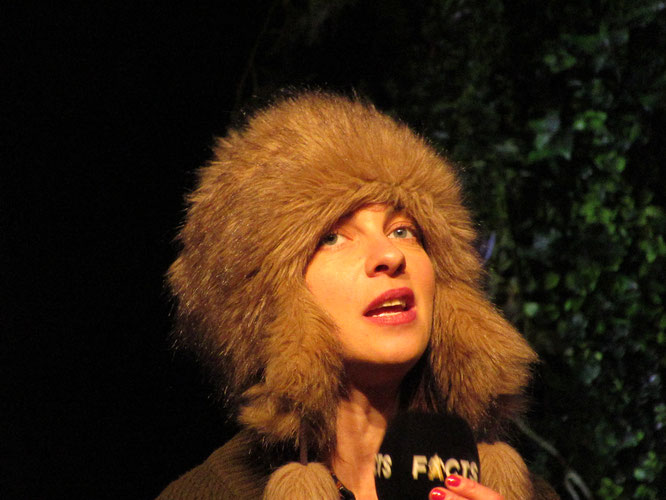 Meeting Richard Rankin
We have been binging "Outlander" like crazies, ever since Richard Rankin was announced as a guest. And with succes! We watched so many episodes already (and still going strong!). I love that FACTS announced an "Outlander" guest, because  it's an amazing series! And Richard Rankin plays a great role, so Liv and I were definitely excited and of course excited is an understatement. After Michael's panel, Liv and I decided to go get a selfie with Richard. A photo op wasn't possible in our schedule. So we headed towards the guest area to have a chat with Richard and take a selfie! 
We gave Richard some stroopwafels as well, which led to a funny conversation haha. Us explaining the stroopwafels, Liv saying she doesn't like them herself and Richard joking that we just got these as a present ourselves and we were now trying to get rid of them hahaha. It was a great conversation and it was hard to stay nervous while chatting and joking around. I'm really glad we met him and I think our pictures represent that too hahahaha.  
Meeting Michael Rooker
After the last panel (Rick Hoffman), it was time for us to slowly head home. We had a long trip ahead (over 4 hours), so we needed to leave a little bit in time. But.... Liv wouldn't be Liv if she didn't have something up her sleeve. She wanted to go and 'see one more time if the actors were at their signing booths'. I know, what that meant, we've been there before. It means some last minute impulsivities. So I protested a little bit, but finally gave in. I can't win that battle. Impulsivity wins haha. When we arrived at the guest area, a lot of the actors were gone. So I tried again and said, well almost no one is here. Let's go. Liv didn't really respond. Making "pictures" (aka stalling and seeing if anyone would return). And finally Michael Rooker returned. That's what this was all about. 
There was a very small queue (where there had been massive queues throughout the day), so I gave in and we were queueing! Liv was so excited, so I was happy she would still get the chance to meet him. She handed over her phone, so I could make the picture. It was the end of the day (after 18.00h) and Michael Rooker was still super energetic. I took a picture of Liv and him and he insisted on taking one with the three of us as well. Even though I mentioned, I was only taking the picture haha. It was fun to see how spontaneous he was and the whole experience was great. And now I have a picture with Michael Rooker as well!  
FACTS... see you next time!
I think you can already guess our final conclusion about our day at FACTS. We had an AMAZING day. The guests list was awesome and the actors we met were so nice. We definitely made a lot of great memories again. There was also a lot of merchandise to buy, a great fan village and so much entertainment and photo opportunties. And as always, there was too little time in one day. We loved it! FACTS.... see you next time! You were truly epic again!