Whoop whoop! We visited FACTS fall 2023. We just hád to attend this edition again. I mean: DId you see the guest list? It was amazing! Really. Besides the amazing guest list, that we absolutely could not ignore, we just always love to attend FACTS. It's a really awesome comic con and there's always so much to do and to see. 
Unfortunately for us, this time we were only able to visit one day. Yes, you're reading this correctly. Only one day. Of course that's not enough (a full weekend is not even enough). So it was a VERY busy day for us and we had to run around like crazies (Like we don't always do this haha) to do as much as possible in just one day! So for everyone curious to know how FACTS Fall 2023 was: We can capture it one word: Amazing! 
But of course we have also have loads pictures and stories to show exactly hów amazing!  
Our start at FACTS
We had quite the trip again to the Flanders Expo. We traveled by public transport and, of course, there was maintenance on a part of our trip. So we had start by bus instead of train. It was a long trip and we were planning to arrive around 11 at FACTS. Eventually, we had about 30 minutes delay and arrived at 11.30. We were super exited (excited is an understatement) and happy to be at FACTS. First thing on our to do list: Attend the panel of Mark Williams. 
There's so much to do!
We loved attending this panel. It was very interesting. After the panel we decided to run around FACTS and see what was there. It was great to walk around and see how big FACTS is. There was a lot to see and do. We walked around in the dealer hall, we visited the Nintendo stand en made some awesome movies/ series pictures. We even did an escape room, saw lots of Smurfs (love the Smurfs!), Star Wars, horror icons, fan groups and much more:
James McAvoy
Attending the panel of James McAvoy was ofcourse on our agenda! Definitely something we wouldn't want to miss. 
It was really amazing to see James McAvoy at FACTS and attend his panel. It's incredible that FACTS invited him as a guest and we had a lot of fun seeing his panel. He was very kind and funny. And Liv also had a photo op planned with James, not too long after the panel. It was a great experience to meet James!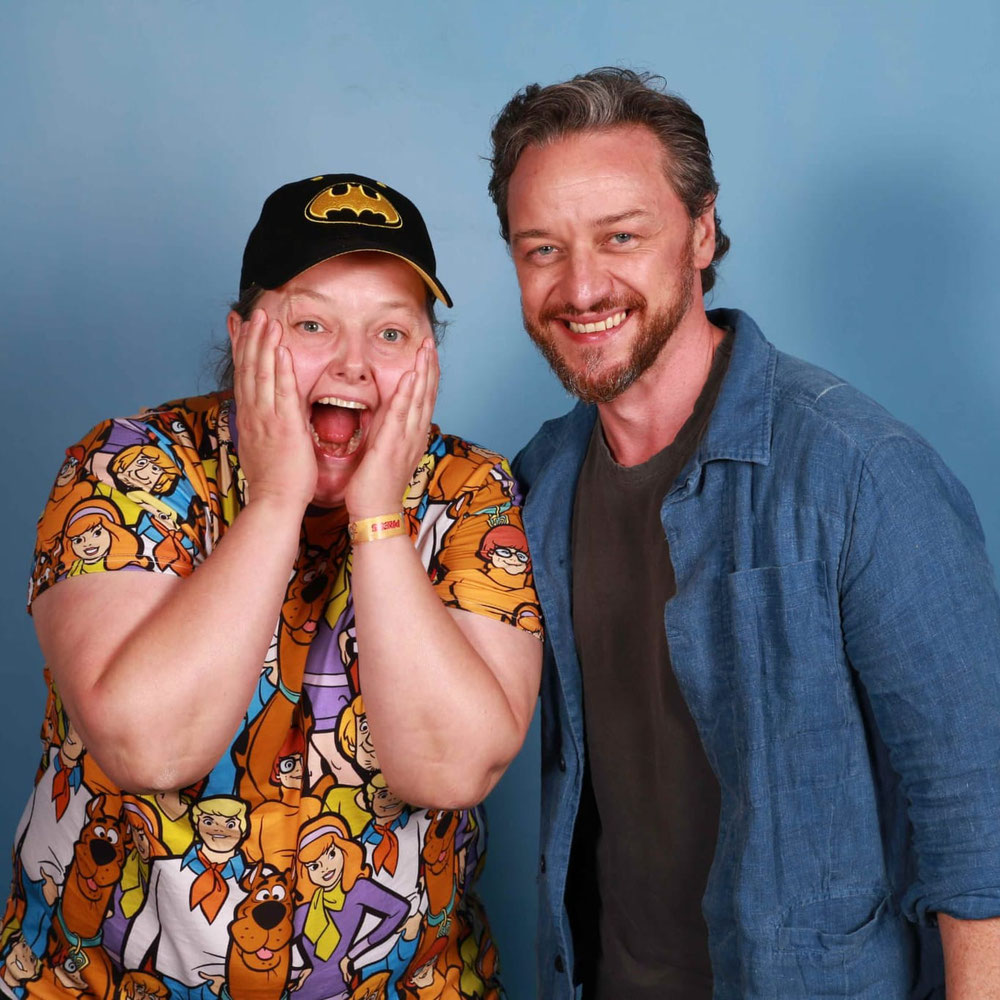 Exploring FACTS and meeting Mark Willams
After the panel and photo op, we decided to explore FACTS further and pay a visit to Mark Williams. Liv really wanted to get an autograph and selfie. We also really enjoyed looking around through all the merch. Looking for some new games, movies, caps, shirts and more. You never know what you'll find! This time, Liv bought 3 new caps and Carola bought a DVD and a game. 
Charisma Carpenter
We are both Buffy the Vampire slayer fans, so we were excited that Charisme Carpenter was a guest at FACTS! Luckily we could fit her panel in our one day at FACTS! We were really happy about that, because it was a really fun and inspirational panel. It was so great to see Charisma! 
Jason Paige
Right after Charisma, Jason Paige came on stage. And well, we just had to sit and watch again. We have seen Jason already a couple of times before. But he has such an unique energy. I always enjoy watching him sing Pokémon songs and he is always able to make everyone sing along and be enthusiastic. We always feel like singing and dacing when Jason is on stage! 
Our day at FACTS
I am amazed by how much we could do in one day! We absolutely had an incredible day and we're already looking forward to the next edition of FACTS.