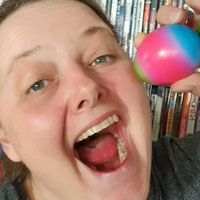 Happy Easter everyone! Normally this is the time for comic cons, jumble sales, sunny weather and so on, but not this year...Since we are all sitting at home and hopefully staying safe and healthy, we thought it was time to make an Easter themed movie list.Instead of talking about movies that revolve around Easter (many of them are depicting the biblical story of Easter), we thought we could talk about some movies with famous egg scenes and movies with bunnies in them. Are you ready? It's gonna be 'eggcelllent' (ok... that was a bad joke)...It's going to be 'speggtacular" (not much better). I am not even gonna try anymore... Let's go!
Warning: This article may contain spoilers for some of the depicted movies!
First up: famous egg scenes
Apparently there are a lot of movies with the word egg in the title, but browsing through them I did not know or watch any of them. Of course it is much more fun to talk about movies I have actually seen, so let's talk about some famous "egg scenes" in movies!
Jurassic Park (1993)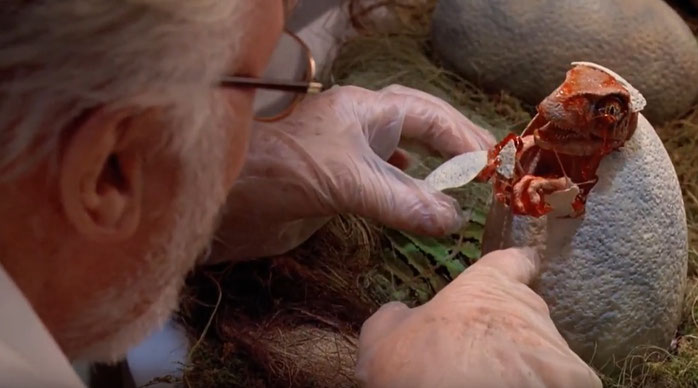 "Welcome to Jurassic Park", this famous movie scene quote gives me goosebumps. The dinosaurs, the music, the beautiful cinematography. "Jurassic Park" is one of my favorite movies of all time and it changed the history of movie making. One of the most famous scenes of the movie is the baby raptor egg hatching scene. In this scene we see Sam Neill (as Alan Grant), Richard Attenborough (as John Hammond), Laura Dern (as Ellie Sattler), Jeff Goldblum (as Ian Malcolm), B.D Wong (as Henry Wu) and Martin Ferrero (as Donald Gennaro) as they witness the birth of a baby Velociraptor in the laboratory of the park. Of course this is not the only egg scene in the movie, I do want to highlight one more...
After the storm (and the T-Rex scene) Grant and the children stumble upon some egg shells. Earlier in the movie (during the egg hatching scene), Wu told the visitors that all of the dinosaurs they are breeding in the facility are female. This helps them control the population at the island and keeps humans in control of the births. A famous line in that scene is "I'm simply saying that life finds a way" by Ian Malcolm. He is wary about the certainty with which Wu claims that it can't go wrong. When Grant and the children discover the shells, Grant talks about how certain kinds of frogs suddenly change gender while living in a one gender population. Since the DNA of the ancient mosquitoes is being modified with frog DNA to fill in the gaps, Grant comes to the conclusion that Malcolm is right. The dinosaurs are breeding and "life found a way".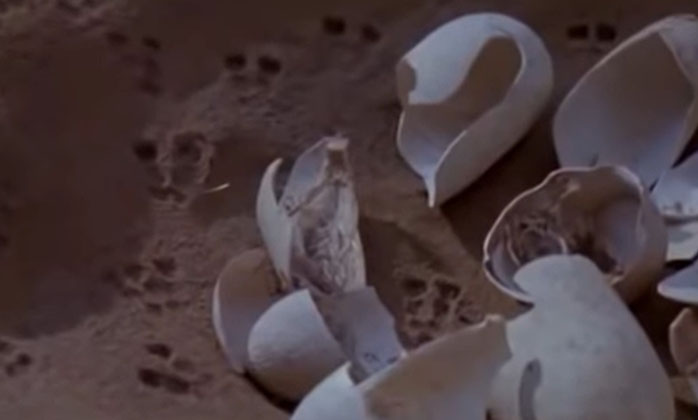 Cool Hand Luke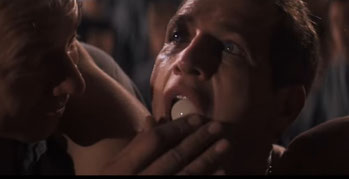 "Cool Hand Luke" is a 1967 prison drama movie starring the legendary Paul Newman as Lucas "Luke" Jackson and George Kennedy as Dragline (Kennedy won an Academy Award for Best Supporting Actor for this role). When Luke is arrested for demolishing parking meters during a drunken night, he is sentenced to a two year prison sentence. When he arrives at the facility, he discovers that there is a strict hierarchy among the prisoners, with Dragline on top of the food chain. Luke is not planning on taking his place at the bottom and he makes a fool of Dragline, resulting in a boxing match. As time progresses Luke gains more and more of status among the prisoners and at one moment he makes a bet that he can eat 50 hard boiled eggs in one hour. Somehow he pulls it off just in time, winning the bet. The truth is that Newman never swallowed an egg during this scene, the producers had a trashcan next to him, so he could spit out the eggs. Eating 50 eggs in real life would kill a man. It actually did kill a man in India. He made a 28 dollar bet with his friend that he could eat 50 hard boiled eggs. When he popped the 42nd egg in his mouth he fell unconscious and died a few hours later. So don't try this at home people!!! 
Alien
The 1979 Sci-Fi Horror movie "Alien" is one of Ridley Scott's many masterpieces. When the commercial space ship Nostromo is on its way back to earth, the crew is in stasis. When the ship receives a signal from a nearby moon, the crew is woken up by the ship's computer (named Mother). The crew is obliged to check out the signal, because it could be a distress signal. While Officer Ripley (Sigourney Weaver) stays on the ship to try and decipher the signal, three other crew members decide to check things out. Captain Dallas (Tom Skerrit), Navigator Lambert (Veronica Cartwright) and Officer Kane (John Hurt) discover that the signal stems from a seemingly abandoned and derelict Alien ship. They decide to enter the ship, but by doing that they loose all contact with Nostromo.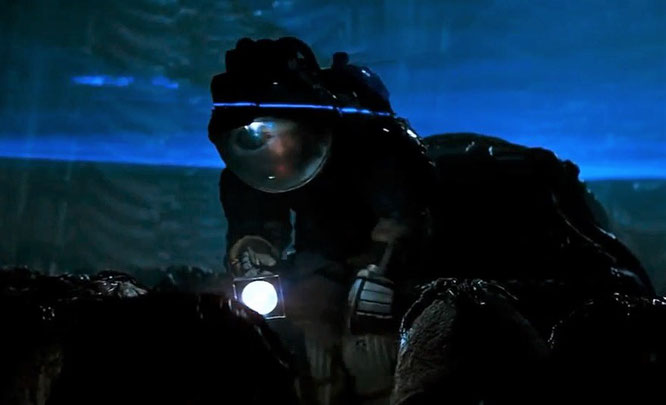 The first egg scene, I want to talk about is the scene when Kane enters a room and discovers a whole lot of egg like objects covered by some sort of a mist. The cinematography of this scene is amazing and still gives me that uncomfortable feel of suspense throughout the scene. By taking a closer look, Kane discovers that a life form resides in the eggs and the egg opens up....what follows is the first appearance of the Facehugger (designed by H.R. Giger), when it jumps out and attaches itself to Kane's face. The Facehugger grew out to be one of the most iconic creatures in Sci-Fi movies.
Ghostbusters
Who you gonna call? "Ghostbusters", another one of my favorite movies and also one of the movies I can keep watching over and over. One of the reasons for this is the great cast of the movie. What to think of: Bill Murray (as Dr. Peter Venkman), Dan Aykroyd (as Dr. Raymond Stantz), Harold Ramis (as Dr. Egon Spengler), Ernie Hudson (as Winston Zeddemore), Rick Moranis (as Louis Tully) and Sigourney Weaver (as Danna Barrett)? Venkman, Stantz and Spengler are three scientists employed by Columbia University. They investigate the paranormal and sometimes they use pretty unethical experiments to do so. The dean of the university questions the credibility of their work after their encounter with a ghost in the public library and fires them. The trio decides to form a paranormal investigation and extermination service, called Ghostbusters. They set up base in an old fire station and develop all sorts of equipment to find and capture ghosts. They even covert a hearse/ambulance into a transportation vehicle called the Ectomobile. They start to advert on TV and Dana Barrett (although skeptical) decides to call them after a paranormal encounter in her kitchen. This kitchen scene is also the egg scene of the movie. Later on Winston Zeddemore joins the trio.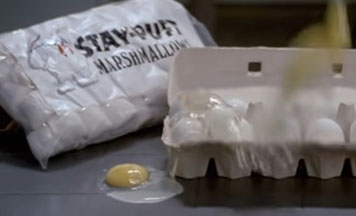 But back to the egg scene. In the scene we see Dana Barrett unpacking her groceries in the kitchen. She puts a carton of eggs on the kitchen counter and walks away to put away some other groceries in the kitchen cabinets. Suddenly the carton of eggs pops open and the eggs start trembling. One of the eggs explodes and starts to bake on the counter. More eggs follow and Dana notices what is going on. While she is walking towards the carton of eggs, she hears some sort of growl coming from her fridge. When she opens the fridge she has her first encounter with the entity calling out the word: 'Zuul'...Time to call the Ghostbusters!!! By the way have you noticed the package of Stay-Puff marshmallows next to the carton of eggs?
Rocky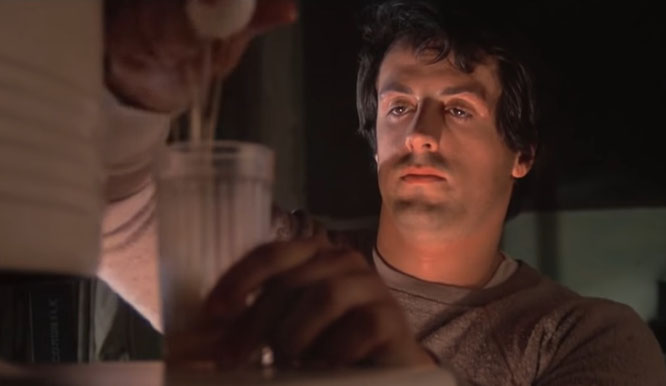 In 1985 the world was introduced to the Italian Stallion Rocky Balboa, a small time boxer that rises to fame in the ultimate underdog movie and one of the best sport movies ever made. I can go on about how much I love this movie for a while, but you are here for the egg scenes, so let's talk about eggs...
The famous egg scene in "Rocky" starts with an alarm clock going off at 4 a.m (so not cool when that happens) and Rock (played by Sylvester Stallone) gets in an upright position. He sits on the edge of his bed for a while, before getting up and walking to the fridge...He breaks five eggs in a glass standing on top of the fridge and downs the raw eggs in one go, followed by nothing more than a burp. Then he goes out for his morning run through Philadelphia. Raw eggs, the breakfast of champions. I think I'll stick to my normal breakfast though..
The list goes on...
That's it for our egg scenes in the movie, but of course the list goes on. What to think of the 'eggstraoradinary' character Humpty Dumpty (an egg with a human face) that appears in "Puss in Boots" (2011), the scene where Ripley destroys the Queen's eggs in "Aliens" (1986), the 'pulling eggs out of the mouth' scene in "Airplane!" (1980), the 'baking eggs and bacon on the belly' scene in "Hot Shots!" (1991) or the egg hatching scene in "The Waterhorse" (2007). Talking eggs was a lot of fun, but now let's talk bunnies in movies...
What's up Doc? Bunnies in movies...
Again there are more movies with bunnies in them than you might think and it is quite impossible to talk about all of them, so we picked a few of them to talk about...
The Secret Life of Pets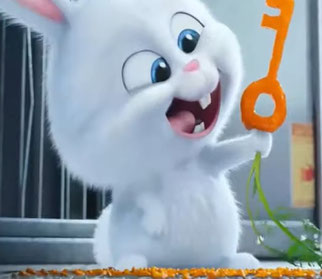 When you  first lay eyes on Snowball in "The Secret Life of Pets", you will think it is the cutest little rabbit you have ever seen. Small, white, blue eyes....and also insane! As a result of being abandoned by his owners, Snowball hates pets and their owners and he's the leader of a gang of abandoned animals called The Flushed Pets. His goal is world domination. Although Snowball starts out as an evil mastermind, he grows out to be a superhero and part of the gang when he gets adopted by Molly...
Snowball returns in the sequel "The Secret Life of Pets 2" (2019). He is voiced by actor Kevin Hart. 
Who framed Roger Rabbit?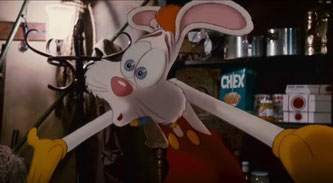 The 1988 movie "Who Framed Roger Rabbit" wasn't the first movie to combine animation and live action (this was the 1925 movie "The Lost World"), but it was groundbreaking and at the moment of release it was the most expensive movie made up until that moment (with a budget of 70 million dollars). The movie is set in LA in 1947, where animated character named "Toons" act in short movies. While they live in Toon Town, they regularly interact with humans in the live action Los Angeles of the 1940s. Roger Rabbit is the biggest stars of Maroon Cartoons, but ever since there are rumors about his wife Jessica being romantically involved with a rich business man (and owner of Acme, Maroon's biggest rival), Roger is performing poorly in his job. His boss decides to hire a private investigator (Bob Hoskins) to look into the rumored affair. When the businessman gets killed the investigator, who hates Toons, has to exonerate Roger of this murder. Roger Rabbit is voiced by voice actor Charles Fleischer.
Toy Story 4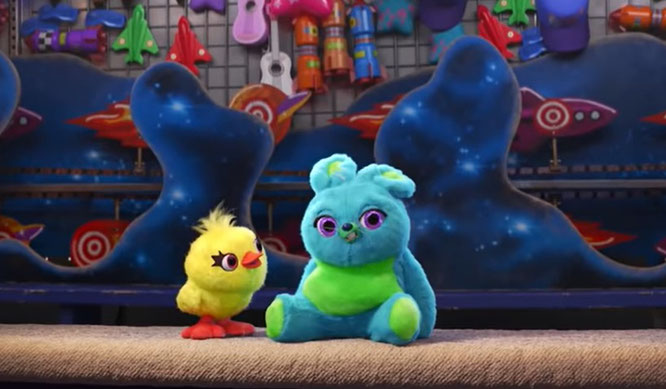 Last year a new movie duo stormed their way up to my list of favorite movie duos of all time. For me it's certainly the coolest movie duo ever: Duck & Bunny from "Toy Story 4" (2019). And since a duck comes out of an egg and because it feels like a crime to split them up; I will talk about both of them. While searching for Woody, Buzz ends up in a very crowded carnival. When the owner of a space shooting game stand finds Buzz, he decides to hang him between the top prizes. This is were he meets Duck & Bunny, two prizes attached to each other and eager to be won, so they can get a nice home. When Buzz comes in they are very hostile against him, because in their opinion he steals their top spot and thus destroys their dream of being won. Eventually the two become part of the gang, which results in some very funny scenes. Duck & Bunny are voiced by Keegan-Michael Key and Jordan Peele. I for one can't wait for a Duck & Bunny spin off to be announced.
Donnie Darko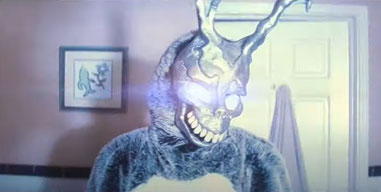 Where most of the bunnies on this list are cute, furry and very cuddleable, Frank the Rabbit is not. Actually, Frank is possibly the scariest bunny you ever saw. "Donnie Darko" (2001)  can be seen as Jake Gyllenhaal's breakthrough movie and it was the start of an amazing career. Gyllenhaal is one of my all time favorite actors. Despite of this, it's too long ago that I watched "Donnie Darko" (mental note: watch "Donnie Darko"). In this movie Gyllenhaal plays the role of troubled teenager Donnie Darko. One night a mysterious voice leads Donnie to sleepwalk out of the house. Once out of the house, he meets Frank. He tells Donnie that the world will come to its end in 28 days. This is the first vision of Frank and over the next days more visions follow and Frank starts to influence Donnie's actions. Frank is played by Robert Duvall.
Monty Python and the Holy Grail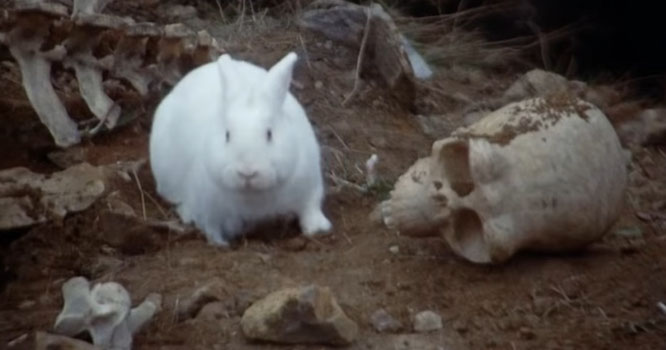 Awwww, back to the cute and furry bunnies...or...wait what??? Not exactly! Although I can't say I have seen a lot of scenes with killer bunnies in movies, I can certainly say that the killer bunny scene in "Monty Python and the Holy Grail" (1975) is the funniest I have ever seen. I love this movie. This is one of the movies that I can keep watching and it always makes me laugh. "Monty Python and the Holy Grail" contains a lot of legendary and iconic scenes and the killer bunny scene is certainly one of them.
Bambi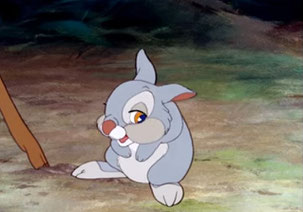 Now seriously...let's get back to the cute little bunnies we love. When it comes to cute, Disney's Thumper is about as cute as it gets. Thumper is Bambi's best friend (and teacher) in the 1942 Disney movie "Bambi". This cute little fur-ball is called Thumper, because of his habit to thump his left foot on the ground. When they meet, Thumper decides to learn Bambi some tricks and one of them is the power of speech. The character of Thumper is voiced by three different voice actors in the 1942 movie: Peter Behn (as young Thumper), Tim Davis (as adolescent Thumper) and Sam Edwards (as Young Adult Thumper). Thumper returns in "Bambi II" (2006) and is voiced by Brendon Baerg.
Bugs Bunny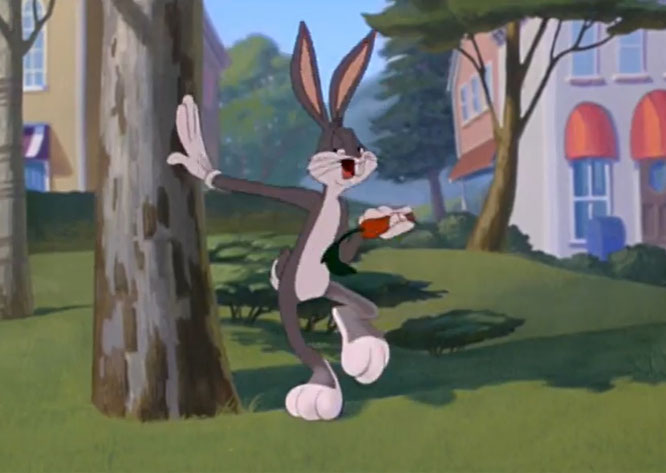 "Ehh...what's up, doc?". When you hear these words, there is only one Bunny you think about and that's the smart mouthed Bugs Bunny. As one of the most famous Looney Tunes character, Bugs appears in numerous Loony Tunes movies and cartoons since his first appearance in the 1940s. Some of the movies Bugs appears in are: "What's up, Doc?" (1950), "The Looney, Looney, Looney Bugs Bunny Movie" (1981) and "Space Jam" (1996). But there are a lot more. Bugs Bunny was originally voiced by Mel Blanc, but over the years a lot of voice actors have voiced one of Looney Tunes most popular characters.
Holidays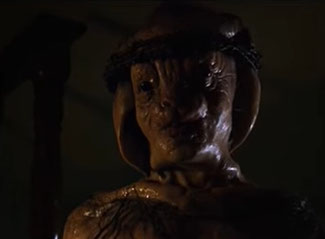 Ok, especially for the horror fans among you...we have on more evil bunny for you and one that is possibly even scarier than Frank from "Donnie Darko". Meet Bunny Man from the movie "Holidays" (2016). Bunny Man is played by Mark Steger. The movie is made up of 8 segments and each of the segments revolves around a certain Holiday. It won't be surprising that the Bunny Man makes his entrance in the Easter segment of the movie... Fun Fact: Mark Steger (the actor that plays The Bunny Man) is also the actor that plays The Demogorgon in "Stranger Things".
And the list goes on...
Of course there are a lot more movie bunnies to talk about, but we have come to the end of our list. Some other (bunnies in) movies we could have talked about are: the rabbits in "Wallace & Gromit: The Curse of the Were-Rabbit" (2005),Judy Hopps in "Zootropolis"/"Zootopia" (2016), the bunnies in "Watership Down" (1978, talk about scary by the way) or the White Rabbit in "Alice in Wonderland" (2010).