Whoop whoop! Last weekend we went to Dutch Comic Con again. This time it was a summer edition, love that. Saturday morning super early, we started our journey to Utrecht and Sunday, later in the evening we returned home again. What happened in between? Let's talk about that! 
Dutch Comic Con Summer 2023
We were very excited to go to Dutch Comic Con. We have never missed an edition and every time it keeps getting better. Before the event, we read a lot of good things that would be happening there. They had invited some cool guests again and there would be lots of merchandise, an entertainment, experience and gaming area and a lot. Well... On our way to Dutch Comic Con we were already very excited... And excited is an understatement! 
Experience Hall
One of our favorite places to be this weekend, was the experience hall. We absolutely loved the this. It was a hall with a lot (and I mean A LOT) of movies and series photo opportunities and experiences. It was really amazing and we had so much fun. 
There was a trail you could do in The Witcher style by Netflix as a promotion for the third season. We also made an Indiana Jones photo, which was pretty awesome. We made photos with Thor. Made a Star Wars, Turtles, Spider-Man, Transformers, Star Trek photo. 
We also did a Secret Invasion experience. 
We also talked there to the team of the Huntsman Society, they developed an awesome game! We chatted about the game and we can't wait to play! 
Gaming Area
There was also a huge gaming area. Love that. It was a cool area with a lot to do. There was a huge Nintendo stand. You play Zelda Tears of the Kingdom there. I didn't do that at Dutch Comic Con, because I already own the game and have played quite a lot of hours already. But I really enjoyed seeing so much Zelda at Ditch Comic Con, especially as a Zelda fan. We did get some awesome pins at Nintendo. 
We also played Alien Invadors XL at the Megekko stand and we were actually not to bad at it haha. There was a lot more at the gaming area, people playing a lot of games and watching games. Loved that. 
Actresses and Actors
Like we already mentioned, we were really excited about the guest announcements! We attended a lot of panels, did a photo op and got some selfies. This was all really awesome again. The panels were great again. A lot of places to sit, a good schedule and great sound. 
We were also happy to meet the guests. There were really kind and enthusiastic and we had a great time! 
Dealer Hall
The dealer hall was big as always! There were a lot of dealers and so much to buy.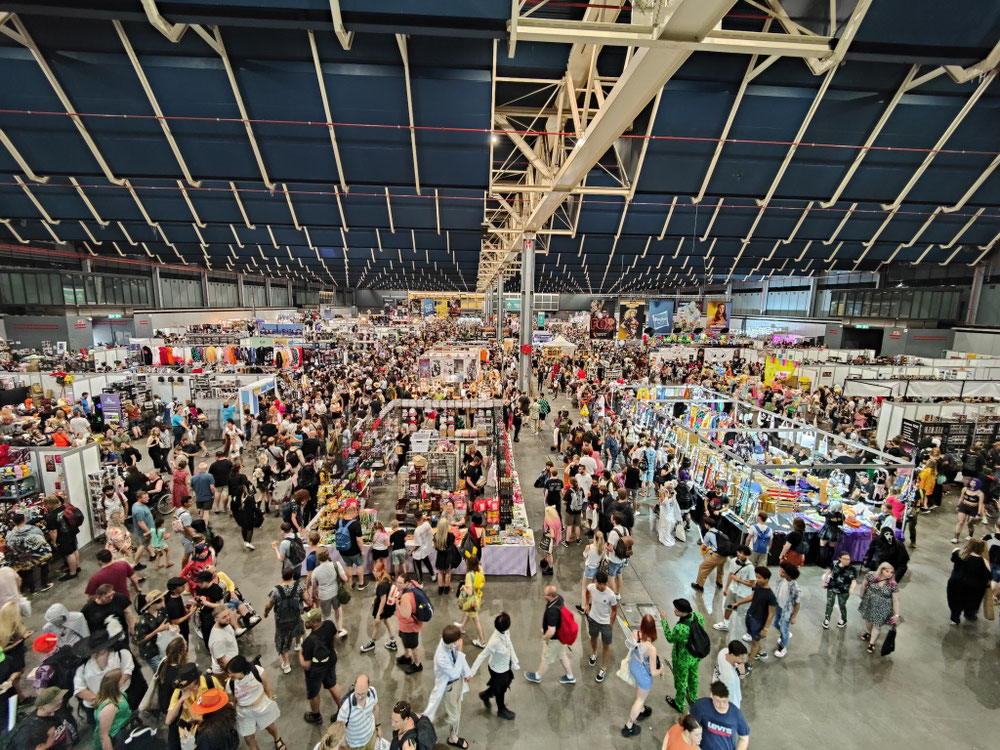 Getting A Tattoo
There were also tattooers ( from the 13th Floor) at Dutch Comic Con, whoop whoop! I was already very excited about that and was hoping to get a new tattoo there. I had a few options in mind. So furst things I did when we arrived at Comic Con, was going to the tattooers and see if there was a spot. 
I was lucky to get a a spot and got my tattoo done by Irene. I chose to get another silhouette on my ankle. This time of Pulp Fiction. Whoop whoop! I am so happy with it and it is healing well.   
There's Always More
And as always, there was a lot more! I'm starting to think we really need something like a Comic Con holiday. Imagine that: One week at Comic Con. Wouldn't that be amazing? 
Well, back to Dutch Comic Con haha. There was a lot more to do. There was of course Fan Village again, with several awesome cosplay groups. There was a comic hall, with awesome guests and comics. Lots of cosplay and of course a cosplay contest. And of course: food. 
Dutch Comic Con was incredible huge and it was a weekend full of excitement for us. Never a dull moment! We had some great experience again. Met awesome new people. Talked to a lot of awesome people we regularly see at Comic Con. We had so much fun. And now, now we can't wait for the next edition. WHOOP WHOOP.