With great movies, come great movie snacks! Don't you agree? Do you have any favorite snacks for watching a movie? Well, forget about that! We found the. best. movie. snack. ever. Just read on and we will tell you all about it....  
Did you ever bake cookies? Yes? Then you know that the best part about baking cookies.... is eating cookie dough! Whoop whoop. For us, that is definitely the best part. However, we were always told, not to eat too much of it. Now, that problem is solved, because today we are talking about edible cookie dough! You don't have to make the dough yourself. You don't have to make cookies. Just eat the dough! As much as you want ;). Because it's made for eating! Just go to the good part instantly ;). 
The package
About a week ago, we received an awesome package from Let's Dough It. This is heaven for cookie (dough) monsters like us! Look at this package! This looks so delicious doesn´t it? Can you imagine our excitement...? I mean, excited is an understatement! I received this package at home, just before we were going to Rotterdam for the weekend. So I needed all my self control to not eat anything yet (which is very very very very hard) and wait until Liv and I had the chance to take a look together! Ooooh that was hard. But I can already tell you: It was worth the wait! We were together in Rotterdam that weekend, but would try out the cookie dough at home at movie nights. We had a great weekend in Rotterdam (we did so much shopping). But in the back of our heads... we heard this cookie dough calling us... eat me .... eat me.....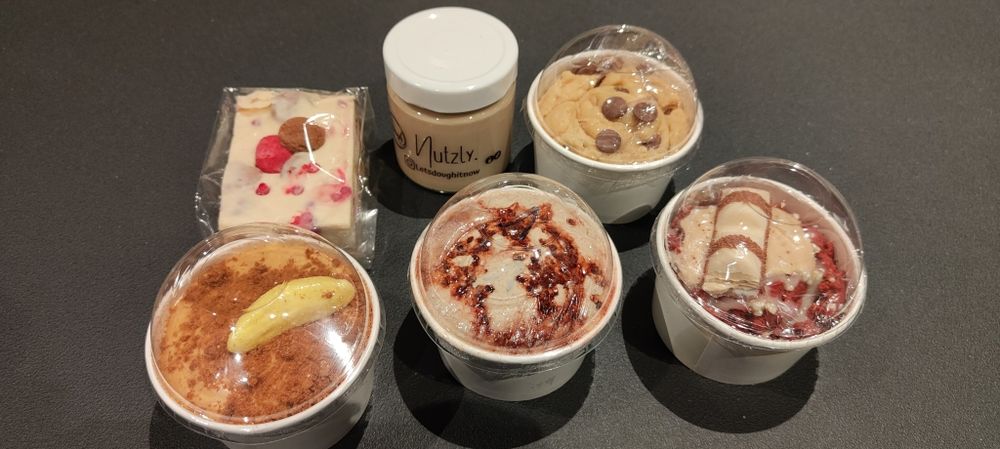 I wont't keep you waiting any longer! OK maybe just a bit haha. Before telling you how good this cookie dough is, we will tell you exactly what we received! Oh yess, that's very important too! So let's talk about all the great things that we found in our package (from left to right, top to bottom): 
Raspberry cheesecake peppernuts fudge bar
Nutzly: White chocolate hazelnut paste
Chocolate chip milk cookie dough
Toppe'Dough Banoffee cookie dough
Vegan cinnamon cake batter
Velvet Bueno cookie dough
Sounds goooood right? We were happy to start tasting. I love edible cookie dough and these ones look so great! I love how many flavors are available. There's so much variety. 
Let's taste the cookie dough!
Stop screaming cookie dough!!!! Yeahhhhhh we will eat you! Finally it was time. Time to eat it all!! Finally it was time for a movie night. And we couldn't wait to start tasting this amazing cookie dough. We love having great snacks to go with watching awesome movies. So this would definitely be a great evening. 
I can tell you: We had so much fun tasting everything that was in the package. And oh yeah... We tasted IT ALL! Okay, not in one evening. We need to taste it well, so we took some time, invited some friends, watched some movies (yeah I know, life is so hard sometimes). 
Everyone loved the cookie dough! Unanimously. There were different favorites though. Personally, my favorite is the velvet bueno cookie dough. I just love it. I want more! It is a Kinderella infused red velvet dough with white chocolate and pearl crunch. There's white chocolate sauce on it, some Kinderella paste and a white bueno! Liv's favorite was the Chocolate chip milk cookie dough!
Before talking further, let me share some more photos with you! 
I think this shows how much we loved it right? The Toppe'Dough Banoffee cookie dough was also a great one! This is a classic dough with bastogne crumbs, banana/toffee pearls, caramel cubes with on top a mix of caramel and banana chocolate. Oh yes, it tastes as good as it sounds! We definitely found a new great movie snack this week. And we are happy to see there's much more we can try hahaha. Let's Dough It doesn't just have great cookie dough, but also great doughlicious snacks! 
I also have to a special mention for the vegan cinnamon cake batter. Oooh that one is so delicious! It's autumn and I like everything cinnamon now. And this cake batter... It is so good! There's so much cinnemon taste. And the structure.. great! I love it. 
Let's Dough It more!
Oh yes, we are thinking the same: I need this! I want this! Let me eat this! We want more! 
Well, then definitely check out the cookie dough menu at Let's Dough It! And we have more good news... you can even get a discount now! Use conmose10 to get 10% off! We can't wait to hear your cookie dough stories!