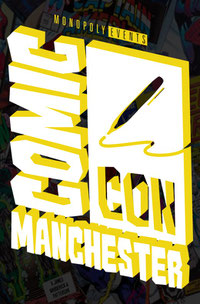 On Sunday the 30th of July 2023, I (Liv) went to Comic Con Manchester in the BEC Arena in Manchester (England, UK). We had been there for the whole weekend last year and we had an amazing time. We already struggled to do everything we wanted last year and now I was alone (well Tristan was with me, but no Carola) and I only had one day. In the weeks leading up to the con, some of the guests I was really looking forward to had to cancel (Lauren Cohan, Antony Starr, Chace Crawford and Kyle McLachlan), but the list of attending guests was still very impressive. What to think of Seth Green, Jessie T. Usher, Gustaf Skarsgård, Khary Payton, Jordan Patrick Smith and Clive Standen? Or Elizabeth Berkley, Mike Starr, Paola Lázaro, Cassady McClincy, Michael James Shaw, Alanna Masterson, Austin Amelio and Pollyanna McIntosh? Still not enough? Well, what about David Yost, Ethan Suplee, Dante Basco, Jake Busey, Lucy Martin, Philip Pope, Tessa Peake-Jones and Gwyneth Strong? Pretty impressive right? And to top it off, there was Zachary Levi, but he was only there on Saturday. Luckily, I had already met some of the guests on other cons, but there were still so many cool actors and actresses to meet. And then there were the merchandise, the props and so much more. I had a wonderful day and I can't wait to tell you all about it! Or better yet show you all about it
The guests (meetings)
I already mentioned the impressive guestlist, so there was a lot to do and not much time to do it. On Saturday evening, I already read about the huge queues for guests and especially the one for Seth Green and I also read that it was almost impossible to get an autograph (or selfie) if you didn't book it up front. When I was writing the guest articles, I already saw that you could buy autograph tickets beforehand. I thought that was quite unusual, because normally you get in the queue and buy it at the table. I also read that it was also possible to buy it at the table, so I decided not to buy anything upfront. Huge mistake! We were there quite early and even before the guests were even there, the queue for Seth Green was already pretty long, nonetheless I decided to get in the queue and wait. After a little while, one of the people of Monopoly walked by to reassure that everyone in line had a pre-purchased ticket. Wait...what? I asked her about it and it turned out that for the first part of the day, Seth would only do the pre-purchased autographs and selfies. So if I wanted to do a selfie I had to come back after 3 p.m. and hope that the queue was not too long. Bummer, but it was my own choice not to buy a ticket beforehand. In the afternoon there would be some panels I wanted to see, so I was not sure if my mission to meet Seth would succeed. I decided to get over to the guests of "Vikings" (I love that show). Luckily, the queues for Jordan Patrick Smith (Ubbe) and Clive Standen (Rollo) were not that long. Gustaf Skarsgård (Floki), however, already had quite the queue. 
Jordan Patrick Smith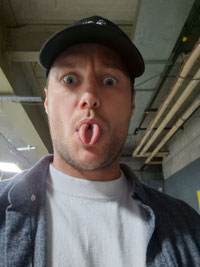 I first got in line for Jordan Patrick Smith and I was really excited to meet him. When I was waiting, I observed him and how he was with other people and he seemed genuinely nice. When it was my turn, I gave him the typically Dutch treat  'stroopwafels' and he was so happy with them. He immediately came from behind the table and gave me a hug. I decided I wanted a combo (selfie and autograph) and while I was paying for it, Jordan already had my phone. He decided to goof around a bit and the result made me laugh so hard afterwards, because I did not see him doing it. We had a little chat and he told me he really liked the English rain, because he lives in Los Angeles and it doesn't rain very much over there. Well, I would sign for that weather right away, but hey that's me! After the chat we did some selfies and I am really happy with the result!
Clive Standen
While I was in line for Jordan Patrick Smith, Clive Standen made an entrance and showed his shirt to his "Viking" colleagues. When he turned around I saw why and it made me laugh so hard. It said: "This is how I Rollo" and Clive obviously played Rollo in "Vikings". When it was my turn, I also gave him stroopwafels and we had a little talk. I told him, I loved the shirt and he did his best to show it on the selfies. What a nice guy!
Gustaf Skarsgård
Later in the afternoon, I went for a selfie with the man behind Floki in "Vikings". More recently he played the role of Hans Bethe in Christopher Nolan's megahit "Oppenheimer". Of course I also gave Gustaf some stroopwafels and he seemed to be very happy with that present. He was very nice and very calm (a lot calmer than his character Floki).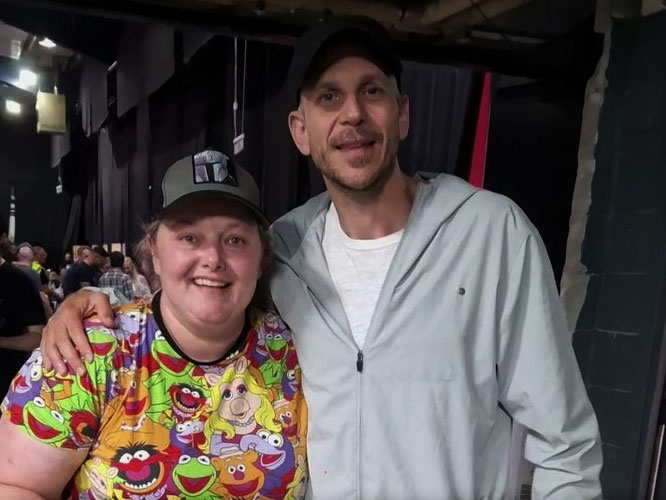 Jessie T. Usher
I love "The Boys" and so I had to do a selfie with the man behind the A-Train! After a little chat, it was time for the selfie. Before the selfie, he said let's do a good one and a bad one. When I asked him what the bad one would be he said: "You'll see"... Jessie was very energetic and awesome to meet!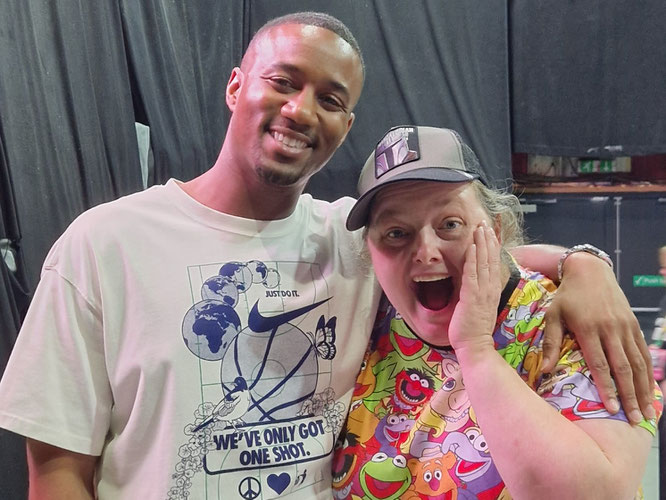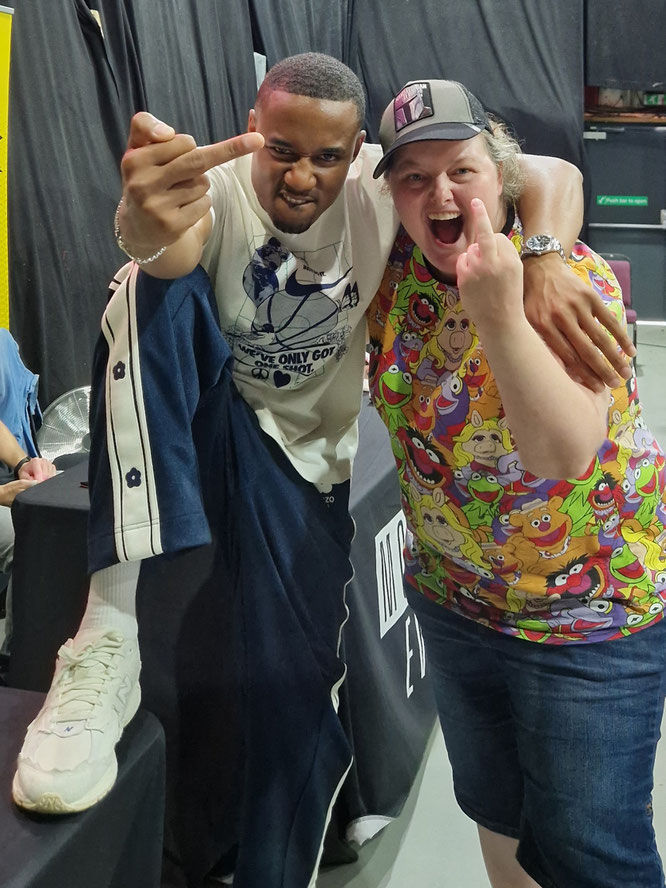 Seth Green
As I already mentioned, I really wanted to meet Seth Green. I also mentioned that his queue was huge throughout the day. I decided to do a photo op after his panel. The photo op earlier that day was very crowded, but I had to take the chance. I did have to give up the "The Walking Dead" panel for it, but I had no other choice. Luckily the queue wasn't that long for the second photo op of the day and during the waiting, I could still see a little bit of the panel. Seth was very energetic (as I expected) and he was quick to get on board with the Conmose-pose.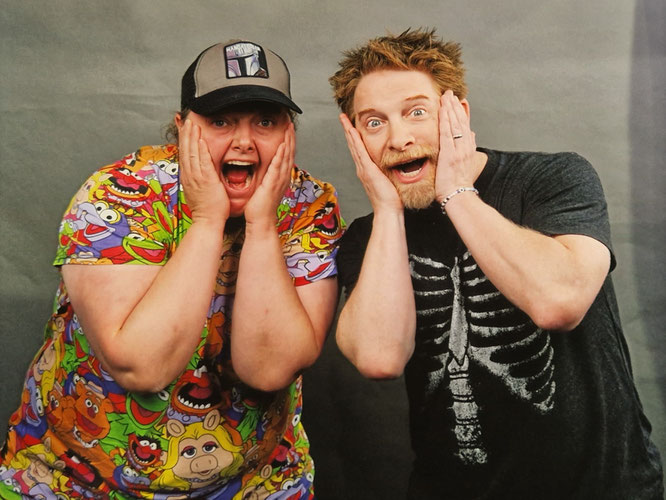 The guests (panels)
I attended quite some panels on the day I was there. Unfortunately, some of the panels I wanted too see were on Saturday, but hey Seth Green was on Sunday, as were Jordan Patrick Smith & Gustaf Skarsgård and Jessie T. Usher. I also attended part of the "Only Fools and Horses" panel, the panel of Ethan Suplee, part of the David Yost panel and a very small part of the "The Walking Dead" panel. 
Enjoy some of the pictures below.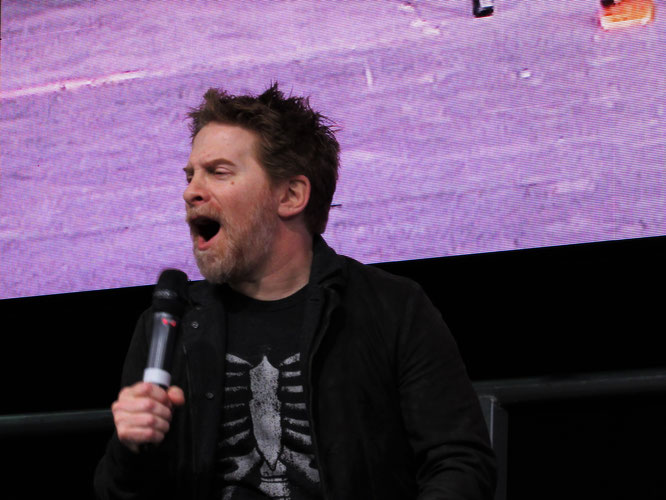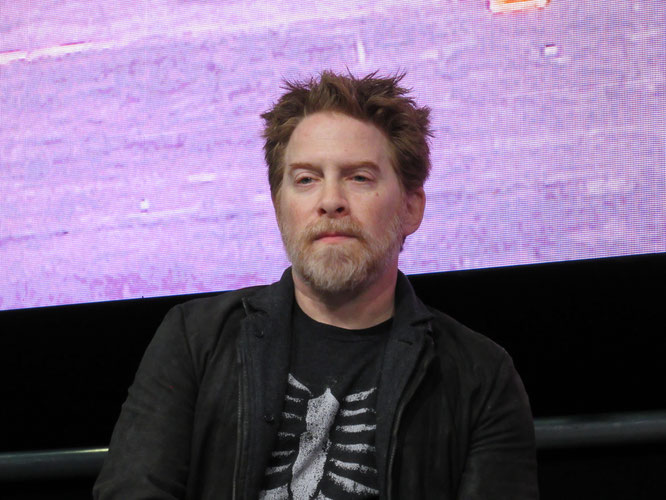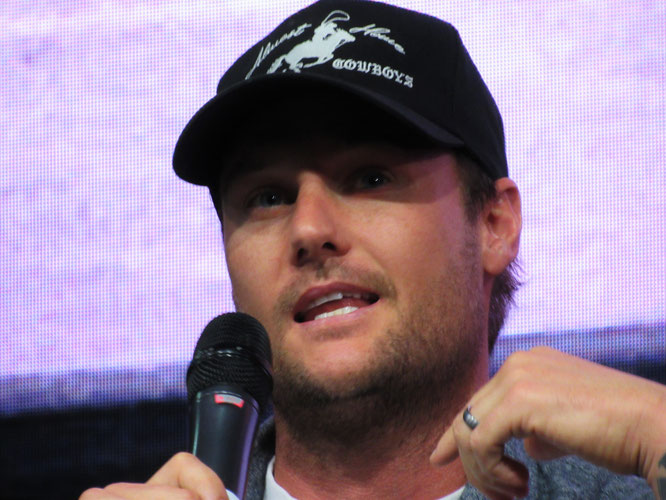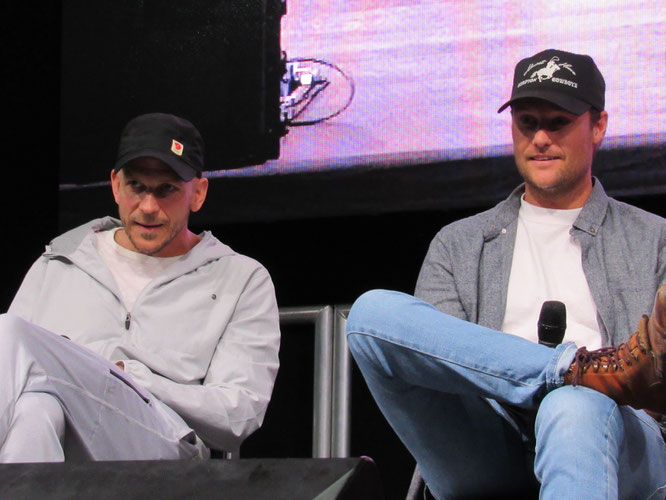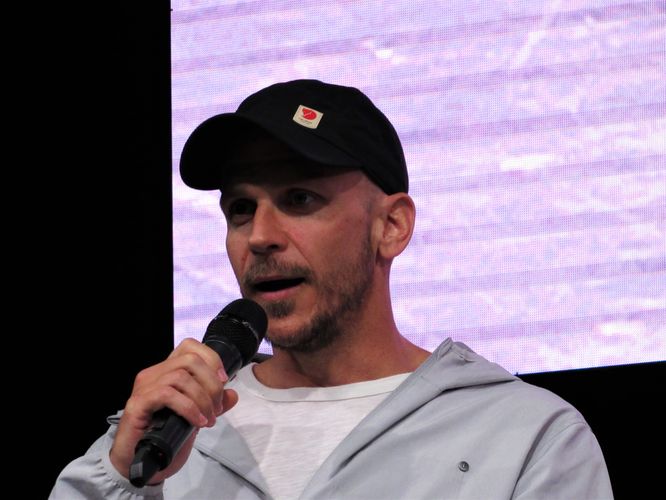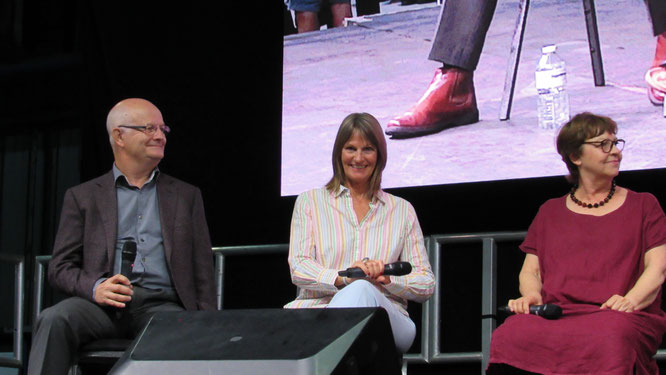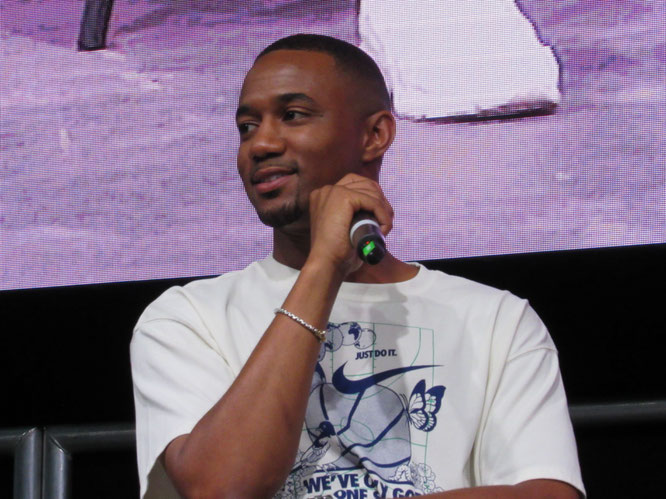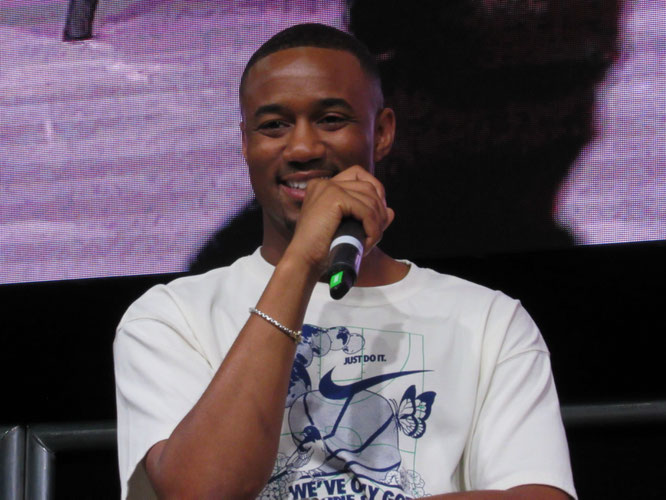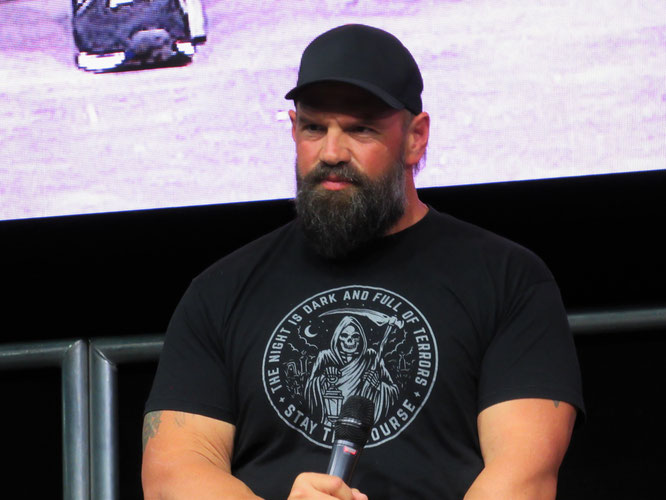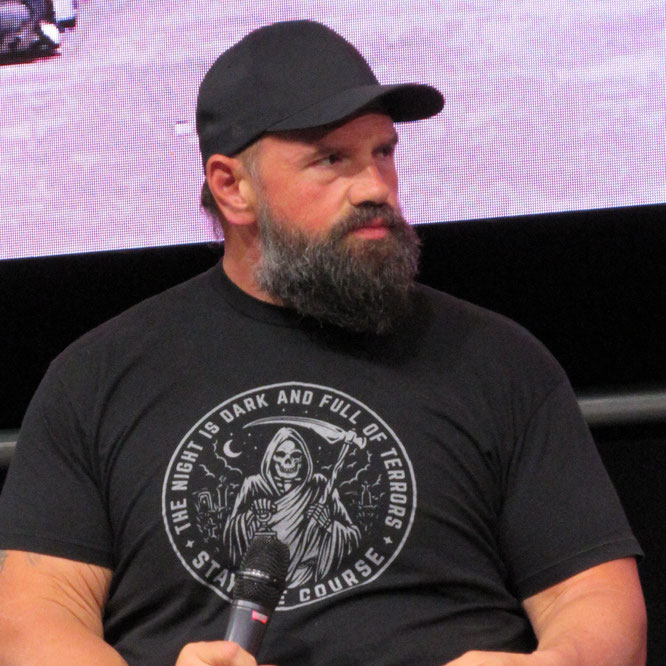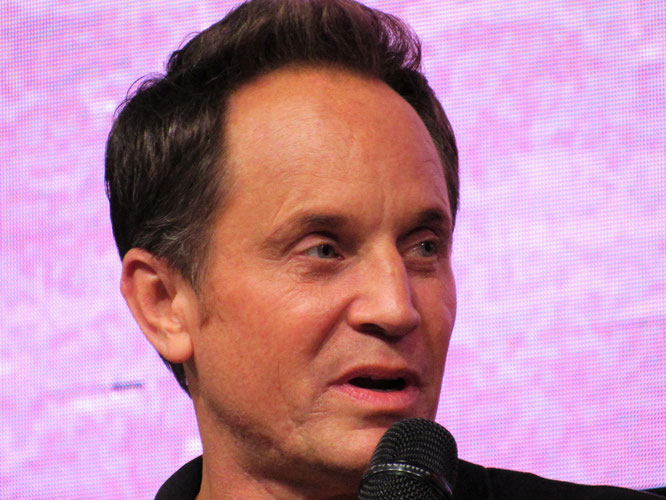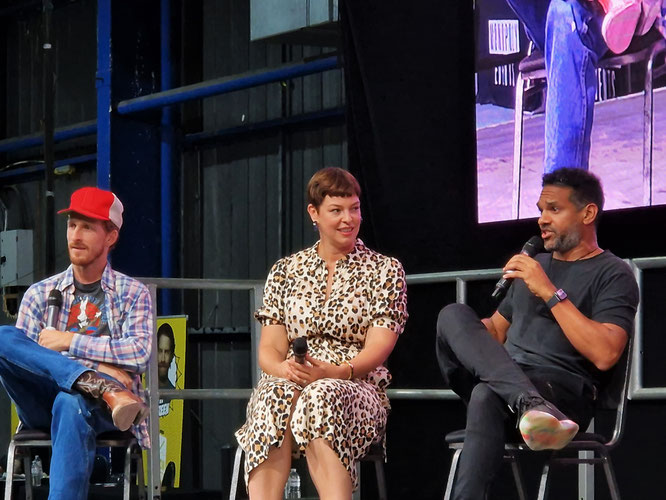 Guests (Tables)
Not all the guests appeared on stage and unfortunately I could not meet all of them. I did do my best to shoot some pictures of the other guests at their signing tables.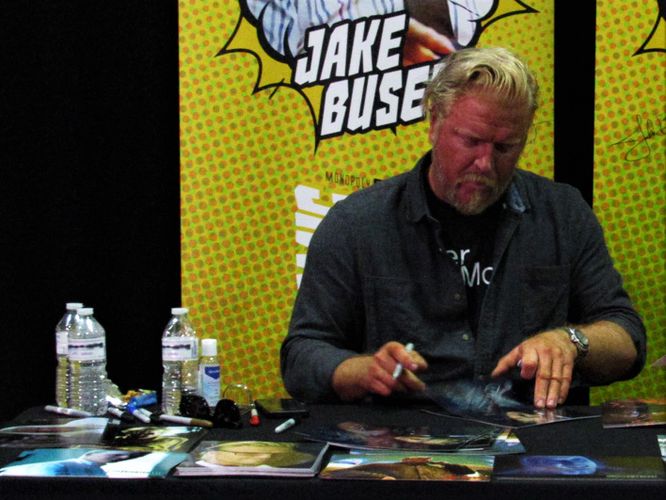 Props
There were quite some props to find all over the convention floor and unfortunately I did not have the time to photograph them all, but I did manage to make a some awesome pictures, to show you what I mean.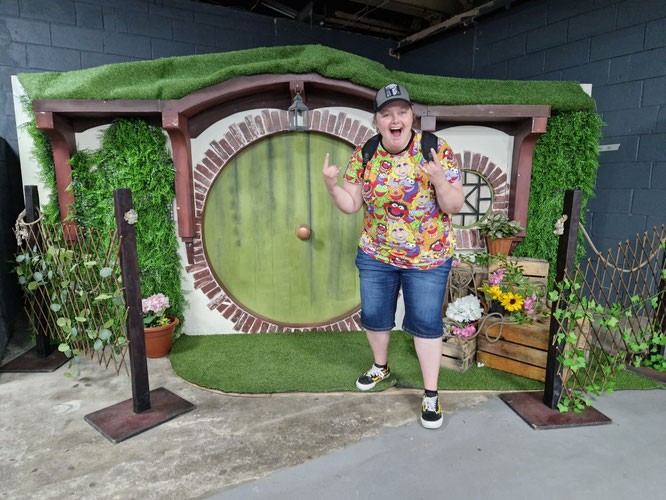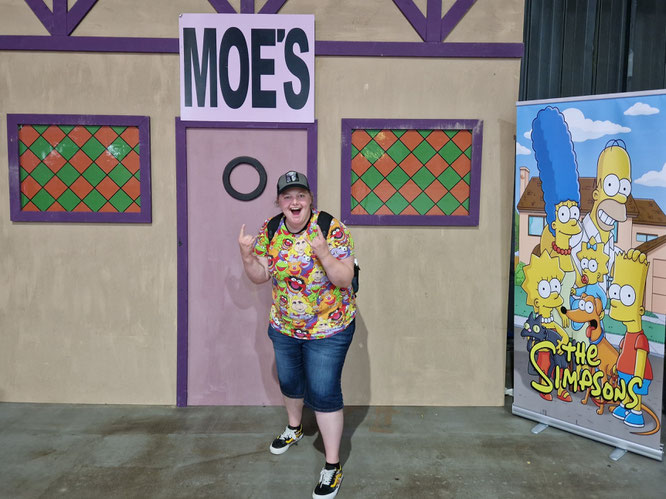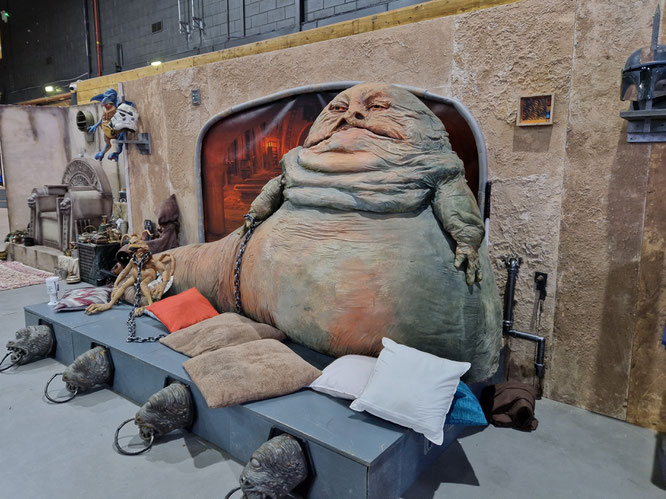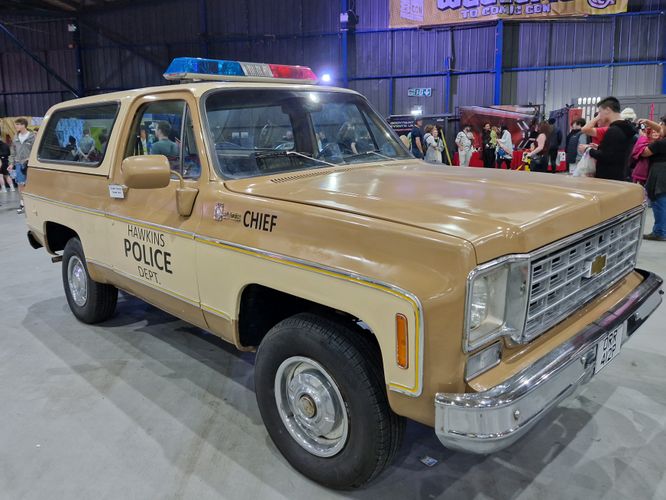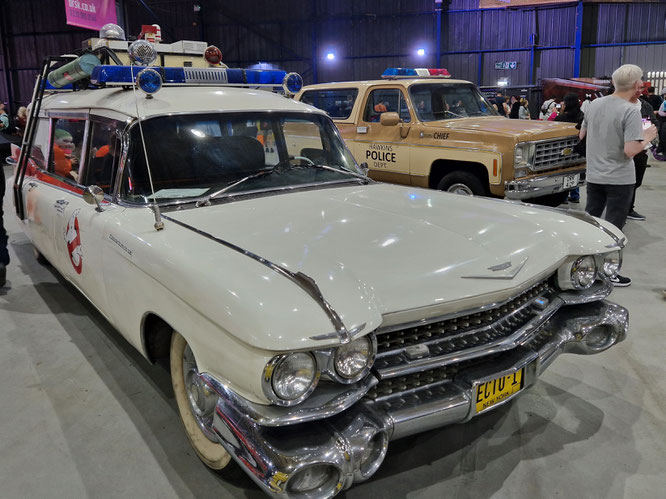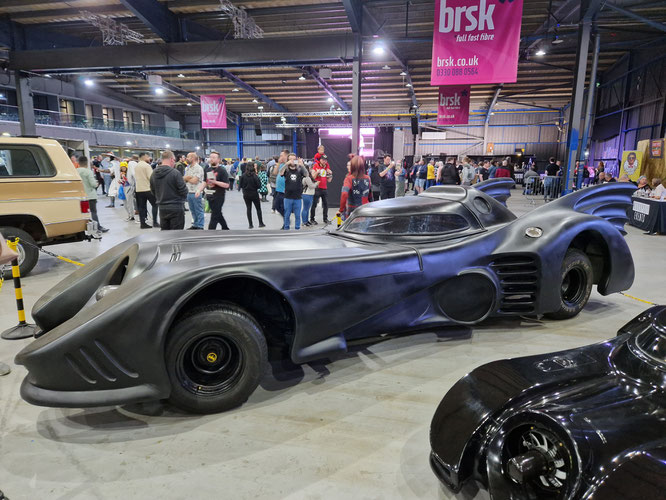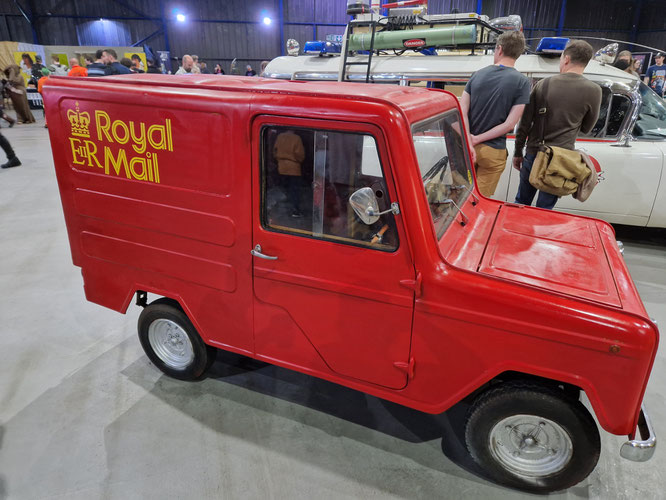 Merchandise
For me the merchandise area was a bit disappointing. What I did love was the fact that there was a lot of extra space, which was created because of the extra tent. Unfortunately, there was not that much variety in the merchandise. I would have loved to see DVD/BluRay and games stands, some stands with vintage toys and some more variety in book stands. But hey that is my opinion... it was nice to walk the dealer floor for a little while, but I did not buy anything.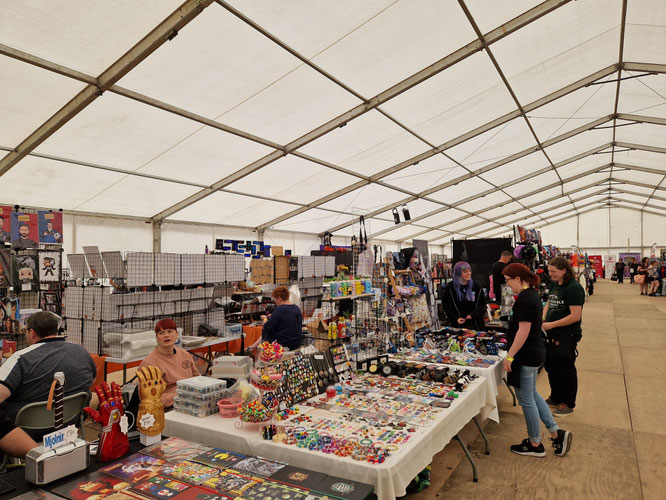 Food
The Food area was great. Outside there was a food court, with a variety of foods. And you could also buy some foods inside. We had a great burger! The only thing that was missing was some more room to sit down.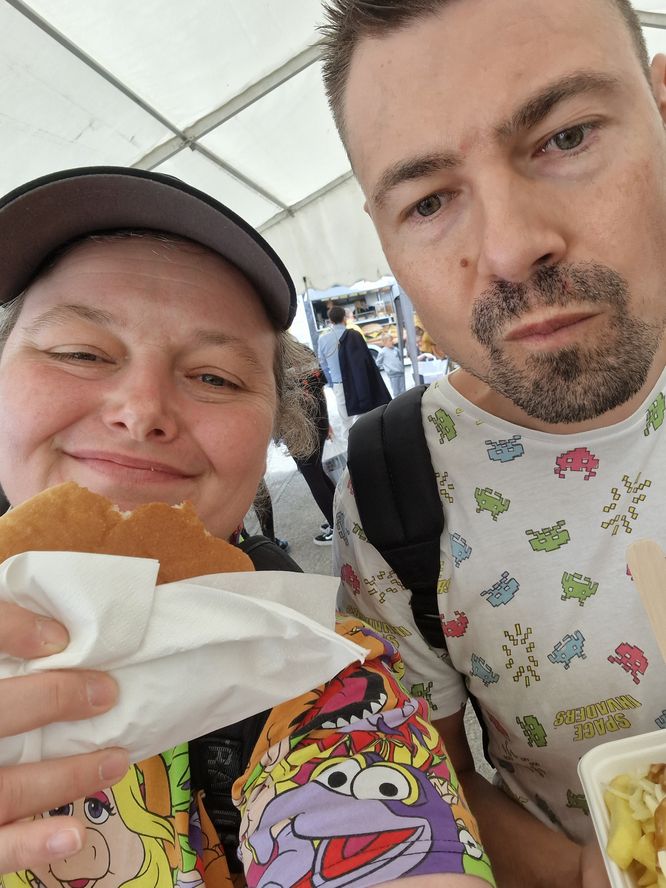 Musical entertainment - Lina and The Lions
Recurring guests at the mainstage were the band Lina and the Lions. They started off the day at mainstage to warm up the crowds. During the day they returned to the stage on several moments and they also closed the day at main stage. Their repertoire consisted of a mix of their own songs, with covers like Running Up That Hill. 
Conclusion
Just like last year, I had an amazing time at Comic Con Manchester and I would recommend anyone to check out some of the amazing shows,  Monopoly Events puts on the calendar. Thanks again for having me Manchester and hope to see you again next year!