It's comic con time!! Woooohooooo. Liv and I were super excited to go to Comic Con Amsterdam! It's had been so long since we attended a comic con (OVER 2 MONTHS. Our last comic con was CCXP Cologne). As a preparation, Liv already wrote tons about the guests of Comic Con Amsterdam (Part 1, Part 2, Part 3).  Because of maintenance on the trains, we decided to leave on Friday evening. That was a great decision. We had so much fun and in the hotel we did an Instagram Live, talking about the comic con. Then, on Saturday morning (very early!) our alarms went off and it was time. Time for comic con!!!!!!!
Let's get this party started
We arrived at Amsterdam RAI station and walked to the convention. It was a walk of about 10 minutes. We arrived around 9.30. There was a queue, but it wasn't very long (The comic con opened at 9 for early bird tickets, and at 10 for regular tickets). We walked towards the press entrance (we didn't find it instantly, we had to look for it. We found it easily after asking someone). There, everything went smooth and quickly. We got our press bands and we were ready to go! Inside, we went to the main stage, to discuss the interviews we could do with the guests during the day. We discussed doing interviews with Kim Hartman & Richard Gibson (Allo Allo)  and Manu Bennett. 
Then, we walked around a bit to get an overview of the comic con. It wasn't very big, but we liked the set up. We saw the guests (they were signing, and you were allowed to make photos, yay!). We also saw Movie Props NL with a huge Alien stand and always really love their stand. The props of Alien are incredible! We also enjoyed talking to Anne there, and we did some dances together (you will see it soon in our vlog!). Everything was situated in one space: from main stage to merchandise, cosplay groups & food: all of it in one hall. 
When we got in, there weren't a  lot of people (just the early bird passes) so that was a great opportunity to explore!  Later on, more people came in. It wasn't super busy, but it's also nice when it isn't too crowded! 
The guests
We were super happy with the guest list: there were many people we wanted to meet. Unfortunately, there were quite some cancellations. I didn't like that this was  communicated via the website only, not via social media. When the schedule came online, I checked it. Only to notice that I couldn't find Iain Glenn. Unfortunately, it turned out that he had cancelled. But I had no idea. And then, some other cancellations followed (I was also looking forward to see Gethin Anthony). So in my opinion, communication could have been better there. Cancellations happen, but please do communicate it clearly on all channels. It really prevents more disappointment. Now, over to a more cheerful note: The guests that were in Amsterdam!
They were all very kind and enthusiastic. I really liked all the guests and it was great to see the panels and see them sign. The signing area was easy to find, access and photograph. I really liked that. It was easy to go for a chat with your favorite actor or actress. The longest queue was for Manu Bennett. Liv got an autograph from Kim Hartman and Richard Gibson. She will tell all about it in another article.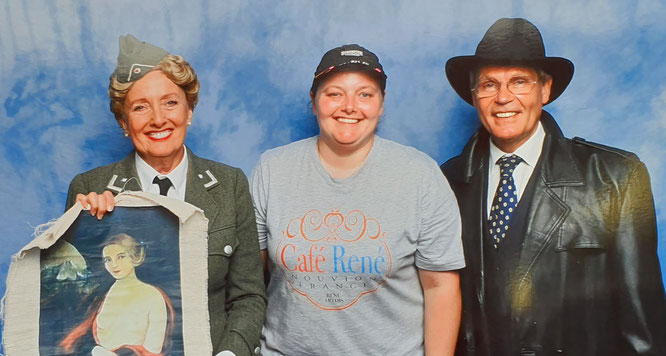 The panels
 Our panel list was still quite long. We wanted to see the following panels: Allo Allo (Kim Hartman & Richard Gibson), Art Parkinson, David Warner, Christopher Lambert and Manu Bennett. I was also planning to see the panel of Hugo Metsers, but there wasn't enough time in our schedule.  Curious for the panels? Watch a few below! 
Allo Allo panel
Christopher Lambert panel
David Warner
The panels took about 30 min each. (Except for Manu Bennett's panel. He always makes it as long as wants!). Like I mentioned before, the main stage was situated in the same room as everything else. I liked the lighting; It was easy to film and make good photos. It was a bit harder in the afternoon, when the sun was very bright. All the guests were great and happy to answer all the questions. Attending the panels was great! After the Allo Allo panel, we did an interview with Kim & Richard. We weren't allowed to make a video of it, but we will tell you all about it in an 'Allo Allo' article (coming soon!). Unfortunately, we weren't able to interview Manu Bennett anymore, since his panel took 45 min longer than expected (and by that time, the convention closed).  
Comic Con Amsterdam
We had a great day at Comic Con Amsterdam. We only attended the con one day, since we got a one day press pass. I liked the guests: They were really friendly and enthusiastic. The panels were great as well. The communication on the cancellations could have been better though. 
I liked walking around, seeing the Dutch Ghostbusters and Movie Props NL. The comic con wasn't very big, but for us there was enough to do. I would add something, I'd add a bit more merchandise stands and more photo opportunities. There was a Game of Thrones chair and some more opportunities, but there was a cost of 5,- per photos. That was way to much in my opinion. At CCXP, Liv and I made so many photos and all for free. It's also to promote certain movies/ tv series so I really don't think visitors should have to pay. 
It was fun to see our friends again at comic con, make a lot of pictures and meet the guests. We also saw Emilio Guzman who wrote a book about being a Nerd with Thijs van Domburg. An interview with these two will come up soon. We're glad we went to Amsterdam and it was definitely worth the trip. We had a great day.