Aaaaahh....Mondays. For most of us, it's the worst day of the week...With the puffiest of eyes, you drag yourself out of bed and reminisce about the weekend. Two day of complete and utter freedom lie behind you. Two days to sleep in, go out and have fun, watch movies or series and so on. And now it's back to reality....oh how we hate Mondays. Tomorrow, however, it's time for the worst Monday of the year: Blue Monday. For those of you, that have never heard about it: Blue Monday is the name for a Monday in January (typically the third) that is regarded as the most depressing and worst day of the year on the Northern hemisphere. According to British psychologist Cliff Arnall, the Monday in the last full week of January is the day that people feel most depressed. Amal used a formula that takes into account factors, like: weather conditions, days since New Year (this is the period that most people start failing their New Year's resolutions), the next vacation seems ages away and more things like this. Whether you believe in it or not...today we have some movie suggestions for you that will make your Blue Monday 'a lot more colorful'. Now you can take this literally and figuratively, so we will give you some suggestions from both categories. First up is the literal category, which contains movies with a different color than blue in the title. But because blue also has another meaning (figuratively) we will also give you some suggestions in the category 'feel good' movies.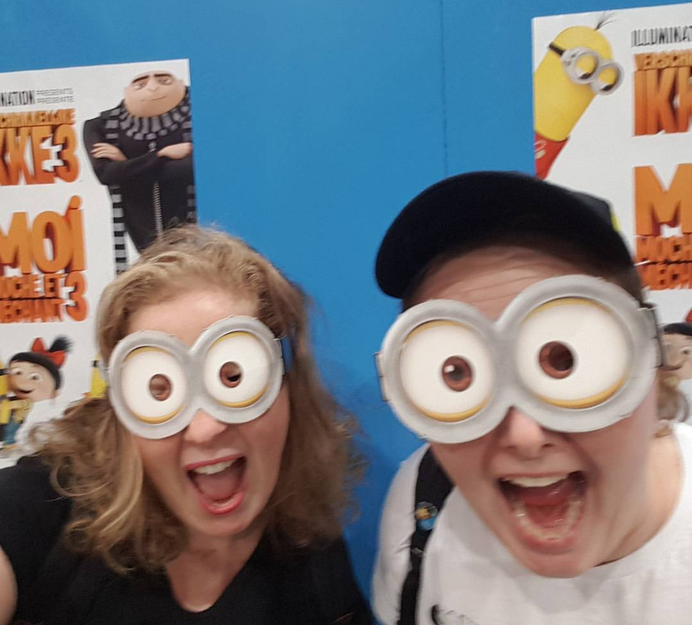 Movies with a color other than blue
Red  (2010)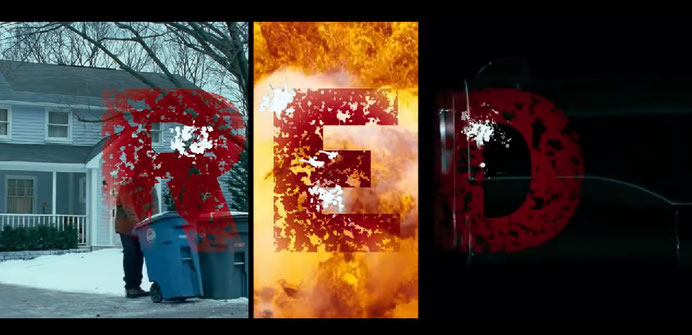 "RED" (2010) is an action comedy directed by Robert Schwentke. It revolves around Frank Moses (Bruce Willis), a retired ex-CIA Black Ops agent. He lives an extremely boring routine life and the only joy in his life seem to be his calls to the government pension office. Why? Because he gets to talk to his case worker Sarah (Mary-Louise Parker). One day, his house is attacked by heavily armored assassins. It turns out that he just became a CIA target, because of his past and the secrets he knows. Frank is convinced that Sarah is a target too and he persuades her to go with him. Together they go on a journey to find some of Frank's former (also retired) colleagues Joe (Morgan Freeman), Marvin (John Malkovich) and Victoria ( Helen Mirren). Like Frank they are all marked RED (Retired Extremely Dangerous) by the CIA . Together they try to take down the forces that are after them.
What I like most about this movie is its exquisite cast. Especially Helen Mirren and John Malkovich are just brilliant in their roles as former agents.  The movie doesn't take itself to seriously and this actually makes it fit into both categories of this article. I also love the sequel "RED 2" (2013), which reunites the gang for another adventure.
White Men Can't Jump (1992)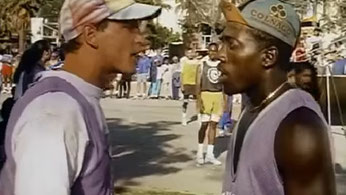 This 1992 sports comedy easily fits in both categories. "White Men Can't Jump", stars two of the biggest names of the early nineties: Woody Harrelson (as Billy Hoyle) and Wesley Snipe (Sidney Deane). Billy is a white man and he is an excellent basketball player, but a lot of the African American street players don't take him serious because they think that white men can't play basketball. Billy smartly takes advantage of this preconception, by playing on the streets for money. One day he meets Sidney and Sidney soon discovers that Billy is very good in what he does. Together they make a plan to earn money, playing a con game. Sidney enters a basketball court on the street and Billy sits down to watch. At one point Sidney challenges the other players to play for money and let's them choose his partner. This is where Billy comes in. Because everyone thinks Billy can't play because he is white, everyone chooses him. They win a few games like this and make some money. Billy has got a lot of unpaid debts, so he can really use the money....but then things go terribly wrong.
I have watched this movie multiple times already and I can keep on watching it. The on screen chemistry between Snipes and Harrelson is great. Add Rosie Perez (as Billy's girlfriend Gloria) to the mix and all bets are off.
Green Zone (2010)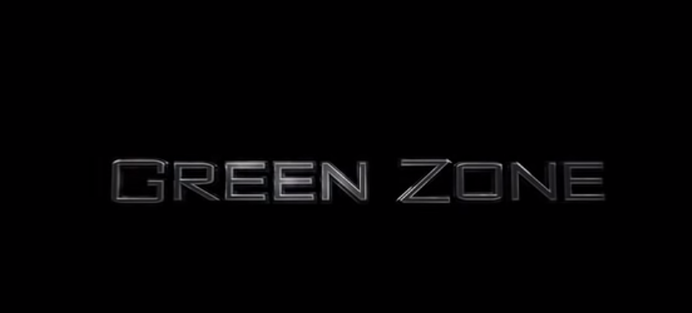 The screenplay of this 2010 war thriller is based on the 2006 non-fictional book "Imperial Life in the Emerald City" by journalist Rajiv Chandrasekaran. This is the third collaboration between director Paul Greengrass and actor Matt Damon (the other two being: "The Bourne Ultimatum" and "The Bourne Supremacy"). Damon plays Chief Warrant Officer Roy Miller. Miller and his team get orders to search locations for Weapons of Mass Destruction in Iraq. But every time they search a location they strike out and find nothing. This leads Miller to believe that the Intel they are getting is not to be trusted and he shares his doubts with his superiors. They don't want to hear about this and order him to follow orders. When CIA agent Martin Brown (Brendan Gleeson) approaches him in secret and tells him that he will strike out again on his next location, he realizes something isn't right. With the help of journalist Lawrie Dayne (Amy Ryan) and Brown, Miller discovers that the false information is being given by someone with the code name Magellan. But who is it and why is he giving false information?
Matt Damon is solid (as always) and Brendan Gleeson is very good as Brown. Great movie!
Black Hawk Down (2001)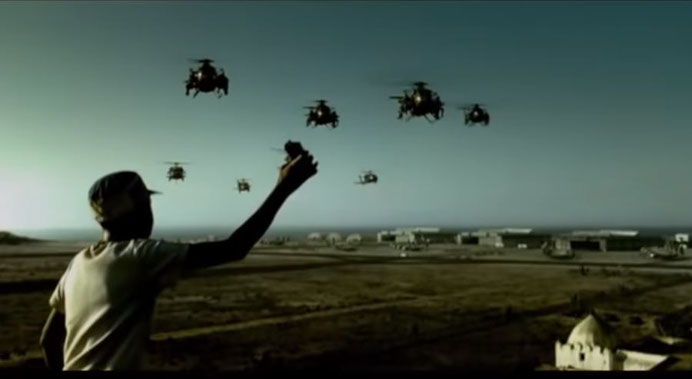 Another excellent War Movie (in my opinion one of the best), inspired by a true story is "Black Hawk Down". It is set in the Somalian Civil War (in 1993) and it tells the true story of an American fight unit that gets dropped into enemy territory on the 3rd of October 1993. Their mission is to kidnap two high end Somalian spies. It was thought that the mission would take under an hour to execute, but things went terribly wrong. The unit stumbled upon heavy defense and two Black Hawk helicopters were shot down. A lot of Somalian people and 19 US soldiers died during this action and the events following it.
The movie is directed and produced by Ridley Scott (also known from movies like "Gladiator", "Alien", "Bladerunner" and "Prometheus", to name a few) and co-produced by Jerry Bruckheimer (known for "Top Gun", "Pirates of the Caribbean", "Armageddon", "The Rock and many more). It was nominated for four Academy Awards and it won two of them (for "Best Film Editing" and "Best Sound"). Furthermore the movie has an excellent cast with actors like: Josh Hartnett (as Eversmann), Ewan McGregor (as Grimes), Eric Bana (as Hoot), Kim Coates (as Wex), Tom Sizemore (as McKnight), Ewan Bremmer (as Nelson), Jason Isaacs (as Steele), Jeremy Piven (as Wolcott) and Orlando Bloom (as Blackburn). This movie is a definitive must-watch!
The Pink Panther strikes again (1976)
Another movie that actually fits in both categories is "The Pink Panther Strikes Again" (1976). I could have taken any "Pink Panther" movie, starring Peter Sellers as the clumsy Inspector Clouseau, but this is the one I have watched the most of all of them. Not only do I love Peter Sellers as Clouseau, I also love Herbert Lom as Dreyfuss in this one. It is the fifth movie in the "Pink Panther" franchise and it picks up where the fourth one ("Return of the Pink Panther") ends. 
Former Chief Inspector Dreyfuss has finally broke down and has been admitted in a mental institution, to recover from his murderous thoughts toward Clouseau. He has made great progress and is about to get his release papers.....until he gets a visit from Clouseau (who is now Chief Inspector). Dreyfuss suffers a relapse and his release is cancelled. Not long after Dreyfuss escapes the institution, with the intention to end Clouseau once and for all. He kidnaps professor Hugo Fassbender (one of the most prominent neclear scientists of the world) and forces him into making a weapon of mass destruction. Furthermore Dreyfuss hires a small army of the world's most dangerous assassins to take care of Clouseau. Well if you are familiar with the "The Pink Panther" movies, you will know that this all leads to a very  humorous mix of clumsiness and mayhem.
I am a big fan of the work of peter Sellers and in my opinion he and Louis de Funès are two of the biggest comedians of their time. Another movie I never get tired of watching.
Jackie Brown (1997)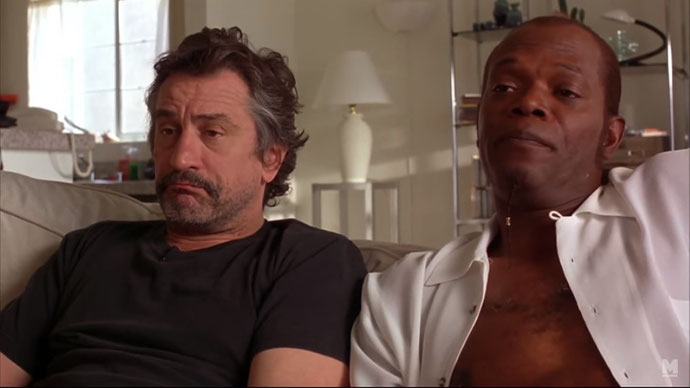 Hell yeah...it's time for some Tarantino! "Jackie Brown" is based on the novel  "Rum Punch" by Elmore Leonard. The screenplay was written by Tarantino and he also directed this crime thriller, that can be seen as a homage to the blaxploitation movies of the 70's. When I think of the blaxploitation movies (like "Baadasssss", "Shaft" and "Foxy Brown"), one of the first names that comes to mind is Pam Grier. She can be seen as one of the legends from this genre. It will not come as a surprise that Tarantino gave Grier the leading role in "Jackie Brown". The movie tells the story of (surprise!) Jackie Brown (Pam Grier), a middle-aged flight attendant, who struggles to make ends meet. Because of her financial situation, she agrees to smuggle money from Mexico to America for black-market gun runner Ordell Robbie (Samuel L. Jackson). Ordell is under close watch of the ATF (Bureau of Alcohol, Tobacco, Firearms and Explosives), so he has to use couriers to stay under the radar. The arrest of one of his other couriers marks the beginning of a huge conflict, that could make Jackie a very rich woman. But if things go wrong it will cost her her life.
Besides Samuel L. Jackson and Pam Grier, Tarantino has put together an amazing cast. What to think of: Robert De Niro (as Louis), Bridget Fonda (as Melanie), Robert Forster (as Max) and Michael Keaton (as Ray)?
Other colorful movies
There are a lot of other movies with a color in their title (that is other than blue), that I would love to recommend to you, but if I write them all down it will be a huge list. To keep the article readable, I will list some of them below, with a very short explanation:
A Clockwork Orange (1977): Although this isn't the happiest of movies, this Stanley Kubrick masterpiece is a must watch. Malcolm McDowell plays the role of Alex in this Sci-Fi Crime Drama.
The Green Mile (1999): This movie is based on the Stephen King novel with the same name.            It stars Tom Hanks as Paul Edgecomb, a guard on death row. His life changes when John Coffey (Michael Clarke Duncan) is brought in. Coffey is sentenced to death for child murder and rape, but he seems to have a gift. Beautiful movie, but prepare for a length of 189 minutes.
Yellow Submarine (1969): As I am a huge Beatles Fan, I couldn't leave this one out. We all know the song, but have you watched the movie?
The Color Purple (1985): Only two words to convince you to watch this amazing movie: Steven Spielberg.
Black Book (2006): Dutch war movie starring Carice van Houten as Ellis de Vries, a Jewish singer that infiltrates in the Gestapo for the Dutch Resistance.
Red Dragon (2002): Prequel to "Silence of the Lambs" and "Hannibal". Anthony Hopkins returns to his iconic role as Hannibal Lecter. Edward Norton plays a retired FBI agent, who returns to the Bureau to catch one more killer (The Red Dragon), but to do this he has to work together with Lecter; the man that caused him to retire after a near-fatal encounter.
Snow White and the Seven Dwarfs (1937): Disney's first animated feature film based on the fairytale writtemn by the Brothers Grimm.
Silver Linings Playbook (2012): Bradley Cooper plays the role of Patrizio (or Pat). He has just been released from a psychiatric hospital, where he was treated for his bipolar disease. He has to move back in with his parents (Robert de Niro and Jacki Weaver). Pat is determined to win back his estranged wife. Then he meets Tiffany (Jennifer Lawrence). She offers him to help him win back his wife, if he agrees to enter a dance competition with her. I absolutely loved this movie!
Well I could go on for a while, but it's time to talk some feel good movies, to brighten up your Blue Monday!
"Feel Good" Movies
I do realize that this category is very subjective. Everyone has a different taste in what they regard a 'feel good' movie. A movie might give me a warm feeling inside, while you think it is terrible. So bare in mind that the movies below are some of my personal 'feel good' movies!
The Shawshank Redemption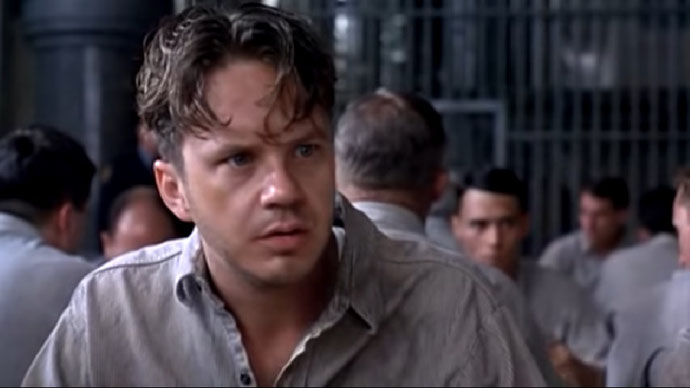 "The Shawshank Redemption" is widely regarded as (one of the) best movie(s) ever made and I couldn't agree more. What a wonderful movie! "The Shawshank Redemption" is based on a short story by Stephen King and tells the story of banker Andy Dufresne (Tim Robbins). He is sentenced to serve two consecutive life sentences at the Shawshank State Penitentiary, for the alleged murder on his wife and her lover. Andy, who claims he is innocent, has a hard time when he arrives at the maximum security prison (he gets raped on a regular base). Soon he befriends fellow inmate Ellis "Red" Redding (Morgan Freeman) and over the years he seems to find his way in the hard-knock prison life. One day, Andy overhears the captain of the guards complain about taxes on a inheritance and Andy (being a banker) offers him to help him shelter the money in a legal way. Because of this Andy gets protection and over the decades he starts running a financial business inside the prison, doing the finances of other prison staff and even the Warden. At one point Andy becomes a fundamental instrument in a money laundry operation. Just watch this movie!
Everything is Illuminated (2005)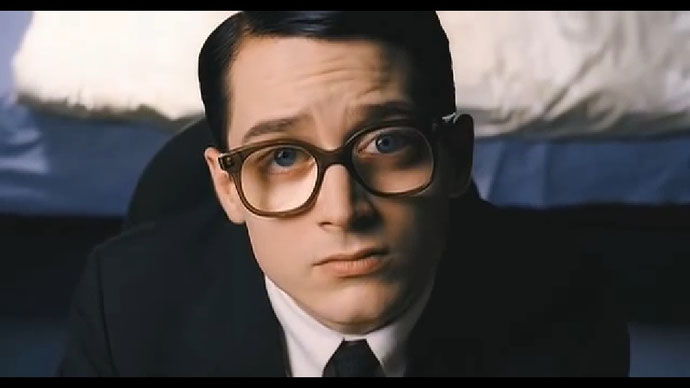 Elijah Wood plays the role of Jonathan Safran Foer in this 2005 adaptation of the biographical novel with the same name. Jonathan is a young American Jew and he goes on a journey to the Ukraine, to find the woman that saved his grandfather from the Nazi's during the Holocaust in WWII. When he is searching for a guide, he stumbles upon the company Heritage Tours, ran by  'professional' guides Alex (Eugene Hutz), his (antisemitic) grandfather (Boris Leskin) and their deranged dog ( a Border Collie) named Sammy Davis Jr. Jr. They are not very knowledgeable and they usually scam people by taking them on long journeys. However, they are touched by Jonathan's story and decide to actually try and help him. This marks the beginning of an amazing adventure throughout the countryside of the Ukraine.
As Good As It Gets (1997)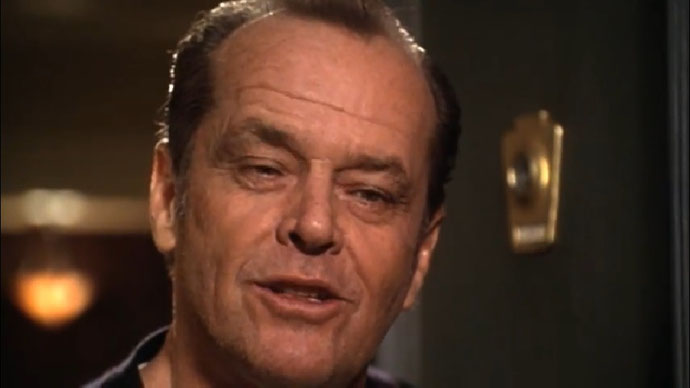 In this ultimate feel good movie, Jack Nicholson plays the role of the cranky and obsessive compulsive writer Melvin Udall (in my opinion one of the best roles of his career). Melvin is rude to everyone he meets and especially to his gay neighbor Simon (Greg Kinnear) and his little dog. He spends most of the time in his apartment, but he does get out to have breakfast at a diner in his neighborhood. At the diner he always gets served by waitress Carol (Helen Hunt), the only one who wants to serve the cranky Melvin. When Simon is assaulted in a robbery and has to be hospitalized, his little dog is entrusted to Melvin. Although he initially hates the dog, caring for him doe seem to soften Melvin. Not long after that Carol doesn't show up at work and Melvin's life gets turned upside down. It turns out that Carol had to take a leave from work, because she has to take care of her chronically ill son. Because Carol is the only waitress that tolerates Melvin's behavior, he offers to pay the medical bills so Carol can come back to work. This is the beginning of a heart warming story about the positive sides of life...
Groundhog Day (1993)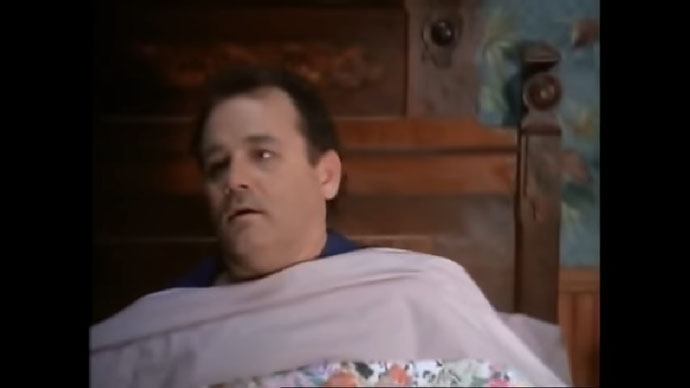 It's Groundhog Day! Phil is a self-centered TV weather man and for the fourth year in a row, he is sent to Punxsutawney, Pennsylvania to cover the annual Groundhog Day. On this day the Groundhog awakes from his winter sleep. If the Groundhog can see his shadow on this day, it will mean that Winter isn't over yet and will go on for six more weeks. If he can't see his shadow it marks the end of Winter. He is joined by news producer Rita (Andie MacDowell) and camerman Larry (Chris Elliott). Phil is extremely frustrated about the fact that he has to cover the story of the weather forecasting rat (as he calls it) for the fourth time and he doesn't hide it. A blizzard causes them to spent the night in the little town and when he wakes up he can't believe his ears when the reporter on the alarm clock radio yells out: "It's Groundhog Day". Soon Phil finds out that he is forced to relive the day over and over again....
Forrest Gump (1994)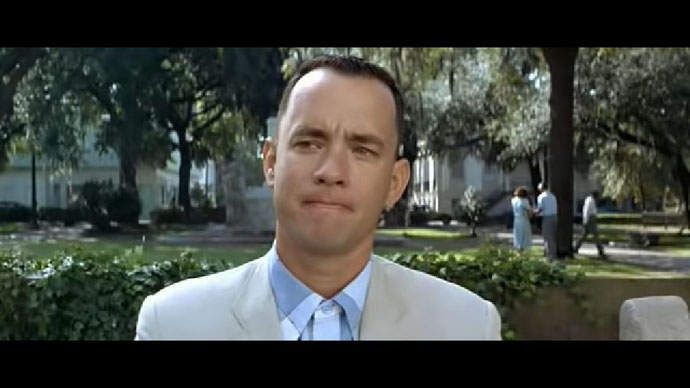 "My mom always said life was like a box of chocolates. You never know what you're gonna get."
This must be one of the most famous movie quotes ever and it comes from one of the best movies ever: "Forrest Gump".  The story revolves around Forrest Gump, a simple good-hearted man with an IQ of 75. We follow his life and witness some of the most defining moments from the 20th century in America through his eyes. The central theme of the movie is the friendship between Forrest and Jenny (Robin Wright) and how it develops over the decades. A must-watch for everyone!
Other "Feel Good" Movies
Grease (1978): In the summer of 1959 greaser Danny (John Travolta) and the Australian Sandy (Olivia Newton John) are Summer lovers. At the end of the Summer they say their goodbyes and go back to their normal lives. What Danny doesn't know is that Sandy moved to America and now they both attend Rydell High. Sandy soon finds out that the Danny from school is nothing like the Danny at the beach.
Up (2009): This 2009 animated movie by Pixar is the ultimate feel good movie. It revolves around 78 year old Carl Fredricksen. Ever since he was a small boy, he had one dream: to travel to South America and explore the Paradise Falls. When his beloved wife dies, the balloon salesman embarks on a journey of a lifetime by tying balloons to his house and starts his search for Paradise Falls.
Again I could go on for a while, but the article is getting pretty long. But next year there will be another Blue Monday....