WHOOP WHOOP! We have never missed an edition of Heroes Made in Asia in the Netherlands and  we´re happy to say that also this year, we visited the event. A while back, we already wrote about what we expected from the event and what our plans were. So today, it´s the day! The day that we can tell you what we actually did this year at Heroes Made in Asia. And I can already reveal (spoiler alert!): It was AWESOME. Excited is an understatement.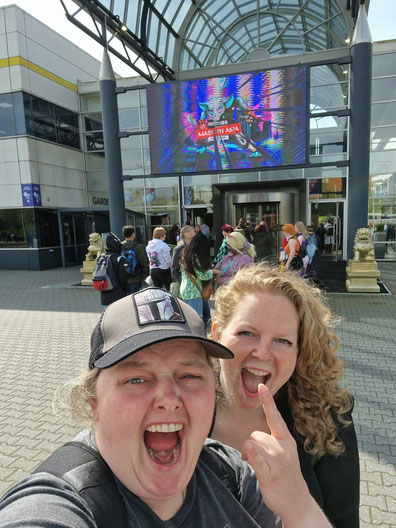 Heroes Made in Asia 2023
We arrived around 11.00 on Saturday at Heroes Made in Asia. Whoop whoop. Getting in went very fast. Within minutes we were inside. That was great. Immediately we started to look around to see how the event was set up this year. And also to see of course what was there and what we wanted to do. We were really excited. It looked great, the set up was a bit different from last year. And I liked how it was done. At the main hall, there was a LOT to do. There were quite some exhibitors, a main stage and a gaming area. We also saw House of Wax. And a lot of food (and seats!). Of course also an artist alley and much more. Then there was also a hall upstairs. There, you could follow the workshops. There we also saw the active heroes, cosplay village, crowd manga, K-Pop and more! 
Main stage
There were a few guests we wanted to see at Heroes Made in Asia, so of course we could be found at the main stage. We went to see the panel of Cristina Valenzuela. She is a voice actress from Los Angeles. You might know her for Miraculous: Tales of Ladybug and Cat Noir, Genshin Impact, Naruto, Street FIghter V and much more! We loved seeing her panel. She seemed very kind and loved doing some voices of characters. Later that afternoon, we also really wanted to check out Scott Burns panel. You might know him as the voice of Bowser! We also really enjoyed his panel. It was great to hear his stories. Next to these panels, there was a lot more to do at main stage, like anime pianco music, a panel of Gecko Chan & Xulia Vicente, a kimono catwalk and much more. 
Activities
It's so great that there is always a lot to do at Heroes Made in Asia. We can be active all day. This year, we wanted to do some workshops. Unfortunately we didn't succeed, they were fully booked very quickly. Luckily we did get the chance to catch up with the people from Japan Holland Link. We always enjoy chatting with them and they give incredible workshops. Hopefully next year, we can attend one of their workshops again. 
We then decided to head to the crowd manga area and we enjoyed painting there. There were paintings of tarot cards, and everyone could paint a part. Like that, you're making art together. We really enjoyed this. Later on, we walked around and saw the stand of dragonbreath. We tried that out, but we also tried their VR experience. I loved that. I had no idea what to expect and it was really intense. I had so much fun. I hope they will be there next year as well. 
We saw House of Wax entertainment again, they had a Mulan themed experience. We always love the House of Wax Experience. It´s really impressive, their costumes are amazing and they are always so kind!
We also had our picture taken at Duckburg, which was a lot of fun. Then we visited the gaming area and played some games. Always love doing that! As you can see: We did a lot of activities and there was even more possible at Heroes Made in Asia. 
Food at Heroes Made in Asia
We really, realy love the food at Heroes Made in Asia. And what we also really, really love, is that there are a lot of seats! That is so great. So you have a broad range of types of food you can buy. And you can sit down and it eat it. Love it. As every year, we ate a lot! When we entered Heroes Made in Asia, we were already hungry. So we started with some food. It wasn't Asian food, but we couldn't resist. We ate some nachos. Later that day we tried some dragonbreath (so much fun). Dragonbreath is crispy corn balls topped with cooled nitrogen. When you eat it, ´smoke´ comes out of your mouth/ nose. Later on we ate some chicken satay. And before we left we decided to have dinner there, because we had a long train ride ahead of us. We had some sweet potatoe fries with chicken. We loved all the food that we tried again!
Buying merchandise
There were quite some exhibitors again at Heroes Made in Asia. And we love that. It's always nice to buy some nice things. And we definitely did. We both bought some t-shirts (of Pulp Fiction, the Mandalorian and Stranger Things), some new movies, Xbox and Playstation games and some food (cheesecake kitkats, Animal Crossing cookies and some super soda candies).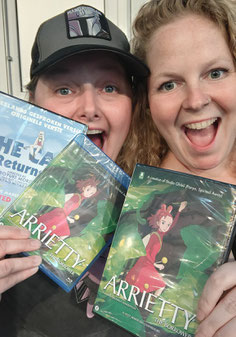 We're already excited for next year!
I think you can see in this article we had a great time at Heroes Made in Asia. We went 1 day and there was so much to do. We're already looking forward to next year. Will we see you there?