It's time for another series talk. Again, Netflix lured me with a notification and a trailer. And I just started watching! Trinkets is a new drama series about three teenage girls who meet at Shoplifters Anonymous.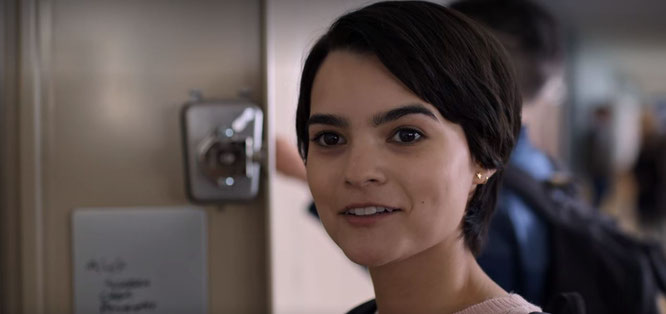 My thoughts
I started to watch Trinkets without any expectations and without any information about the series, except for the trailer that I saw on Netflix. It's an interesting approach I have to say.. Zooming in on 3 teenagers that meet each other at Shoplifters Anonymous (Is that a thing? I didn't even know!). I didn't even know whether it would be more of a comedy of drama series (it's more of a drama series). 
The series kicks off by introducing the 3 main characters more and more: Elodie, Moe and Tabitha. 3 Girls with different characters, different problems but one thing in common: Shoplifting. Elodie is new in town. Hew mother deceased recently and now she's living with her dad. She's struggling. She doesn't have her mother anymore and her friends live far away. When she goes to Shoplifters anonymous, she meets Moe and Tabitha. 
Because of the shoplifting, they have a connection and grow closer. I really like that the series is actually about them and seeing their characters develop. It's not just about the shoplifting. Of course, it plays a big role. But in some episodes, I totally forget that the series is really about shoplifters. I like the series because there's a lot happening and I always want to know how it goes on. 
The actors/ actresses
The three girls are great! I really like all 3 of them. Brianna Hildebrand plays Elodie Davis, Kiana Madeira is Moe Truax and Quintessa Swindell plays Tabitha Foster. I didn't know them before watching this series. But I absolutely how they plays these girls and their chemistry is awesome. Of course I do have favorite :). Of the three, my favorite is Moe (Kiana Madeira). 
Other actors in this series are: 
Brandon Butler as Brady Finch 
Odiseas Georgiadis as Noah Simos
Henry Zaga as Luka Novak
Jessica Lynn Skinner as Kayla Landis
Larry Sullivan as Doug Davis
Favorite quotes
My favorite quotes from the first season: 
"What if you meet people who, without even trying, just see you?What if the people you least expect turn out to be your people. If you let them."
"People, places they come and go.. But object stay you know."
Grade