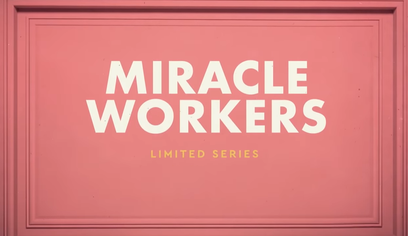 Last week I was browsing Videoland, which is a Dutch streaming platform just like Netflix. I just took a subscription on it to try it out and I was browsing titles to see what to put on my watch-list (as if that's not long enough already, but hey...). At one point I saw a familiar face and my interest was sparked. That familiar face was the face of Daniel Radcliffe (for those who don't know: Harry Potter) and the series is called " Miracle Workers". At that same moment I saw: Steven Buscemi plays God...and that was the cue for me to check it out. The series consists of 7 episodes of about 20 minutes each, so it's easy to watch the whole season in one evening (I did). Today we are talking about ...."Miracle Workers" .
The Story and the actors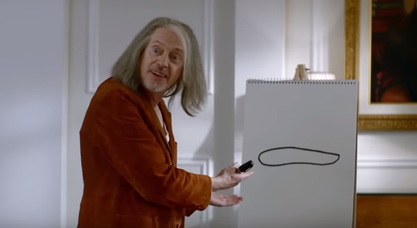 " Miracle Workers"  is a 2019 comedy series and it's based on the novel " What in God's Name", written by Simon Rich (who also created the series. The story is set in the Heaven Inc. workplace. A giant company led by God (Steve Buscemi) But this God is not the God you imagine when you think about God. He is basically like a spoiled child and Earth (what should be his greatest creation) has ceased to be interesting to him. One of the reasons for this is that the perfect species he created is are making a mess of it. Instead of answering prayers, working miracles and helping out everywhere he can, God gave up on Earth and moved on to his next project: his own Asian restaurant, where you drift around in a rubber tube and you grab the food you want with a claw.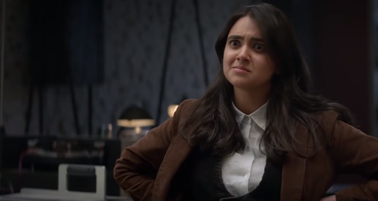 Angel Eliza Hunter (Geraldine Viswanathan) gets transferred from the Department of Dirt to the Department of Answering Prayers. There she meets low level angel Craig (Daniel Radcliffe), who is the only one left working at this department. Whereas Craig seems to be stuck in a rud, Eliza is very motivated to do some good deeds and answer some very ambitious prayers.  When she learns of God's total lack in interest, she decides to step up to the big guy and tell him to do something about the mess on earth. This, however, results in God deciding to blow up Earth. But Eliza and Craig have one chance to save Earth. They (well it's more Eliza than Craig) challenge God to make a friendly wager: when Eliza and Craig succeed in answering one of the prayers on the difficult pile within 2 weeks, God will spare Earth. But when they fail, Earth will be lost forever...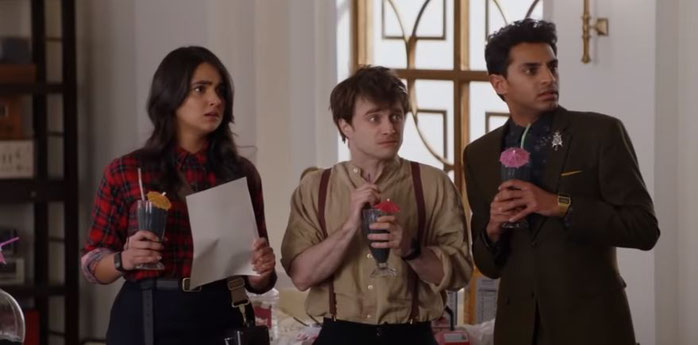 Karan Soni plays the role of Sanjay, an Executive Archangel and God's right hand man. Sanjay worked his way up from the Department of Answering Prayers, where he worked together with Craig. He was very good at his job and promoted to the head office. Sanjay is a bit cocky and he really enjoys the status that comes with the job. But as mentioned before, God is not who he used to be and Sanjay's job consists mostly of helping God with everyday tasks (like warming a meal in the microwave), which is very frustrating for the overambitious Archangel. 
My opinion
I liked it! "Miracle Workers" is a very accessible and easy to watch sitcom. It's a very original way to portray heaven as a big company and it kind of reminds me of "The Office". The actors and actresses do a very good job. It was especially fun to see Steve Buscemi as God and I loved to see Daniel Radcliffe in an acting role again. After playing a demon in "Horns", he now plays the gentle Angel Craig. I especially loved him in the early episodes, where he tries to show Eliza the ropes of answering prayers (you'll see what I mean)...