We have got a new Series Tip/Talk for you! You must have heard about it by now...Netflix has got a new hit series and it's called "Sex Education". I heard a lot of great things about it, but did not find the time to watch it at first. But then I found out that Gillian Anderson (mostly known for her role as Dana Scully in "The X-Files") played one of the lead roles. I waited for the first free moment I had and installed myself in front of the TV to watch. Last week, Netflix announced a second season is in the making, so it is about time to talk about: "Sex Education"!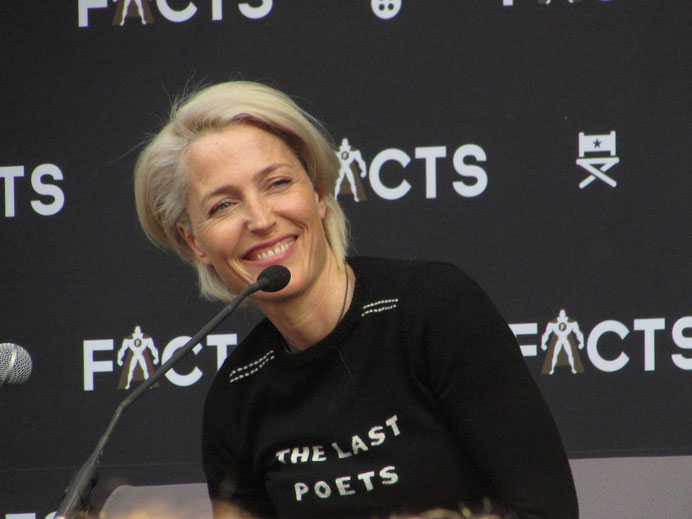 What is it about?
The story revolves around the (sexually) insecure Otis Milburne (played by the wonderfully disarming Asa Butterfield). Otis is the son of two sex therapists, a fact that seems to only make him feel more insecure. His parents are divorced and Otis lives with his mom: Jean (played by Gillian Anderson). As already mentioned;  Jean is a sex therapist and since she divorced Otis' dad Remi (who moved to the US), Jean has one night stands on a regular basis. This leads to some very awkward moments at the breakfast table. Otis however is very insecure when it comes to all things sexual. Not only is he a virgin, but he also struggles with his inability to masturbate. As soon as Otis tries to touch himself, he panicks and feels disgusted. He doesn't talk to his mother about all this and because of this Jean tends to pry in Otis' sexual and personal life, which makes Otis avoid her even more.
Otis only talks about this stuff to his best friend: Eric (played by Ncuti Gatwa). Eric is openly gay, but he comes from a very religious family and his father tries to change Eric's flamboyant clothing choice, because he is afraid people will hurt him for it. He also tries to protect Eric's mother from finding out about her son's extravagant lifestyle (Eric loves to dress up like a woman). At school Eric is being bullied by the headmaster's son Adam (played by Connor Swindells). Adam has a very difficult relationship with his father (played by Alistair Petrie). Adam seems to struggle with this and because of it he acts out (seemingly to get his father's attention). Adam is the school's bad boy and he has a relationship with Aimee (played by Aimee Lou Wood), who hangs with the popular kids of school, but secretly hates the way they treat other people like they are outcasts.
One of these "outcasts" is Maeve (played by Emma Mackey). There are a lot of wild stories going around the school about Maeve's sexual promiscuity, but this does not seem to bother her. During the lunch break Aimee secretly hangs out with Maeve, who lives alone on a trailer camp. Her parents are nowhere to be found and she does have an older brother, but he comes and goes as he pleases. Aimee tells Maeve about her sexual problems with Adam (especially his unability to get an orgasm). In the meantime, Adam and Otis get paired up for an assignment and Adam tells Otis he will come to his house after school. Otis does not want anyone to find out about his mom being a sex therapist, so he tries to hide everything in the house that has to do with anything sexual. Of course Adam does find out (which leads to an hilarious scene of Jean unraveling Adam's sexual problem) and the next day he tells everyone at school. Otis is very embarrassed and runs out of the classroom. Maeve follows him and together they find Adam in an abandoned building at the school ground (he is unable to come out, because of the fact that he took three Viagra pills). Otis unwillingly agrees to try and help Adam with his problem, drawing from the things he learned because of his mother. Otis helps Adam and Maeve (who desperately needs money), proposes to Otis to run an underground sex clinic at school together. Otis is the therapist, while Maeve handles the logistics and administration....
My opinion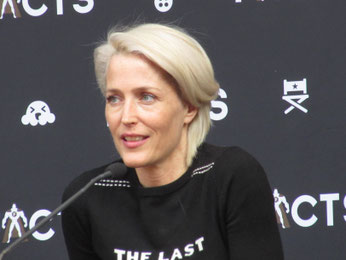 I absolutely love this show and it kind of reminds me of "Atypical". Throughout the first episode, I was a bit skeptical and I wasn't sure about watching on. Luckily, I decided to watch the second episode, because about 10 minutes into that one I was hooked. "Sex Education" has an amazing cast, which is a perfect mixture between very talented young actors and some very experienced 'older actors'. Without taking anything away from the rest of the cast, I think Gillian Anderson is the absolute star in the show. She is hilarious in her role as Otis' sexually promiscuous mom Jean. As a big fan of "The X Files" it is wonderful to see Gillian Anderson in a totally different role. The fact that I met Gillian at FACTS last year, makes it extra cool to see her in a big project again. But like I said, the whole cast is great and Asa Butterfield is wonderfully disarming in his role as Otis. I especially love him in the scenes with Gillian Anderson, because of the total and utter awkwardness of most of these situation. Asa does a great job in bringing this over to the viewer. "Sex Education" is created by Laurie Nunn and what I love most about the way it is written, is that even the most annoying characters have a lovable side to them. I can talk on about how much I love this show for hours, but you just have to find out by yourself!