Sooooo... We're almost going to Dutch Comic Con! And we can't wait. For a few days, we'll take you with us in our thoughts and conversations about the upcoming weekend!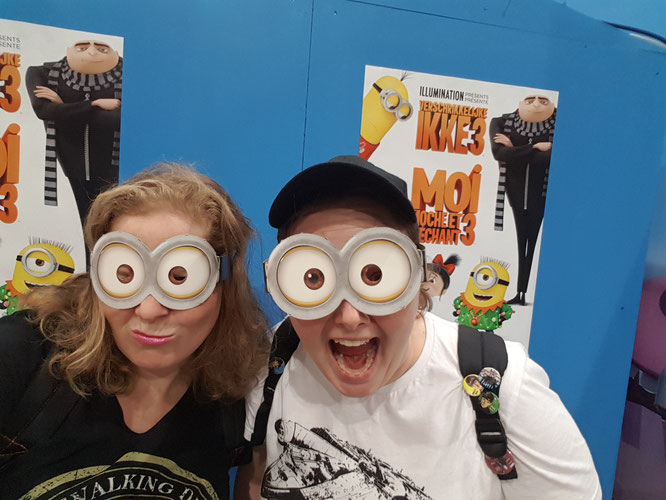 Carola: so..... In a week we're already heading back home. I can't believe it's just a few more days. I'm so happy with the guest list, I already bought 1 photo op (Lana Parilla). I'm still doubting if I want a photo op with Rebecca Mader, or an autograph of Daniel Gillies.. Choices, choices! I have a few more days to think luckily. Besides that, I can't wait to see a lot of friends again at DCC! I love meeting up at comic cons. I saw that DCC also has a Mario Kart competition (I love Mario Kart!), and that the voice of Mario is coming (love it!). I'm also enthusiastic that Paul van Loon will be there again. 
I'm now looking at the schedule, (It's online already!) and there's so much to do. I like the workshops, DCC college and Fox theatre. I like it! We have to do soooooo much! Make lots of pictures, vlogs, see panels, get photos & autographs, meet people, buy stuff and most of all: have fun! What do you want to do? Still doubting about certain things? 
Liv: (cue the Queen song) " I want it all, I want it all, I want it all and I want it now!"
No but seriously, there is so much I want to do. First thing I did was buying a photo op for Gaten Matarazzo (Dustin from "Stranger Things"). I love that show! 
When I was visiting my aunt in England, Lana Parrilla was announced for HDCC. I was so happy you called me and bought me a photo op, because they were sold out in no time. Not only do I love Lana as the Evil Queen in "Once Upon a Time", she also played in "Spin City" for a season. Man, I loved that show. Last week DCC finalized the list by bringing Jerome Flynn to Utrecht. He plays Bronn in "Game of Thrones" and that just happens to be one of my favorite characters, so I also bought a photo op for him. Of course I am still thinking about more to do, because the rest of the guest list is amazing too...Of course I am also looking forward to see some familiar faces. And browsing the merchandise stands is alawys great fun, especially Dirtees and Cool2U. So much to do in so little time. Have you done preparations already by watching stuff?
Carola: Actually no, haha. The point is, that I know all the guests. I have seen something significant of all of them. Except for Richard Dean Anderson, but I have seen him before at FACTS. So that also counts a little bit ;). I liked them all for the roles I've already seen. Maybe I will watch something extra this week. I like them all already. Do you have a watch list for this week? 
As for merchandise, I really hope to find a nice girlie. Which is of course, a mission impossible. There are some girlies most of the time. But just no what I'm looking for. I want a horror shirt haha. Last time, I found the DVD box of Gossip Girl. That was a great find!  Maybe I will find something unexpected this time as well. 
I also read House of Wax will have a zombie experience at DCC. But I'm not sure what it entails. It sounds interesting.. What do you think? 
We should try out some 'new' things like this and see the ELCFX presentations (make up demonstrations), and there are also workshops for fighting sports.. That sounds like a nice idea for us and our vlog right :)?  
Liv: I am in full "Once Upon a Time" mode. Every spare hour I have (and I don't have enough of them) I dive into Storybrooke. I also watched the episode of "Black Mirror" with Jerome Flynn. I'm also rewatching the fifth season of "Spin City" for Lana Parrilla and I am thinking about watching "The Devil wears Prada", because Rebecca Mader is in it. Have you seen that movie, because I don't know if she has a big role in it? As for our vlogs: I am sure we will drive each other to incredible heights of impulsivity again (as always)..
Carola: Nice! I loved Once Upon A Time. It's a pity I've watched it all already haha. OOOh that's a good tip, I'll check out the episode of Black Mirror. I haven't seen that one yet. I have seen the movie once I think, but I'm not sure how big her role is.. I don't think she plays a lead role. 
Yeah... we should do that haha. Let's do a sword fight, play Mario kart and dance and sing! It will be crazy.. 
Liv: Yup, the episode is called "Shut up and dance"  (season 3). It's pretty intense, but really good. I think Rebecca Mader plays the role of the assistant of Meryl Streep. Well, if I can find the time, I will check it out. You want to challenge me to a sword fight? Bring it on sister! I am so excited about DCC, I absolutely cannot wait!
Carola: Okay, I'll make sure to watch the Black Mirror episode. Yeah I looked up some pictures now of Rebecca in that movie. Looks nice as well. It all depends on how much time I'll have until Saturday :).
She also plays in the Men Who Stare at Goats. That's on Netflix. That also looks like an interesting movie. 
Well, for everyone reading our thoughts: Let us know what you'll be doing at Dutch Comic Con! And let's have a coffee in Utrecht!