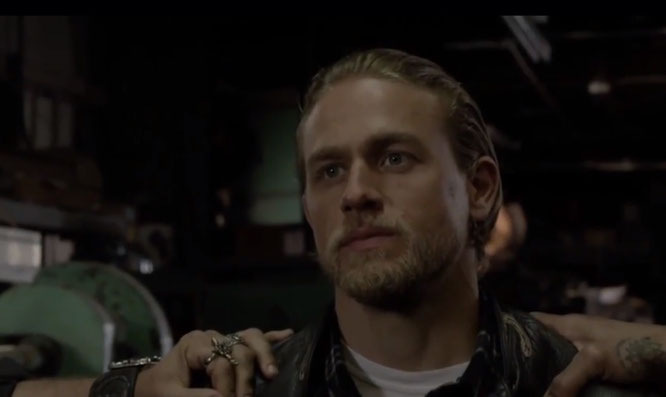 Two weeks ago, "Papillon" hit the cinemas in the UK and the US. This upcoming week it will be released in Dutch cinemas. "Papillon" is the remake of the 1974 movie with the same name. The movie is based on the semi- autobiographical novel by Henri 'Papillon' Charriére. When he is accused of murdering a pimp, safe-cracker Charriére says he was framed for this murder. Despite this he has to serve time in the infamous prison camp 'Devil's Island' in French Guyana. In the 1973 movie, the role of Papillon was played by Steve McQueen. The remake stars Charlie Hunnam in the title role. Charlie is mostly known for his role as Jax Teller in "Sons of Anarchy", but he has played some great roles over the last years. We think it's time we point our spotlight on the one and only Charlie Hunnam!
Early life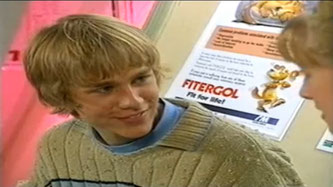 Charles Matthew Hunnam was born on April 10, 1980 in Newcastle-upon-Tyne (UK). His father (William Hunnam) was a scrap metal merchant and gangster. His mother (Jane Hunnam-Bell) had her own business, she ran a gift shop. William and Jane split up, when Charlie was very young; he was two years old. He has one older brother (William) and two younger half-brothers (Oliver and Christian). Charlie had Charlie's mom, remarried when Charlie was 12 years old and the family moved to Melmerby, Cumbria (UK). Charlie states that he had a rough upbringing and that he had a horrible time at school. According to Charlie, people wanted to prove themselves by picking a fight with the 'Newcastle kid". He wound up fighting a lot. This resulted in him being expelled from school and he had to take his exams for home. He passed and enrolled at the Cumbria College of Art and Design. Eventually he graduated with a bachelor's degree in "The theory and history of film", with a side in performing arts.
Early career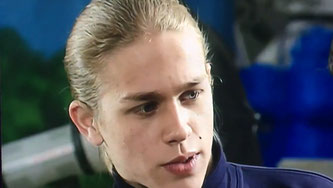 While goofing around and buying shoes for his brother at Christmas Eve when he was 17 years old, he was spotted by one of the producers of a kid's show, called "Byker Grove" (based in Newcastle). Later Charlie was cast for the role of Jason in three episodes. Following his appearance on "Byker Grove", he landed a role in the British teen show "Microsoap". He then got his big break when he was cast as Nathan Maloney in the Channel 4 drama: "Queer as Folk".  The show revolves around two gay friends Vince and Stuart. They live to party and when Stuart hits on the 15-year-old Nathan (played by Charlie Hunnam), they have sex. However, Nathan falls in love with Stuart, while Stuart only saw Nathan as a one-night stand. Fun Fact: Stuart is played by Aidan Gillen, who is now known for playing the amazing role of Littlefinger in "Game of Thrones".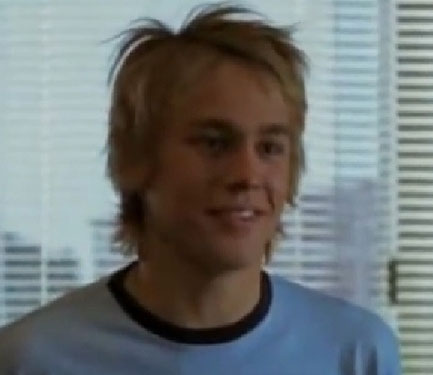 Because of his excellent role in "Queer as Folk", Charlie established somewhat of a name on British television and it put him in the limelight. In these early stages of his career, Charlie came to realize that he should choose his projects very carefully, because he knew that the first roles would determine his further career as an actor. He learned to trust on his instincts and learned that he had to reject a role, if it meant he could not demonstrate all sides of his acting talent. In 1999 he took the role of Daz in "Whatever Happened to Harold Smith?", before moving to Los Angeles (USA). 
Move to L.A.
In early 2000, Charlie landed a recurring role in "Young Americans". He played the role of bad boy Gregor Ryder in 3 episodes. Besides this he also played the role of Lloyd Haythe in the sitcom "Undeclared". The show gained a cult status, but it was cancelled after only one season. Charlie made his US movie debut in "Abandon" (2002), playing the role of Embry Larkin. It's a psychological thriller, starring Katie Holmes and Benjamin Bratt. Fun Fact: Katie Holmes starred in the TV show "Dawson's Creek". In 1999 Charlie auditioned for a role in "Dawson's Creek". At this audition he met actress Katharine Towne and they started dating...for three weeks. Did they break up after three weeks? Hell no! They got married...in Vegas. However, the marriage did not last and they got divorced in 2002.  Besides his role in "Abandon", Charlie starred another movie in 2002: "Thomas Nickleby" (as Thomas Nickleby). In 2003 Hunnam played the role of Bosie in "Cold Mountain" and this marked the beginning of his so-called 'trilogy of mad men'.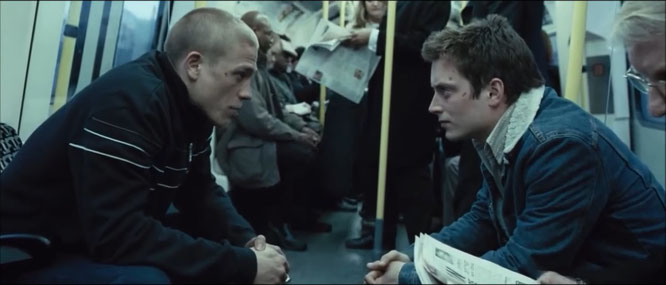 Earlier in the article, I talked about how Charlie realized he had to choose his roles carefully. Well, because of this decision he moved back to the UK and took on the role of Pete Dunham in "Green Street Hooligans" (part two of his 'trilogy of mad men'). Although Charlie got a lot of criticism about his cockney accent, I think this is one of his best movies. In the movie Charlie plays opposite Elijah Wood, who plays Matt Buckner, a wrongfully expelled Harvard student. When he moves to London, he meets Pete, who introduces him to the violent underworld of Football hooliganism. I've watched this movie several times (I even saw it in the cinema) and every time I love it. The final part in his 'mad men trilogy' is "Children of Men" (2006), where he plays Patric, a member of 'the Fishes'. 
Sons of Anarchy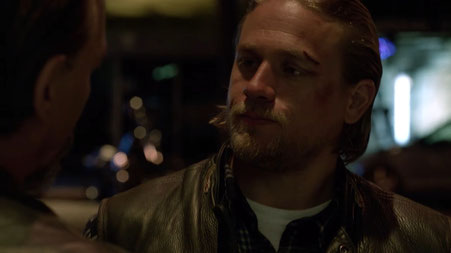 In 2008, Hunnam finally made his breakthrough by landing the role of Jackson 'Jax' Teller in the FX drama series "Sons of Anarchy". Kurt Sutter (the creator of the show) saw Hunnam in "Green Street Hooligans" and at that moment he knew he wanted Charlie for the role of Jax. He came in to audition and nailed it. "Sons of Anarchy" or SOA revolves around a fictional motor club called SAMCRO (Sons of Anarchy Motorcycle Club Redwood Original) in the fictional town called Charming. Jackson 'Jax' Teller is the son of the late John Teller, who co-founded the club. One of the other founders is Clay Morrow (played by Ron Perlman) and after John's death Clay became the president of SAMCRO. He also married Gemma (Katey Sagal), John's wife and Jax' mother. Jax becomes vice president. The show begins with the birth of Abel, the son of Jax and his drug addicted ex-wife Wendy (Drea de Matteo). When Jax finds his father's memoires, he slowly begins to question the SAMCRO way of life. "Sons of Anarchy" is one of my favorite TV shows and I immediately liked Charlie Hunnam in the role of Jax. It was only when I looked him up on IMdB, that I saw he played Pete Dunham in "Green Street Hooligans". The show was a huge success and ended up running for seven seasons until 2014. Charlie later stated that he had a hard time saying goodbye to the character of Jax (who he played for eight years). After the show ended, he kept on going back to the set for a period, to get through the personal process of saying goodbye.
Post-SOA
During the "Sons of Anarchy" period, Charlie did not do a lot of projects on the side, but in 2013 he played a main role in Guillermo del Toro's "Pacific Rim", as Raleigh Becket. In 2015 Hunnam starred as Dr. Alan McMichael in "Crimson Peak", another Guillermo del Toro movie. Following this he played a lead role in "The Lost City of Z" and in 2017 he played King Arthur in the movie with the same name. At this moment (as I mentioned earlier) Charlie hits the cinemas with the movie "Papillon", playing the leading role of Henri 'Papillion' Charièrre. He also plays the role of Bob Frey Jr. in "A Million Little Pieces", which is coming out this month. There are three more movies coming up soon, so we haven't seen the last of Mr. Hunnam yet and I for one am totally fine with that ;)