In a few weeks, it's time for Comic Con Amsterdam again! Comic Con Amsterdam will be held on September 1st and 2nd in RAI Amsterdam. There will be a lot to do and see again at Comic Con Amsterdam.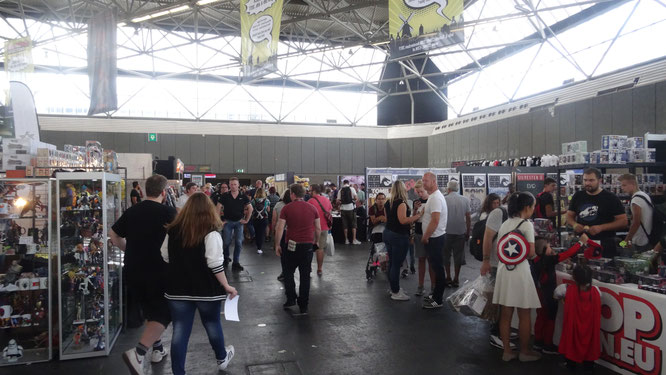 Of course there will be a dealer area again, as always. You can look around here and buy some cool merch, comics, shirts, Funko Pops or one of the many other things that will be sold there.  There will also be a cosplay universe, a cosplay competition and there will be cosplay guests (they will also be judges at the cosplay contest: Adia Cosplay, Cosplay Gene, Tinylock Cosplay & Stellar Cosplay. 
Want to make some funny pictures? In that case, don't skip the entertainment & fun area. 2 years ago, we had a lot of fun at Comic Con Amsterdam making a lot of pictures: 
Amsterdam Comic Con also offers the opportunity to meet your favorite comic artist guests & film and TV guests. Want to find out which guests are coming? Check out their guest page. Of course, we want to highlight a few of the guests. Christopher Larkin who plays Monty Green in The 100 will be attending the con. There are several Game of Thrones guests: Charles Dance (Tywin Lannister), Jack Gleeson (Joffrey Baratheon) and Vladimir Furdik (Stunt performer). The guest list is also nice for Star Wars fans:  Jimmy Vee, Beau Gadson (Star Wars Rogue One) and Dolly Gadson (Star Wars Rogue One). And these are just a few examples of guests you can meet at Comic Con Amsterdam. Have a picture with them, get an autograph, or attend one of the panels! 
At Comic Con Amsterdam, also check out the comic zone & check the activities they have to offer. Be ready to go on the Lemistore Harry Potter broom rodeo! Curious what else you can do? Check out the website of Comic Con Amsterdam! Are you going? Let us know in the comments!