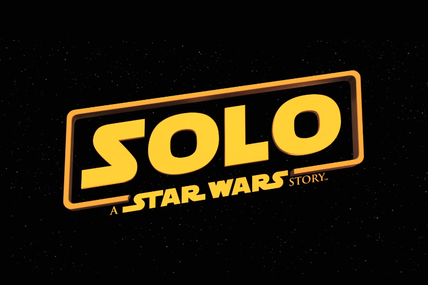 We went to see the new STAR Wars stand-alone: Solo: A Star Wars Story. Since the release of Episode I: The Phantom Menace, I have been trying to keep my expectations low, when it comes to a new Star Wars movie. And when Disney took over the franchise, I did not know what to think of it at all. Well, Disney delivered and I loved all three of the Star Wars movie that have been brought out by Disney. But I still haven't forgotten the disappointment of Episode I, so I went into Solo with no expectations at all. I try not to read movie reviews before I go to watch a movie, because a review is the opinion of one man or woman and I like to go in blank. But since Star Wars is hot again these days, it was not easy to avoid all the different opinions of people that already watched it. What did stand out was that the feelings about this movie seemed to be very mixed! And I can tell you one thing, so were ours….
Liv's opinion
I (Liv) for one, liked it after the first viewing and loved it after the second. In my opinion you can't start comparing the new Star Wars Movies with each other. Why? Well "The Force Awakens" and "The Last Jedi" were the new parts of the saga and where the first standalone Rogue One was more of a story about war, Solo is a good old adventure movie and I like that.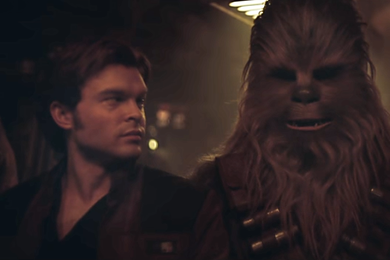 The biggest problem of Solo (in my opinion) is that it's the story about one of the most popular characters from the saga and that's an expectation booster for ya. We all love Harrison Ford as Han Solo and in a way, this leaves Alden Ehrenreich (who plays Han in Solo) with the almost impossible task to live up to these expectations.  I for one thought he did a very good job and there were some points in the movie, where he really reminded me of Ford in his younger years. The popularity of the character Han Solo also creates another problem: predictability. We all know the character and his background, which leaves the writers of Solo with a typical case of 'connect the dots'. Again, no problem for me. I like it how for example they explain how Han got the name Solo, how he met Chewbacca and the story about the Kessel run. The only thing I missed was Jabba. They talk about him sure, but I would have loved to spot him in the movie.
Well, what about the actors and actresses? As I already mentioned I think Ehrenreich does a very good job in portraying a young Han Solo, full of dreams and expectations. There were parts in the movie where I thought his facial expressions and body language were spot on, especially in his parts with Chewie. Chewbacca is played by Joonas Suotamo. He took over the role from Peter Mayhew after "The Force Awakens" (talk about big footsteps to fill). Emilia Clarke plays the role of Qi'ra, Han's love interest. I for one find it difficult to see Emilia separately from Daenerys Targaryen (Game of Thrones), but that isn't a bad thing. I kept on expecting her to yell "Dracarys" in some of the battle scenes.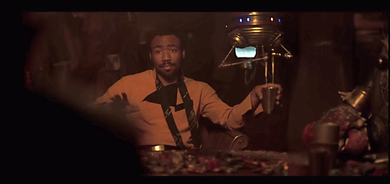 I absolutely loved Donald Glover as Lando Calrissian. A few years ago, I had the pleasure to meet Billy Dee Williams (who plays Lando in the original trilogy) and I think Glover does a great job in playing the young and somewhat arrogant Lando. The card playing scenes are hilarious and not only because of the motley crew sitting at the table. Glover and Ehrenreich have a great chemistry in their scenes together. I always love to see Woody Harrelson in a movie or series and Solo is no exception on this. Harrelson plays the skeptical and sarcastic Thomas Beckett, who kind of serves as a mentor for the young Solo. Of course Star Wars isn't Star Wars without a droid and in Solo this is the female droid called L3-37 (played by Phoebe Waller-Bridge . She is Lando's first mate and she is absolutely sure that Lando has romantical feelings for her. L3 is pretty rebellious and a very passionate supporter of equal rights for droids. This all leads to some very funny moments in the movie. Paul Bettany plays the role of Dryden Vos, the bad guy in the story and he does a splendid job. Whenever he is in a scene you feel the tention building up.
So all in all: after watching "Solo" in 2D and in 3D, there is only one thing I can say and that is: Keep them coming, Disney!
Carola's opinion
It was a Sunday evening when we went to see Solo: A Star Wars Story. During the day, we went to the game fair in Tilburg and after that we we went to get something to eat at Happy Italy.  After that It was finally time to go and watch Solo! I was looking forward to it a lot. It's the perfect opportunity to get to know Han Solo a lot better. And to get some answers to very important questions. Of course I was hoping to find out how Han met Chewbacca. 
In general, I thought the movie was nice. Not great, but a nice movie. The bigger story ( Han getting on a mission to return to Qi'ra) was a bit too predictable and  could have been just a regular Hollywood movie in my opinion. I liked getting answers to some big Han Solo questions! But eventually everything evolved around this bigger story of Han trying to find/ get together with Qi'ra. That was a bit less interesting for me. 
As for the acting: Donald Glover was definitely the star of the movie for me. He portrayed Lando great and I enjoyed every minute of it. Alden Ehrenreich unfortunately didn't really reminded me of Han Solo. Don't get me wrong: i think he acted very well. But I didn't feel like I was Han Solo. I felt more like was watching a young Jack Nicholson actually. That's also of course a compliment. But well, Han Solo isn't Jack Nicholson. 
Watching Emilia Clarke as Qi'ra was also hard for me. I just saw Daenerys the whole time and was just wondering why she didn't call her dragons. I think Emilia is a great actress but watching familiar faces in a Star Wars movie (Like Emilia or even Woody Harrelson) distracts me. 
All in all I did have a great time watching the movie. It's amusing and I always enjoy seeing some droids and seeing Chewbacca :).  It was a very nice movie, but I'm looking at it with my Star Wars glasses on, I have some remarks. I'd say: Check out the movie and share your thoughts with us!