Oh yeah! We had a board game night! We always love playing  board games. And we received 2 games to review from Enigma Distribution: Bezzerwizzer and Concept! I've been playing board games for years now. I love all kinds of board games. Especially the ones that make me laugh and are really funny to play! Nothing better than a fun night with friends full of laughs. Liv, Tristan, Sig & me do board games together on a regular basis. We always have so much fun. We had no idea which games we would receive from Enigma Distribution so we were very curious! Board games are the best! I (Liv) am well into my 30s now and when I was a kid, there were no tablets/iPads or Netflix; so we played a lot of board games. Like Carola already mentioned we were very curious about what games we would receive. The games were sent to Carola, sowhen they arrived she sent me a message. We immediately set up the date for a game night. While Carola already unboxed the games, I had to wait until that night, to find out what we got: Bezzerwizzer and Concept! Well, Enigma did not disappoint us! Watch the video below to see us discover Bezzerwizzer and concept and see a bit of gameplay! 
Bezzerwizzer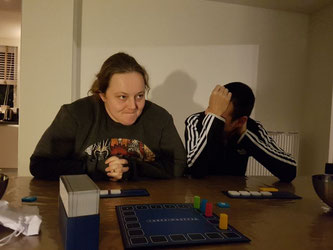 We organized the game night on a Saturday evening. We started by playing Bezzerwizzer. Bezzerwizzer is a trivia game. But it's also very strategic! Every player/ team gets 4 categories. For every category you get a question. The first one for 1 point, the second for 2, up to 4 points (Then a new round starts). You can decide for yourself which category will give you how many points. 
When all the teams have answered 4 questions, the next round starts! You do that until someone finished the round on the board. But it's not just a regular trivia game. You can be strategic! Everyone receives 2 "Bezzerwizzers" and 1 "Zwap" per round. You can use the "Bezzerwizzer" when you think you'll know the answer to a question of your opponent  and get extra points! With the "Zwap", you swap categories with someone else, or move the value of your own categories.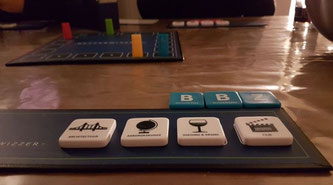 Bezzerwizzer was easy to understand and I really loved the strategic part in it. We had so much fun playing it. The questions in Bezzerwizzer were quite hard, but that's fun! There were enough things we knew. I love that there are many categories! This way, the game stays interesting and you can play it often. It' a competitive and fun game. If you're into trivia, definitely try out this game!  
I loved Bezzerwizzer! And not just because I won. Oh yeah I won! I love the strategic part of the game, it really keeps you on your toes. For example: at one point I finally had the "Movie" category and of course put it on the 4th place. When we got to the question for 3 points, I used my "Zwap" to swap the third and fourth tile, because I was afraid someone would take away my "Movie" question. Bezzerwizzer was so much fun! 
Concept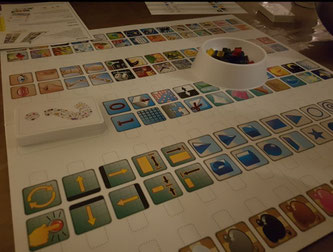 After playing Bezzewizzer, we decided to start playing "Concept". That was bit harder to understand. I'll try to explain the basics ;). 
In "Concept" you draw a card. And then pick one of the words on it. It can be an animal, a saying, an actor, a game, basically anything! Then, you need to describe that word to the other teams.
You describe it by using the images on the board. For example: if your word is "pig" you can place your pawns at "animal" and " pink". Well, this is an easy example. Describing James Bond or a magnet, is quite hard I can tell you ;). You have to use the concepts on the board (So you can't make up new ones) and you can't give extra information! But you can use different pawns to explain a word. For example: One to say it's a movie and another color of pawns to address that's it from a certain country or of certain genre. Endless possibilities!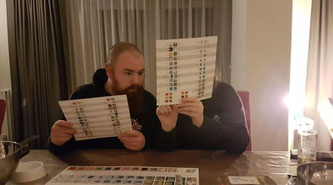 And oh… we laughed so much during this game. I really loved it. It's hard to describe a concept, but harder to understand why the teams can't guess it ;). Just watch our video to see one example! 
This game really is unique and so much fun to play with friends. It's a great game to play,it really forces you to think out of the box. You have to think about a lot of things: on the one side you have to think about the way to describe the word/sentence,but you also have to do it in a way that is understandable to others. Things that might seem very obvious for you,might not be that obvious for the other players. The only disadvantage were the colors of the pawns: They looked a lot like each other, so sometimes it was hard to keep them apart on the board. It would be nicer if the color were more bright, so you can easily tell the difference. I would definitely recommend this game to play with a group of friends on a fun night. Laughs guaranteed haha!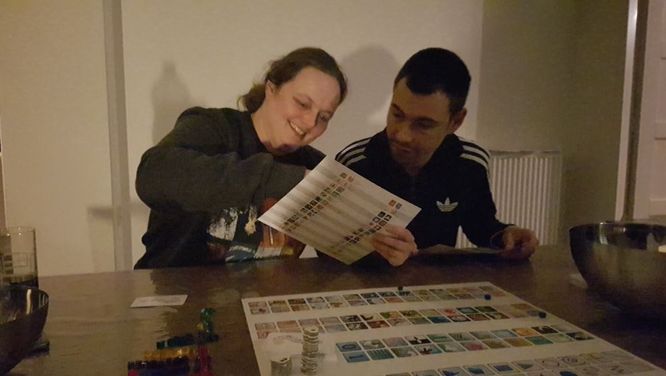 Bezzerwizzer and Concept
Bezzerwizzer and Concept are available in multiple languages. In the Netherlands "Bezzerwizzer" and "Concept" (and other Enigma Games are available at Bol.com, Bart Smit and Blokker among others. The English versions of the games are available on websites like amazon.com