Today is "Kingsday" in The Netherlands; it's the day we celebrate the birthday of our King: Willem Alexander. Throughout The Netherlands there are music festivals, jumble/garage sales and parties. To celebrate this day with you we want to give you some "royal" tips. We will talk about some movies with the word King in it (of course we will only talk about movies/series we watched ourselves). So without further ado...here are our Kingsday Tips!
The Lion King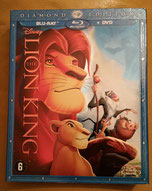 In my opinion one of the best animated Disney movies out there. The movie was released in 1994 and I think it's a true classic. It is influenced by Shakespeare's Hamlet and revolves around a lion pride on the savannas of Africa. The Lion King tells the story of the young Simba, who is set out to succeed his father Mufasa as the King of the pride. He leads a happy life until his uncle Scar (great voice acting by Jeremy Irons) turns his world upside down. Scar wants to be king, so he kills his brother Mufasa and tells Simba that it is his fault. Simba flees his home ground and wants to live in exile. Then he meets Timon&Pumbaa (a meerkat and a warthog) and together with them Simba learns some valuable life lessons (Hakuna Matata) and grows up to be a proud young lion ready to face his uncle Scar.
Three Kings
Three Kings is a 1999 action/adventure/war movie starring George Clooney, Mark Whalberg, Ice Cube and Spike Jonze. The movie is set in the aftermath of the first Gulf War. The war is over and the US soldiers are bored and start throwing parties. When four of them find a map, they discover there are some bunkers with gold stolen from Kuwait and they decide to steal it back. During their quest they stumble upon some Iraqi people that really need their help. I've seen this movie a long time ago, but I loved it. Three Kings is a black comedy war movie and a true recommendation for every movie lover. 
The King's Speech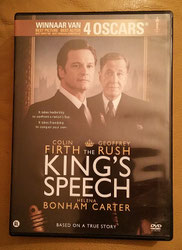 This 2010 British historical movie tells the story of King George the VI and has an amazing cast. Colin Firth plays Prince Albert, Duke of York or should I say the future King George VI. He was the second son of King George the V and because of that he wasn't set out to be king. He spent his life in the shadow of his brother Edward. Albert has a stammering condition and he struggles when he has to give speeches in his function of Prince. His wife Elizabeth Bowes-Lyon (Helena Bonham Carter) sends him to the peculiar speech therapist Lionel Logue (Geoffrey Rush). After a bumpy start they become friends as they work on Albert's stammering problems.  When his brother Edward has to abdicate the throne, because of his engagement to Wallis Simpson, Albert is the next in line to become king. He relies on his friend and therapist Logue to help him become the king his country wants him to be. The acting in this movie is superb.
Lord of the Rings: Return of the King

This is the last part of the Lord of The Rings trilogy. We still follow the two hobbits Frodo (Elijah Wood) and his best friend Sam (Sean Astin) on their way to the destruction of the one ring at Mount Doom. In the meantime Aragorn (Viggo Mortensen) leads the World of Men in their fight against Sauron's army. Great movie(s), great book(s)...must watch!
King Ralph
In this 1991 comedy John Goodman plays the role of Ralph Jones, an unsuccesful pianist working in Vegas. When, through an unfortunate accident, the whole British Royal Family dies, it turns out that Ralph is the last rightful heir to the throne. To become the king of England, Ralph has to change his whole way of life.Needless to say that this turns out to be not as easy as it seems.
King Kong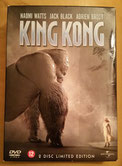 There aren't a lot of people who never heard of this big movie monster and Kong is the star of many,many movies. I think everyone should watch the original King Kong released in 1933, because it is an all time classic. I also love the 2005 Peter Jackson remake of the movie, starring: Naomi Watts, Jack Black and Adrien Brody. When a movie crew travels to the mysterious Skull Island, they discover that the island is inhabited by a whole lot of prehistoric creatures, including a giant ape. They decide to capture the ape and bring it back to America for people to see (and pay for). Of course this is the beginning of a lot of trouble.
Well I could go on for a bit, because there are a looot of movies with King in the title, but it's time to party! Ok just a few more:
 King Creole (starring Elvis Presley), King Solomon's Mines (great movie) and King Arthur are also worth a watching. Below are two more tips from Carola.
In the Name of the King: A Dungeon Siege Tale
Well, I'm not sure if I actually recommend this movie haha. But it's in my collection for sure! Why? Because Jason Statham plays a role in it. The movie is an action/ adventure/ fantasy and takes 2 hours and 7 minutes. The movie is about Farmer (Jason Statham). His wife has been kidnapped and his son is dead. Farmer wants revenge. Well, it's definitely not the best movie I've seen. And I won't watch it a second time haha. But since I'm a big fan of Jason Statham it was a must watch for me! 
King of Queens (Tv series)
Oh another great series. We should do a series tip about this! I used to love watching the King of Queens. It's a comedy series about man (Kevin James) who has a nice girlfriend (Leah Remini) a great Tv and friends to hang out with. It all gets funny because of his girlfriends father Arthur. A bit of strange guy with even stranger demands!