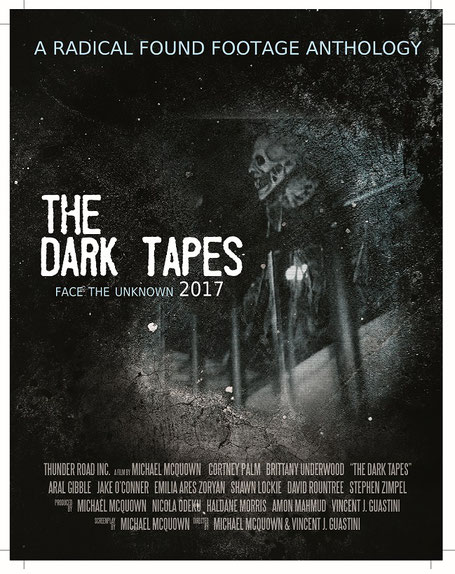 A few weeks ago we were asked by Michael McQuown if we wanted to review the movie The Dark Tapes. He is the writer and co-director of the movie. The movie was a big success on the festival circuit.It was nominated for 61 awards from 30 festivals. The movie has also been nominated for a Rondo Hatton Award for Best Independent Feature. 
We checked out the trailer of the movie and discussed it within our team. We liked the trailer and were interested. We love watching horror movies and this one looked promising. So Sigmund and Carola watched the movie. 
It's a bit hard to describe the movie without giving away too much. But here we go! The Dark tapes is a horror anthology and consists of 1 main story and 3 smaller stories. It's a found footage movie where handheld camera's and webcams are being used. 
Let's start with the second story (The Hunters and the Hunted), since the first one is the main story. This story is about a couple who just bought a new house. They're very happy with their new home. But soon they realize that not everything is as great as it seemed to be.. Strange noises. Strange voices. Strange things happen. They get scared and decide it's time to find some help! 
On to the third story (Cam Girls)! This one is about 2 girls in a relationship: Sindy and Caitlin. Caitlin just left her family and home to move to the city. She up for some new adventures. She and her girlfriend do webcam shows. They decide to try something different and Caitlin starts with this. A few guys and a girl log in to watch her show. The girls can also see the viewers. It's like a contest: the girls pick one to continue for a full show. They pick one guy. Sindy starts encouraging Caitlin to go a step further. They try to manipulate their viewer. Where does it stop?  
Story 4 (Amanda's Revenge) is about a girl who went to a party and got raped. After this party she starts feeling worse and worse. She feels like she's being abducted as soon as she goes to sleep. She can hear the voices. She tries to fight it, but it's hard: It always happens when she sleeps. She records her sleeping, but without a result. She also asks friends to stay over and observe her while she sleeps. But as soon as they doze off, it happens again. Will she be able to defeat whatever is after her? 
Let's also talk about the main story (To Catch a Demon)! This about a scientific research. We see a professor, a teaching assistant and a cameraman in a bunker, documenting their experiments. They're researching trans dimensional entities. Some kind of night terrors. But they believe it's real and that the entities are in a different time dilation. Determined to prove this, they start their experiment. 
When we watched the trailer, we were interested in seeing the movie. Even though Sigmund isn't the biggest fan of found footage films, it looked interesting. And we were not disappointed. We liked the idea of the 4 stories. All the stories are interesting. And the movie contains some awesome plot twists. Nothing is what it seems and it never gets predictable. For us, that's quite important in a movie. And the Dark Tapes succeeded in surprising us.  It's horror/ sci-fi/ thriller. The movie doesn't rely on cheap jump scares. It contains some tensive scenes. They do use some standard distortion in the found footage. Which is sometimes unnecessary and distracting. We do like the combination of scientific and sci-fi approach. Carola usually isn't into movies like Paranormal Activity. But this movie is still a nice watch because of the good balance. 
The acting is surprisingly good for a low-budget film, and the film has a great atmosphere. Sigmund's favorite was the second story: The Hunters and the Hunted. Mainly because it had some crazy plot twists. Carola's favorite was Cam Girls: "I liked the second story as well. I completely get why it's Sigmund's favorite. But I also liked the third story about the cam girls. The story is just so strange and you're constantly thinking 'Are they really going to..?' 'Is he really gonna..'. I liked it because it's creative and you're just wondering why and how everything happens." 
All in all the Dark Tapes is a nice movie. We do recommend watching this movie. But keep your eyes open! This is really a movie to pay attention to every move! 
Watch the trailer below!