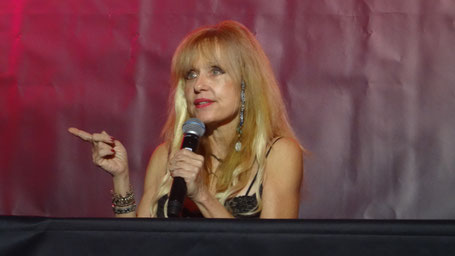 As you might have seen already, we visited Weekend of Hell last weekend! As usual, we had a great time. One of the guests at Weekend of Hell was Linnea Quigley. Linnea is an American Film producer, actress, model, singer and author! She's also well known as 'scream queen' in many many horror movies. One of her best known roles is the one as Trash in The Return of the Living Dead. I've also seen her as Heather in Savage Streets (together with Linda Blair).  But there's so much more! Just to name a few: Don't Go Near the Park, Creepozoids, Night of the Demons, Nightmare on Elm Street 4: the Dream Master, Corpses are Forever, Zombiegeddon, Where the Dead Go to Die, Nightmare Sisters and lots and lots more! Of course we attended her panel at Weekend of Hell and I have to say it was great! She's a lovely person. She told very enthusiastically about her roles. And even showed us some typical screams... 
The Return of the Living Dead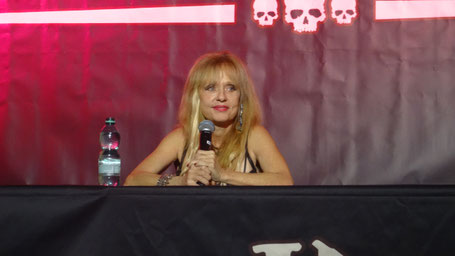 Okay. Who has seen this amazing movie? Hands up please! Want to now more about the Return of the Living Dead? Well, Linnea had an interesting story to tell. Remember the scene where Tina was in the basement and Tarman was after her? She ran up the stairs but fell? 
Well, Linnea told that Beverly (Tina) was hesitating while going up the stairs when they were filming the scene. She kept hesitating (Because it would break) and eventually took a break. When she was away, the broken step had been changed. Beverly didn't know. So when she had to go up the stairs again, she was surprised by a broken step in a different place. According to Linnea, she fell right through the step and was bruised from head to toe! And they didn't even use that shot. 
Linnea Quigley in horror movies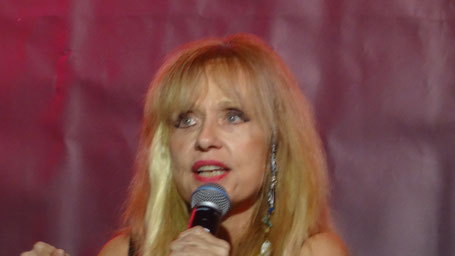 She also talked about horror in general. And how it is to play in so many horror movies. She said that the image of horror has changed a lot over the years. When she said she was playing in a lot of horror movies 20 years ago, the response was usually: "Oh in thát kind of movies.."
But that has changed. Because of the Walking Dead and other movies and series coming out, the general opinion has changed. Nowadays, people love horror! People are actually excited to hear you've played in many horror movies. So it's great to see how it changes over time! Horror is quite popular now and we love it!
Savage Streets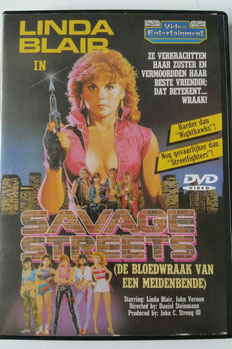 As a preparation to Weekend of Hell, Sig and I watched the DVD Savage Streets. We actually watched the movie because Linda Blair would be attending Weekend of Hell. (Linnea wasn't announced at that point). But unfortunately Linda cancelled. But luckily for us Linnea was announced as a guest quickly after Linda's cancellation. 
I liked the movie Savage Streets! Is there anyone who has already seen this movie? The movie starts with a group of girls being harassed by some punks. They almost run over one of the girls with their car. The girls decide to take revenge on these guys and literally trash their car.  But these guys don't like to be messed around with and want to get back at these girls. Heather (played by Linnea Quigley) is also part of the group of girls. She is the sister of Brenda (played by Linda Blair). Heather is deaf, and also quite shy. One day at school she is all alone in the gym. The punks also show up and violently gang rape Heather. Later on, the punks also kill one of the other girls who happens to be pregnant. Brenda is furious and goes out to kill these guys one by one.
Want to know more? Read our full review! 
The screams!
During the panels at Weekend of Hell, Linnea also showed some pretty impressive screams! Curious? Check out our Instagram account for the videos.