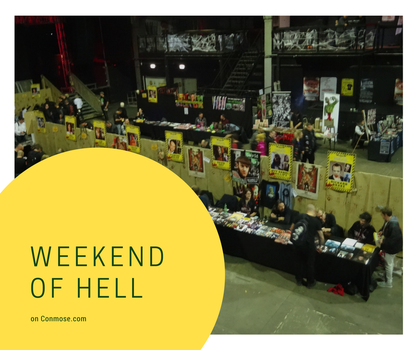 Carola: So... It's Sunday now. We went to FACTS convention yesterday. But today I'm already planning ahead for Weekend of Hell. Just one week to go! I'm very excited that we'll go the complete weekend. But I have still a lot to prepare (read: watch). 
Have you already decided what to watch before going to WOH? Will you prepare and watch some things? 
I've started watching American Horror Story season 4 today. You watch the season separately, so I just started with 4. Because Erika Ervin will be a guest at WOH! 
Liv? Are you there? 
Such a pity that quite some guests cancelled. But eell, we'll still have fun! I'm curious to see if they can arrange some new guests. Still watching American Horror Story season 4. I really like it.  And yesterday I watched Return of the Living Dead. How are your preparations going? 
Liv: Here I am! Oh man, I was so looking forward to meeting Linda Blair and Seth Gilliam (again). But hey it is what it is. Yesterday I started watching American Horror Story. I watched one episode, but I like it. I also watched Fright Night 2  yesterday. I've also watched Return of the living Dead - part 2. But I soon realized  I had to watch part one haha. So I will have to do that somewehere in the next few days. Today I  really don't have the time, so I hope I will get to it somewehere in the next few days.
Carola: Oh nice! Have you also started at season 4 with American Horror Story? Then you'll see Erika Ervin! I'm so glad I'll meet her this weekend. It's awesome. 
Tonight I'll watch another movie to prepare. Not sure which one yet. Maybe Toxic Avengers. And I want to watch Hostel before we're going to Weekend to Hell!
Still looking forward to it a lot. And I'm hoping for some more guests :)!  
Carola: Liv? I'm feeling lonely here! How is your preparation going? I've already quite some things. I'm almost done with American Horror Story season 4. And I've watched Hostel yesterday. And tonight I may watch the Human Centipede 3. There's so much to watch! 
And only one day to go. Still hoping for a few more guests at Weekend of Hell. That would be awesome. I've also seen the planning. Lots of panels that I want to see. So it will a busy weekend again! 
Carola; I'll just keep talking. I've watched the Human Centipede 3 yesterday. It was fun to watch it again. And I've tweeted Erika Ervin about this weekend (and she liked the tweet!) And Laurece R Harvey retweeted yesterday's post! This weekend is going to be great!
Are you bringing any presents? 
Liv: I have had a pretty busy week, but I did watch some episodes of Season 4 American Horror Story and I am pretty excited about meeting Erika Ervin. I also watched some episodes from Tales of the Crypt. I used to watch this when I was younger and I'm pretty excited to meet John Kassir (The Cryptkeeper). I managed to rewatch Return of the Living Dead yesterday. Just before I went to bed, I checked Twitter and saw a message from Linnea Quigley. It said she wouldn't be able to come, because of a mix up with her flight. It was too late to send you a message, but I went to sleep pretty irritated. Luckily this morning came the good news that there was found a solution an Linnea was on her way. Yeah! Today I watched Friday the 13th -Part VI: Jason Lives. I always love to watch some 80's horror, so let's meet CJ Graham this weekend. Yes I am bringing presents.
Carola: I've never seen anything of Tales of the Crypt! OOOh you sared me when you were talking about Linnea! I'm so glad it turned out fine. Glad she's coming. It will be an awesome weekend. I'm glad we're going the whole weekend. We'll have time enough to see and do everything. I saw that there will be some film screenings as well. That's only interesting for us if it'English spoken (And not German). I asked on Facebook, but didn't get a response yet. Hopefully we can make lots of vlogs and also meet lots of people. 
Liv: Yes we will! I've just woken up and it is Saturday. Let's get ready for Hell!