It is time for another unboxing article. Today we are unboxing the March edition of the Lootcrate. This month's thema was "Primal" and we already knew there would be a Jurassic Park item and a Predator item. But there were some other great items in the Lootcrate! Want to know what was in the box? Check out the video below. Now we are are aware that we all have busy lives and that you are not always in the position to watch a video and some people rather read about things like this. We at Conmose are here to serve everyone's needs, so below the article you can find some written information about the Primal Lootcrate!
Item 1:
Logan/Wolverine          figurine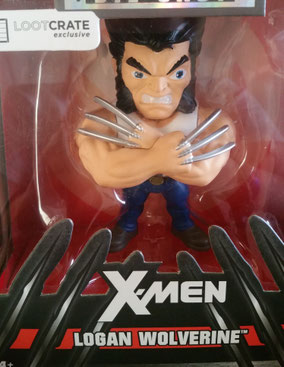 The first item in this month's crate is this great Wolverine figurine and I absolutely love it! The figurine is licensed by Marvel and made by Jada Toys. There were 3 variants you could get, being: Logan, Old Man Logan and Raw Adamantium Logan. As you can see I got the Logan variant. Wolverine is my favorite member of the X-Men, so I'm very happy with this Loot Crate exclusive!
Item 2:
Jurassic World Warning Sign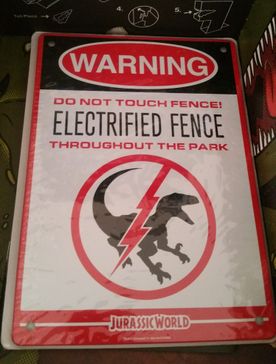 The second item is this very cool metal replica sign from Jurassic World. It is licensed by Universal Studios and made by Factory Entertainment. The sign comes with zip ties, so you can mount it on any fence you want. It's is a replica of the signs that are on the electrified fences throughout the park. Jurassic Park is one of my favorite franchises, so thank you Loot Crate!
Item 3:
Predator Bottle Opener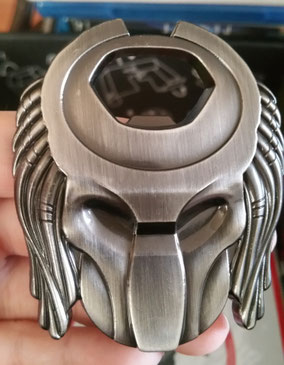 Check out this cool Predator Bottle Opener. It is licensed by Fox and made by Loot Crate, Inc. You could have 1 of 2 variants. I have the Jungle Hunter from the original Predator movie, but you could also get Gort from Predator 2). It represent the Bio-Mask, as worn by the Predators. I think it would be a shame to use it to open bottles and I think I will just keep it like it is.
Item 4
Exclusive Primal Loot Pin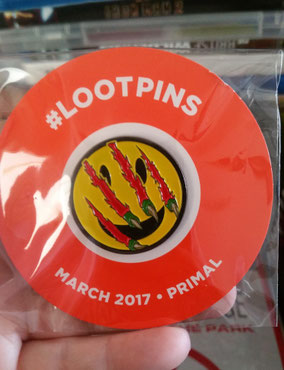 In the booklet included in this month's box it says: "You've survived your trek through the wilderness and your primal side couldn't help but claw it's way to the surface! Fortunately, that looks very cool on a pin." Of course this month's pin also opens the door to some Bonus Loot. This month the Bonus Loot consists of the free digital editions of Savage #1 and #2.
Item 5
Overwatch Winston Primal Rage Shirt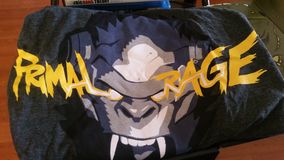 So this month's T-Shirt is the Overwatch Winston Primal Rage Shirt. It is licensed by Blizzard and made by Loot Crate, Inc. Overwatch is a team based multiplayer First Person Shooter and it was released for Windows, PS4 and XBox One. In the game players can unlock special graphics that can be sprayed on surfaces, also known as Sprays. This shirt is tagged with the Primal Rage Spray of Winston, a very intelligent ape, who was once part of the Overwatch team. His ultimate ability is Primal Rage; when he unleashes this it increases his health and strength as he gives in to his wild side.I've never played Overwatch and I'm not really familiar with it either. I think the shirt is nice, however.
The Box
Loot Crate's own              T-Rex
The box this month's loot came in, can be turned into a T-Rex. If you follow the instructions on the box, you can create your "own genetically-engineered theme park monster. 
I haven't done this yet because I use the box to store the loot, until I can display it. But it looks pretty cool on the picture.
Well that's it for this month's Loot Crate. I loved it! My favourite items are the Logan/Wolverine Figure and the Jurassic World Electric Fence Warning Sign! What is your favourite item? 
See you next month, for another Loot Crate!