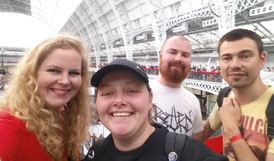 Today we've got a new Series Tip for you. The article is written by a guest-writer and we are very excited about it. As you may know, the team of Conmose.com consists of three active members: Sigmund, Carola and I (Liv). But if you take a look at some of the pictures on our website and social media, you can see that there are four of us. This week our guest writer is no one less than Tristan! (Sigmund's brother, Carola's brother in law and my partner). He wanted to write about one of his favorite series, being: Cosmos: a Space Time Odyssey. So without further ado: Heeeerrrrrreeeee's Tristan!
What is it about?
Cosmos is a scientific documentary series about everything. And with everything I do not mean every thinkable subject, but from the smallest to the biggest phenomena that surround us. As the title already implies the cosmos and space are an important subject throughout the episodes, with related physics subjects like: what is light or sound? How do colours come to be? What do atoms and molecules do? The greenhouse effect, evolution and important early scientific discoveries and the people involved in it are also mixed in.
The series is a follow-up of the original Cosmos series by Carl Sagan,that was broadcast in the 80's. This new 2014 series is presented and narrated by Neil deGrasse Tyson, a well-known scientist whose career was hugely influenced by Sagan. In the 13 episodes of this single season series, some subjects that are difficult to comprehend, like space and time, are simplified by using a "ship of imagination" and a "cosmic calendar". This might be annoying at first, but once used to it, this helps a lot to simplify these subjects. Animation is used a lot, instead of using actors to tell a story which is set in the past. CGI is used to visualize what a camera cannot see, simply because it is too big or too small, too fast or too slow for any camera to capture. The ship of imagination is used a lot in these scenes. 
What I like about Cosmos
A distinguishing factor between this and other scientific documentaries in my opinion; is the fact that religious views are not disrespected and regarded as nonsense, but clarified how these religious views might came to be, even though the facts now show otherwise.
The human factor is a really important element in most of the episodes. Cosmos is more than a show about numbers and formulas; it shows the people behind the names and inventions, together with their passion for science. But it also shows the emotional aspects and how their lives and careers are influenced by others, good or bad.
The series last episode ends with a part about our "pale blue dot" and everything we did on it, right or wrong. It is a beautiful scene and can bring a tear to a grown man's eyes. It makes me proud of the science we do. It reminds me of what I think science is all about: finding the truth and pushing humanity forward by exploring everything that is the cosmos.