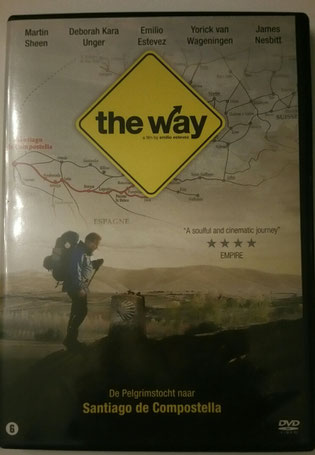 Tom's (Martin Sheen) son Daniel (Emilio Estevez) is going to walk the Camino de Santiago. They don't have a very good relationship. Tom is an oculist and focuses on his work. His son Daniel doesn't get that at all. He's the opposite and wants to líve. He tells his dad: "You don't choose a life, dad. You live one." Then, he leaves to do the walk. Soon after that Tom receives a phone call. His son died at the beginning of the walk because of a storm. Tom is devastated and travels there, to pick up his son's body. But once he's there, Tom decides to do the walk himself. He wants to experience what his son was planning on doing. Inexperienced, mourning and untrained, Tom starts to walk the Camino de Santiago.. 
 I received this movie for Christmas 2016. I really wanted to see this. The Way is an adventure/ drama/ comedy movie. I watched it not long after I received the DVD in December. I loved the plot and I was very interested in how Tom's trip would be. I didn't know what to expect. But I like that. It's not an 'obvious' plot where I already think I know how it will end. Yeah, I suspected he would do the trip and that it would have a big impact on him. But I had no clue what I would see in the movie. I was also curious for the scenery. I've been to the Pyrenees myself a few times and it's really beautiful. But I've never done the Camino de Santiago. I've been to the Pyrenees in Andorra. 
What I liked about the movie is Tom's journey. He walks  the Camino de Santiago although he never thought he would be doing this. He starts off alone and is planning to stay alone. At first he meets Joost, a Dutchman. Joost is just on the trip to lose weight and he likes to talk a lot. Tom meets 2 other people on the way, Sarah: A Canadian woman, who says she'll quit smoking after the walk) and Jack (an Irishman suffering from a writers block). Everyone has their own story and oddities. At one moment they're all sitting at a table and have a drink. A huge fight starts. They start blaming each other and get angry. It was a very interesting scene.  
The movie stars Martin Sheen and Emilio Estevez as father and son.As they are in real life. However it's not their first project together. Emilio is also the director of the movie. And yes, Martin Sheen is also Charlie Sheen's father. What about the other actors in the movie? Deborah Kara Unger plays the role of Sarah, Yorick van Wageningen is Joost and James Nesbitt portrayed Jack. I hadn't heard of them before, but I really liked them in this movie. 
It's nice to see how Tom's attitude towards other pelgrims changes, to see how they change him and how that frightens him. It's all about a journey that shows you who you are, but also puts things in perspective. How do you respond to others? What will or won't you share about yourself?