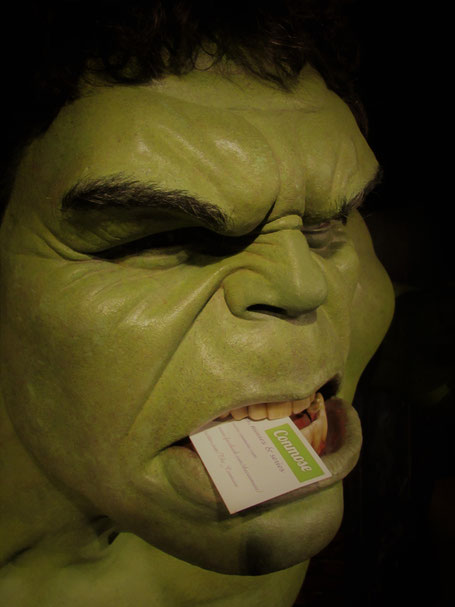 Last Month Carola and I visited Amsterdam together. I had won tickets to be the audience during the recording of two episodes of a Dutch Quiz show (The Quickest Quiz). We will write about this another time. The recordings would be in the late afternoon, so we had some time to spare and we decided to bring a visit to Madame Tussauds. For those of you who are not familiar with the concept of Madame Tussauds; let us enlighten you.
Madame Tussauds is a wax museum, that displays the wax sculptures of famous people. The museum is named after a real "Madame". She was born as Marie Grosholtz in Strasbourg  (France) in 1761.Her father was killed in war just two months before Marie was born. Her mother (Anne-Marie Walder) took her to Bern (in Switzerland), when she was six years old. Anne-Marie (and Marie) moved into the house of Dr. Phillipe Curtius , where she went to work as the housekeeper. Curtius was specialized in making wax models (initially he used them as an illustration for anatomy. He started teaching Marie the art of wax modelling and when Curtius moved to Paris to establish a cabinet of wax portraits, he took Marie with him. In 1777 Marie created her first wax sculpture of Voltaire. Later she also created sculptures of other influential persons like Jean-Jacques Rousseau and Benjamin Franklin. Dr. Curtius died in 1794 and left his collection to Marie. She decided to start travelling through Europe and when she married  Francois Tussaud in 1795, the show was renamed: Madame Tussauds. Eventually she moved to Great Britain and settled in London...the rest is history. 
As I already mentioned the mainlocation of the museum is in London, but there are a lot of smaller museums all over the world. You can find them in cities like: New York, Los Angeles, Sydney, Hong Kong, Singapore, Berlin and like I said Amsterdam.  Of course we are gonna focus on the movie related part of the museum, but we wouldn't want to deprive you of some of the other celebrities we "met"...
Wax figures: World leaders
The first area we walked into was the area with the world leaders. I did a speech with Angela Merkel (the current Chancellor of Germany) and took a selfie with one of my heroes, Nelson Mandela (former President of South Africa, anti-apartheid revolutionary and philanthropist). We both had to take a picture with Barack Obama (former President of the United States of America). At the moment we took this picture Obama was still in office and we weren't ready to let him go yet.
Wax figures: Royalty
The Royalty area of Madame Tussauds in Amsterdam concentrates mostly on the Dutch Royals, but we also spotted Lady Diana Spencer (also known as Lady Di, the first wife of Prince Charles of Great Britain).  And while Carola took a selfie with our former Queen (now Princess Beatrix), I hung out with the current King and Queen of The Netherlands (King Willem-Alexander & Queen Maxima).
Wax figures: Music
In the music section Carola had an encounter with two of the biggest voices of this moment: she gave Adele some singing lessons and had a staring contest with Beyonce. I on the other hand did my best "King of Pop" move and got into a fight with an annoying little boy (lol). We both snuggled up to Robbie Williams and he made us "Feel Real Love" again.
Wax figures: Art
In the art section Carola and I walked into the some of the greatest painters of all time. First I struck a pose with Pablo Picasso and while Carola and Dutch (graffiti) artist Herman Brood formed a critical jury for my Conmose graffiti art. At one point Carola walked into a famous Da Vinci painting and she tried to hypnotize Rembrandt into letting her do the same with the "Nachtwacht", but he didn't give in. Vincent van Gogh was more willing to help Carola and after I took a selfie with him, he started to paint Carola in his distinctive style. This took a while and I got bored, so I stole Salvador Dali's mustache and did a 19th century version of a photo bomb. Carola was not amused by this, as you can see...
Wax figures: Sports
Wax figures: Movies and Marvel
Of course our favorite area was the movie area, we had a lot of fun there. I particularly loved the special Marvel section. We got in the cell with Hannibal Lecter (Anthony Hopkins), brought E.T. home, had fun with The Avengers, hung around with the first and the last Bond (Sean Connery and Daniel Craig) and a lot more just take a look at the pictures...