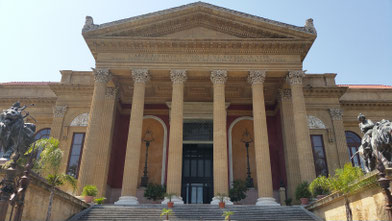 Liv, Tristan, Sigmund and I went on holiday together in 2015. Destination: Sicily (Italy). We had a great time and did some pretty awesome things (like paragliding). But of course we didn't forget about movies. 
The most important movie during our trip was the Godfather. Well, who hasn't seen these movies? I'm a big fan of mafia movies and The Godfather is the mother of all mafia movies. The Godfather - Part I is legendary and then there is Part II, which I think (if possible) is even better. Part II is ok, but cannot live up to the standard set by the first two movies. Our first location however is famous, because of the final scenes of this movie.
The building you see here on the picture is Teatro Massimo. It's situated in Palermo, Sicily. Wondering why this is so special? Beside that it looks awesome (It's a beautiful building!), it's related to the Godfather. I'll tell you why. Like Liv already mentioned the final scenes of The Godfather III have been filmed here on these stairs! We were happy to see these stairs, enjoy the building and take some photos! (What do you think of my Mary Corleone impersonation? Just like the real thing, right?)
The East Side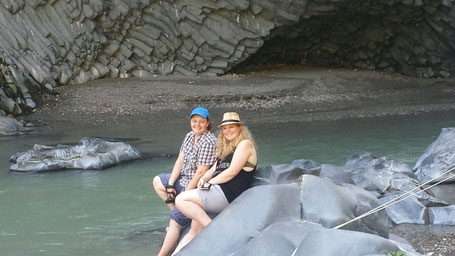 During our stay in Catania, on the East side of the island, we wanted to visit Savoca and Forza D'Agro. These are two small villages in the mountains, near Taormina. Here you can find Bar Vitelli (the bar where Michael asks Mr. Vitelli, for his daughter's hand in marriage), the church where Michael and Apollonia get married and some of the scenes in Corleone. Of course there is a real village called Corleone in the province of Palermo, but at the time of filming, this village was too developed to be used for filming. That's all pretty cool to visit, you might think and that's exactly what we thought. Unfortunately the weather thought otherwise; a few days before our visit the sky broke open and there was a lot of rain. And when I say a lot, I mean a lot! Luckily this was just the one day and soon there was not a cloud to see in the sky. We got into our rental car and started on our way up the mountain. Well it didn't take us long to find out that it wasn't going to happen. The rain showers had flushed away the roads into the mountains and it was impossible to reach the villages. We were pretty disappointed, but there was nothing we could do about it. We decided to visit the beautiful Alcantara Gorge and it turned out to be a great day. ( As you can see on the pictures).
Corleone
Corleone is a small town in the province of Palermo in Sicily. We decided to visit this city on the last day of our holiday. And it was quite the ride! Corleone is the birthplace of several characters from the Godfather. Even though there weren't any actual scenes filmed in Corleone, we decided to visit this small town. Just to have a look and see if we could discover anything related to The Godfather!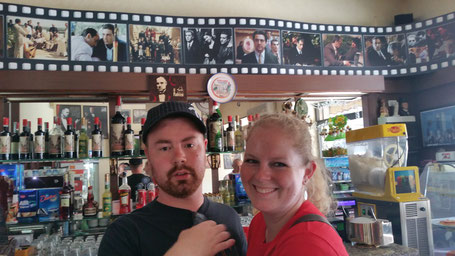 And yes, we did! Soon, we already found this little Godfather themed cafe. There were a lot of pictures of the movie. It was fun to see! We had a drink outside on the terrace. After that we decided to walk a bit more and see if we would find anything else Godfather related. Or if we could find something too eat. Eating is always a good thing haha. Corleone was actually quite a small town. There were only a few cafes and restaurants. And not too many souvenir shops either. But we liked walking around. There was more to see, but we didn't have a lot time. So we had to pick one thing to do.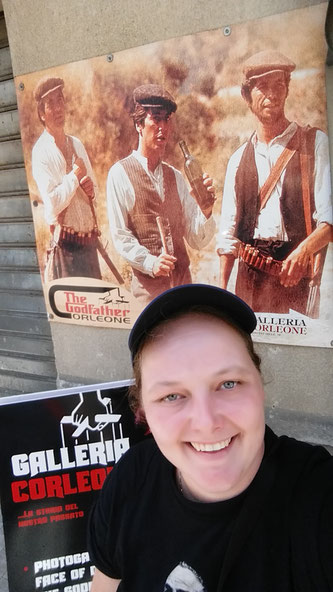 And we chose to visit the anti-mafia museum! There were guided tours and we decided to do one. We were lucky, we could start immediately. It was a very interesting museum. It wasn't about the movies. But it was all about the history of mafia in Sicily. There was a lot to see. In a group, we were led through different rooms. In each room we would also get some time to look around. 
We enjoyed going to Corleone! In the movies, it's the birthplace of several characters. So we liked seeing the actual town. It was fun to walk around and see the influence the movie has had. You can see references to the movies in several places. But we also noticed a little bit, that they're used to seeing tourists in the town because of the movie. And not everyone likes that. 
The museum did it's very best to be a serious place about the history of the mafia. And it's fighting a bit against the image that people have because of the movies. Because I had my Don Corleone shirt on that day, I felt a little out of place in the Anti-Mafia Museum (I didn't think we would end up there, because I wouldn't have put on the shirt if I did). The guy that led the tour kept giving me the eye of shame and of course I get that. I think The Godfather movies are among the best movies ever made, but that does not mean I don't know what the real Mafia is and does. And it also doesn't mean I condone their actions. I read a lot about the real Mafia and I saw the gruesome pictures of their victims, so I know it's nothing to be proud of. But I do agree with Carola on the following:
On the other hand: I think it's because of the movies that people are discovering all this information and visiting the museum for example. So that's the positive side. 
We enjoyed our visit.