We're back with another unboxing! This will be our LAST BAM Box unboxing. The BAM Box is no longer shipping to the Netherlands. So will find something else to show you! We might take another box. or just order some nice things at an online store. We will focus more on unboxings en merchandise in the near future. At this moment, we're checking out what's interesting enough to blog and vlog about! 
But for now, enjoy the unboxing of our last BAM Box! I can assure you, it's an awesome box! 
I got the mask!!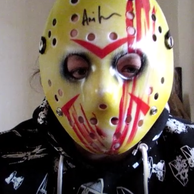 I was incredibly happy when I opened the box and this was the first thing I saw. The BAM BOX had a Jason Voorhees (Friday the 13th) mask in an earlier box. And I really thought it was a pity I missed that one. (It was just before I took a subscription). But luckily I received the anniversary box. In this box, we received a custom hockey mask. No two masks are the same. But each mask is signed by Ari Lehman, who was the first to play Jason Voorhees in Friday the 13th.  I love the Friday the 13th movies. And this mask is an awesome collector's item. The quality is good. And I love that it's signed by Ari Lehman! Yes I was so happy with the mask! It's always great to get a signed item and the fact that every mask is custom made, with no two mask being the same makes this one extra cool.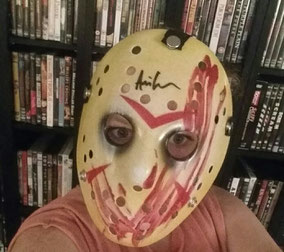 There was a pin and an animation cel
The pin
I love the monthly pin in the BAM box. I like it they always have a pin in the box. The best pin I got until now was the Chucky pin. And this month I was also VERY happy. What I received was a Stranger Things pin. I've watched Stranger Things recently and I LOVE it!!  The pin is definitely going on my backpack. In this months box you could have the Stranger Things pin like me, a zombie pin or a BAM box  year anniversary pin. I love the Stranger Things pin the most!! I would have loved the stranger things pin too, but I got the zombie knuckle pin. I like it better than the anniversary pin, but I too like the Stranger Things pin the most. (Can't wait for season 2!)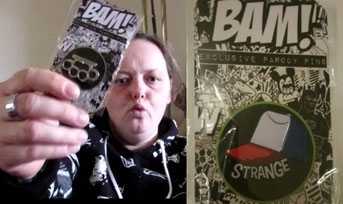 The cel
Another item in the box was an animation cel.  Sigmund was very excited to see this one. In the 80's themed box of last year, there was a one of a kind sketch from an 80's cartoon. I got an original sketch from He-Man and the Masters of the Universe. I loved it because it's such an unique item. And once again, BAM Box puts in an unique item. We received a cell of Street Fighter! Awesome isn't it? Other boxes got one of Street Fighter as well, or a cell of the Real Ghostbusters, Sonic, Captain N or something else! So I got something else (as you can see below). I got a cell from Dennis the Menace and I absolutely loved this item! When I took it out of the box, I was pretty speechless haha, I just kept looking at it.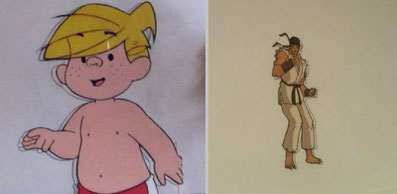 A License plate!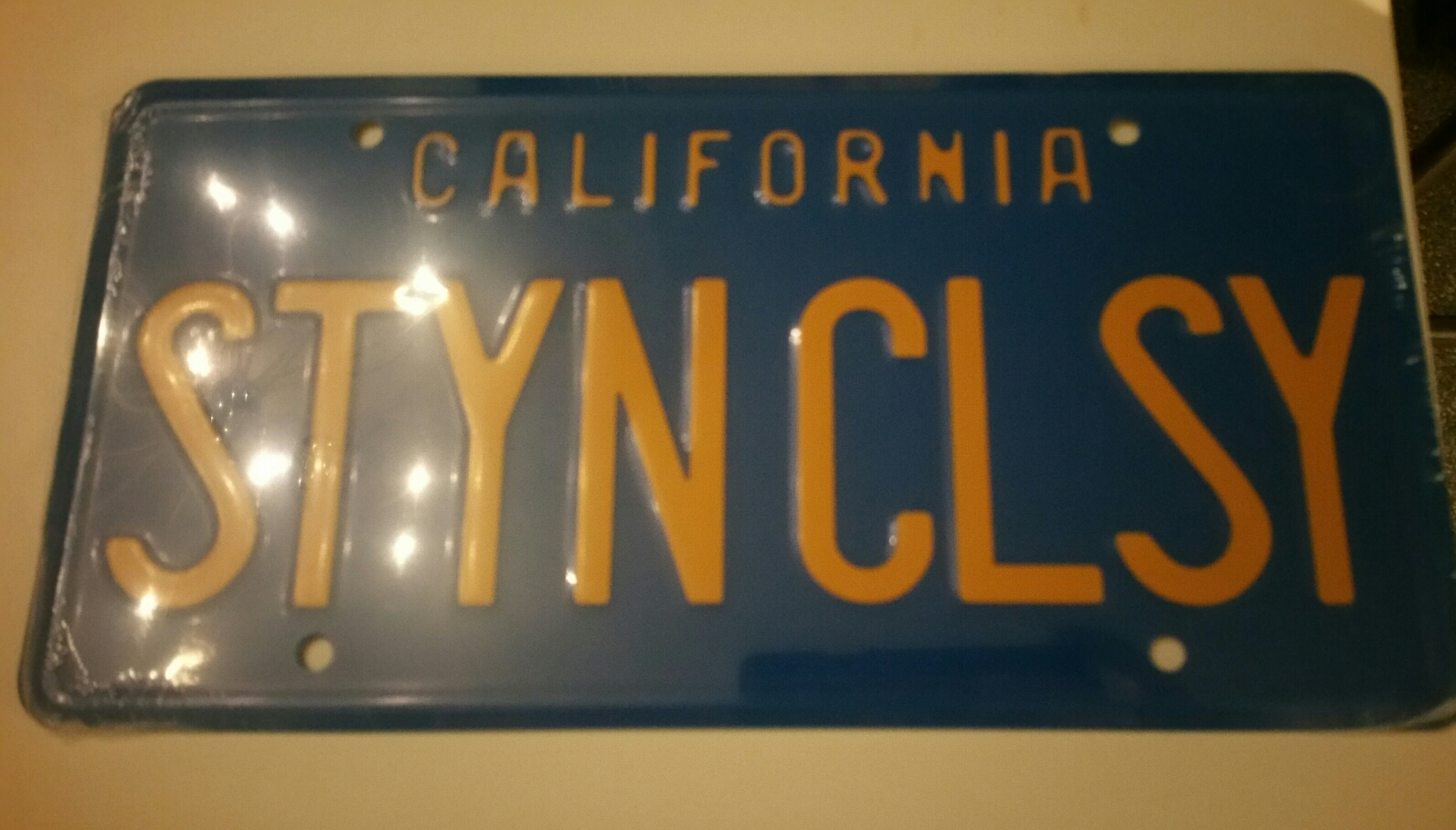 This box also contained a license plate again! I'm always very happy with that. A while ago, I already received a license plate in a BAM Box. A plate of Back To The Future.  And this time I received one of Anchorman 2! Still have to watch that movie. But I think it's a great item. Other boxes could also receive a plate from Knight Rider or Ferris Bueller's Day Off. I hope Liv got the one of Knight Rider :).  Thanks, but no I did not get the KITT one. I would have loved that, but I'm also happy with the one I did get. I got the NRVOUS license plate from Ferris Bueller's Day Off. That movie is one of my guilty pleasures, lol.  
And.... Art!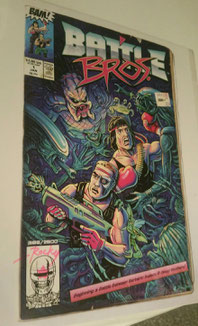 Time for the last item of this BAM Box! Of course there's also art in this box. This is always a surprise for me. Sometimes I do like it, sometimes I don't And this time.. I'm very happy! There are two versions in this month's BAM Box. The first is called 'Eenie, Meenie, Minie, Mo", made by Chris Uminga. Fans of the TV series will recognize immediately that this is about the Walking Dead! I like this one, (I saw it in the booklet that comes with the BAM Box) but I do like the one I received better. I got the one called 'Battle Bros' made by Rocky Davies. I think it's really awesome. It just looks like a real cover. Including the price tag. There's so much detail in this artwork. I can't stop looking at it. check it out! Which movies and actors do you recognize? Well you will get the chance to see the other one in real life, because that's the one I got. I like it, because it's from The Walking Dead. However I must admit that I really like the Battle Bros. even more. (If you want to see the print I got, watch the video below)
So.. This was our last BAM Box! what do you think of this box? I really really loved it. I think it's a pity the BAM BOX decided not to ship to certain countries anymore. I do understand, but also feel shut out. We will look for another box and buy other merchandise. So hopefully we will find another great box. And I'm not sure if I would ever return to BAM Box if possible. I mean, just saying 'we won't ship to you anymore', does have an impact. An I might get attached to another box very soon!