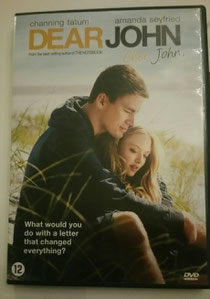 One of my goals for 2017 was to write more movie reviews. I watch a lot of movies. But I don't always write a review about them. I will still not write a review about every movie I watch. But I will write some more this year! I also want to very more in the genres we discuss/write about. So because of that, I'm reviewing 'Dear John' today. A romantic drama movie starring Channing Tatum and Amanda Seyfried. 
Savannah (Amanda Seyfried) is at the beach with her friends. They stand at the pier and talk. Then her bag falls into the sea. She panics. this bag contains her life! One of her friends wants to get it for her. He walks around the whole pier to walk into the water. But then there's this guy (Channing Tatum).. standing at the pier. He just jumps. Jumps into the water and gets her back. He walks past her friend, who tries to take over the bag. He walks straight to Savannah and hands over the bag with a smile. He introduces himself as John. As a thank you, Savannah invites John to the barbecue she and her friends are having at her house. John meets her friends and Savannah's neighbor and his kid. From that moment on John and Savannah are inseparable. 
Dear John: A love story?
This movie sounds like the ideal love story isn't it? But this is just the beginning. Savannah and John have an amazing two weeks. But then summer ends. Savannah has to go back to school and John works in the army. They won't be able to see each other for a whole year. They decide to write each other: "Tell me everything. Write it all down. Scribble it in a notebook, type it out, e-mail it to me. I don't care. But I want to know everything. In that way, we'll be with each other all the time. Even if we're not with each other at all. 
This movie is not just about a long distance relationship. Dear John is based on the book of Nicholas Sparks with the same name. The movie is directed by Lasse Halström, also the director of movies like Chocolat, Hachi: A Dogs Tale and What's Eating Gilbert Grape. This movie is not just about a long distance relationship. There are more central themes. An important part of the movie is the bond between John and father. John's father is obsessed with his coin collection. It once started as a mutual hobby of John and his dad. But when John became a teenager and his father became obsessed by the coins it turned into something drove them apart instead of together.
Savannah likes John's dad and loves talking with him about the coins. At a certain moment, she suggests to John that his dad might have high functioning autism. At first, John gets very angry. But later he starts to agree and understand. The son of Savannah's neighbor also has high functioning autism. It becomes a recurring theme in the movie. It's Savannah wish to start a summer camp for autistic children. 
The movie also focuses a bit on John in the army. I'm saying 'a bit' because you mainly see John and his feeling about staying in the army and being loyal. You don't see a lot of actual war in the movie. After a year John is done and he and Savannah meet. But: a lot of things have happened. They prepared to be ready for a life together. But because of the 9/11 attacks, John decides to re-enlist for two more years. Savannah is devastated. Everything they were working towards to, is gone. Two more years apart. Will they survive this? 
My thoughts on Dear John
I must admit that romantic movies are not my specialty. I don't watch them very often. And when I do, I'm very picky. Some I just turn off after 15 minutes of watching. I've seen Dear John ages ago and re-watched it. And I do like the movie. I like it, because I can feel the drama. It's a not a movie that's about two people not admitting to like each other, knowing that in the end, they will. They immediately know they belong together. But sometimes that's just not how life goes. I can feel the pain, frustration, and devastation. How hard is it to pick? Can you have it all? Is it fair to ask Savannah to wait? I also like that the movie has more central themes. I liked John's dad and they he and Savannah bonded.
The second half of the movie is going a bit quick: Some things come unexpectedly. I didn't really see it coming and they go by the years pretty fast. I would have liked to see a bit more depth there. I get why people don't think this is a very good movie. But still, I liked it. I like the dramatic stories of people who already know they want to be together, but face challenges. I'll end this review with Savannah and John's sentence to each other.. See you soon then!