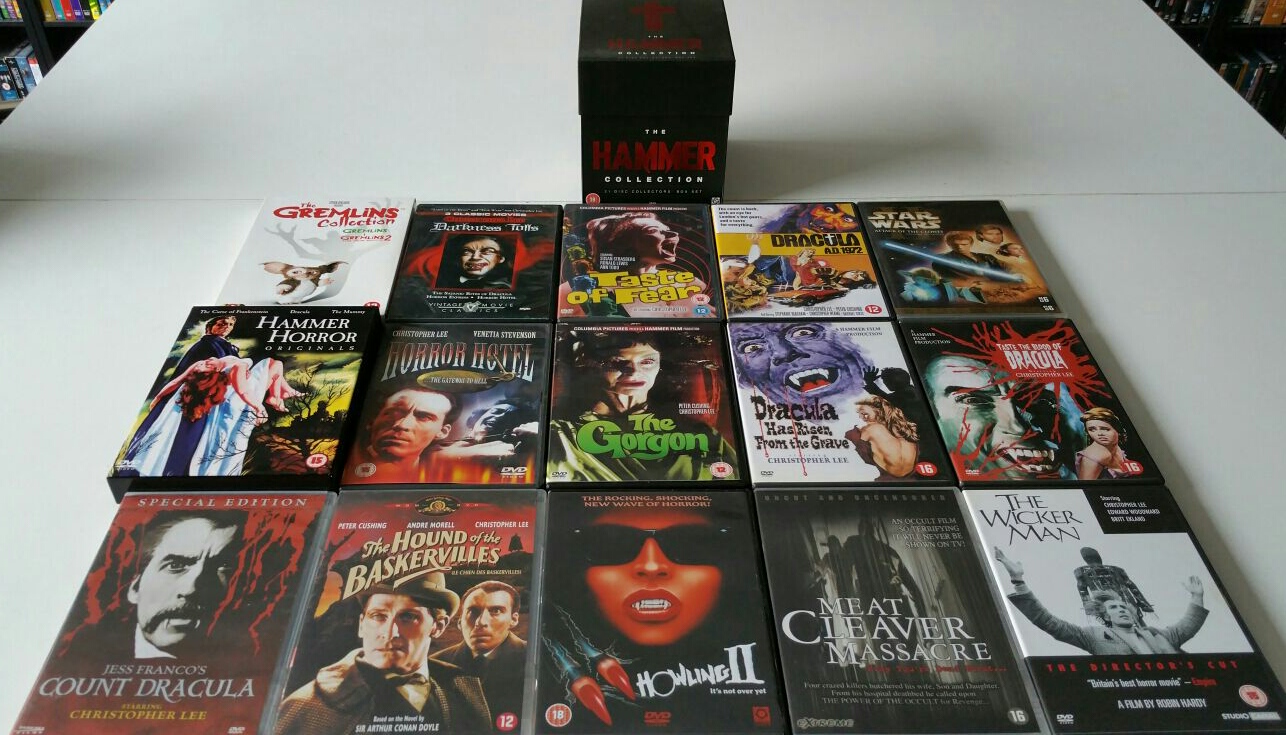 Today I'd like to talk a bit about Sir Christopher Lee. Everybody who's even the slightest bit into movies probably has seen a movie with Christopher Lee in it. Still, not everybody is familiar with his name. Which I think is pretty strange actually. Lee has 281 acting credits (yep got that one from IMDB haha) spanning over different generations. He started in the 1940's and acted until his death in 2015. Which is already quite impressive.
Lee's career really started to take off in the late 1950's until the 1970's when he got involved with the British company Hammer film productions. They made the now famous Hammer horror movies. He and Peter Cushing were among the biggest starts of these films. Both played in tons of them. You just can't mention the Hammer horror films without mentioning Lee or Cushing. The roles Christopher Lee played are for example the Frankenstein monster, The Mummy and of course Count Dracula. Christopher Lee was the "new" Dracula at the time. He actually did 7 hammer films playing the role of the famous count.  And what a fantastic job he did. Not since Béla Lugosi has someone personified this character so well. Lee also gave the character his one twist, which makes him so iconic.
Around that same period, Christopher Lee also played the part of master criminal Fu Manchu. He played this character in 5 Fu Manchu films. After that, he also starred in the horror movie The Wicker Man. Which is a movie I think every horror fan should have seen. To me, this is one Lee's best films. And actually, it is known that it was one his favorite films as well. Fun fact: Christopher Lee played the role for free.
But that's not all, the man has done even more. In 1974 he played the villain Francisco Scaramanga in the James Bond movie The Man With The Golden Gun. Which is definitely not the smallest role you can get as an actor.
In his later career, you might know him from his role as Saruman The White from the Lord of the Rings and Hobbit movies. Which is also an amazing role to play. He also played the role of Count Dooku in Star Wars Episode 2 and 3. And these are just a few examples of what the man has done. His acting career is impressive, to say the least. But somehow he never got that big Hollywood status. He was never as big a say Johnny Depp or Brad Pitt. Which of course I don't mind. I don't care for that big fame anyhow. But it is kind of strange how this works. These are just all an example of what he's done. Some others are: Police Academy Mission To Moscow, Captain America 2, Gremlins 2, Sleepy Hollow,  Charlie and the Chocolate Factory, Corpse Bride, Alice in Wonderland , the list goes on and on.
To me and many others, Christopher Lee will always be legendary. I've got to know him from the horror movies he did. I'm a big fan of the Hammer Horror Movies. But I also like some other horror films he stars in besides those. I also think it is amazing that he didn't get typecast for his role as Dracula. He did everything to continue his career and did it with great success. To end this blog today I will make a list of films recommend to see, these aren't all my personal favorites and not all of them have Christopher Lee in the lead. But it's a nice variation.
- The Wicker Man (1973)
- The Devil Rides Out (1968)
- Lord of the Rings (any of them haha)
- The Man With The Golden Gun (1974)
- Gremlins 2: The New Batch (1990)
- The Mummy (1959)
- Dracula: Prince of Darkness (1966)
- The Howling 2 (I know this movie isn't the best, but I just love this one)
- Charlie and the Chocolate Factory (2005)
And in the picture in this blog, you can see some of the DVD's featuring Christopher Lee that I own.