Let's talk about the Oscars today! Have you seen the Oscar nominations? I won't put the whole list in this blogpost. Let's just talk a bit about the Oscar, nominations and winners from last year!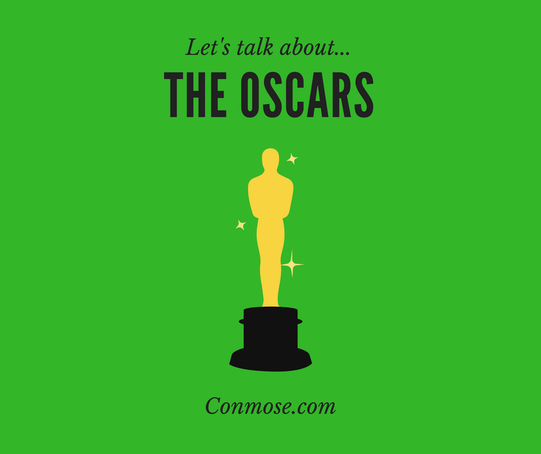 Best picture
The nominees for best picture are Arrival, Fences, Hacksaw Ridge, Hell or High Water, Hidden Figures, La La Land, Lion, Moonlight, and Manchester By the Sea. Have you guys seen any of these movies? I have to admit that I haven't (yet). I ave heard some great things about La La Land and Hacksaw Bridge. I'm not so familiar with the other ones. Have you seen any of the nominated movies? Which of these movies should win an Oscar?
Last year (2016), the Oscar for best picture went to the movie Spotlight. A movie that stars Michael Keaton, Mark Ruffalo and Rachel McAdams. Te movie is about how the Boston Globe uncovered the scandal of child molestation in the Local Catholic Archdiocese. I've put the movie on my watch list! Just like Room, a movie that was nominated in 2016 for the Oscar for best picture. I have seen 1 of the nominated movies of 2016: The Revenant. And I do agree that this movie was nominated. It was a stunning movie about a fur trading expedition. When Hugh Glass (DiCaprio) is attacked by a bear, the battle for survival begins. 
The actors
Talking about the Revenant brings me to the next categories. Let's discuss 'actor in a leading role' and 'actor is a supporting role'. Last year, Leonardo Dicaprio got an Oscar for his role in the Revenant. I can totally agree. I think Leonardo did an amazing job in the Revenant. The Oscar for actor in a supporting role went to Mark Rylance (Bridge of Spies). 
How about this year? Well, the nominees for 'leading role' are Denzel Washington (Fences), Viggo Mortensen (Captain Fantastic), Ryan Gosling (La La Land), Andrew Garfield (Hacksaw Ridge) and Casey Affleck (Manchester by the Sea). Again, I haven't seen these movies. Even though: If I had to pick one, I'd pick Denzel Washington. Just based on movies I have seen of him and I think he's very talented.
I don't know any of the names of the actors that are nominated for a supporting role. so I should really watch these movies soon.   
The actresses
How about the actresses? Who do you think should win an Oscar? In 2016, Brie Larson won an Oscar for best leading actress in the movie Room. (Definitely on my watch list!) Best supporting actress was Alicia Vikander (the Danish Girl). Also a movie I haven't watched (yet). When I look at this year's nominations for leading actresses, I know most of the names. 2 are unfamiliar to me: Ruth Negga (Loving) and Isabelle Huppert (Elle). The nominees I do know are: Emma Stone (La La Land), Meryl Streep (Florence Foster Jenkins) and Natalie Portman (Jackie). Based on movies I have seen I would pick Emma Stone. Really, I do believe Meryl Streep is awesome. I do like Natalie, but I'm not a huge fan. And I really like Emma Stone in movies. She just has something that's different, and makes it always fun to watch! What's your opinion? 
When I look at the nominees for actress in a supporting role, I know all of them. Yay! The nominees are Viola Davis (Fences), Naomi Harris (Moonlight), Nicole Kidman (Lion), Octavia Spencer (Hidden Figures) and Michelle Williams (Manchester by the sea). Again, I can't really pick anyone, because I haven't watched the movies yet. But I'm always impressed by Viola Davis. I loved her in the Help and she was terribly annoying (but good) in Suicide Squad. I think she's a great and versatile actress.  
More nominees...
As much as I'd love to, I'm not going to discuss all the categories and nominees! I'll discuss a few more. Which movie should win the Oscar for best animated feature film? I don't watch any animated films. So I can't tell you a lot about it haha. Maybe Liv can give her opinion on these nominees and last year's winner (Inside Out) later. I do know Inside Out, but just because Liv wrote a review about this movie! This year's nominees are Kubo and the Two Strings, Moana, My Life as a Zucchini,  the Red Turtle and Zootopia. Do you have kids? Let us know in the comments which of these movies they enjoyed the most! 
I also love documentaries. So I'd like to look at them as well. In 2016 the Oscar for best documentary (feature) went to Amy (about Amy Winehouse). And best documentary short subject went to: A Girl in the River: The Price of Forgiveness.  This year's nominees for best documentary (feature) are: Fire at Sea, I Am Not Your Negro, Life Animated, O.J. Made in America and 13th. I really love documentaries and I'd love to watch them all. I see that 13th is available on Netflix. So I will watch that documentary soon!
As a last one, I'll share the nominees for documentary (short subject). I haven't heard of any of them: Extremis, 4.1 Miles, Joe's Violin, Watani: My Homeland and the White Helmets. 
What do you think?
What's your opinion about the nominees? Which movie, actor or actress are you missing? What do think about the Oscars in general? I've actually never had a huge interest in it. But now we're writing for Conmose I've decided to follow it a bit more. I'll just have to check out some of the movies to form my opinion!