This week our series tip is: That '70s Show. A TV series that always makes me laugh! That '70s Show takes place in... the '70s. Surprising isn't it ;)? It's a comedy series about a group of teenagers that are living in Point Place, Wisconsin. They all love to hang out in Eric's basement. Eric lives with his parents Kitty and Red. He persuades them to let Hyde live with them. So Hyde practically becomes family. Eric is in love with the neighbor's daughter, Donna. And then there's Fez, who is an exchange student. Kelso is not the brightest and Jackie is a spoiled rich kid. Together they form a group of friends and hang out all the time.   
How about the actors?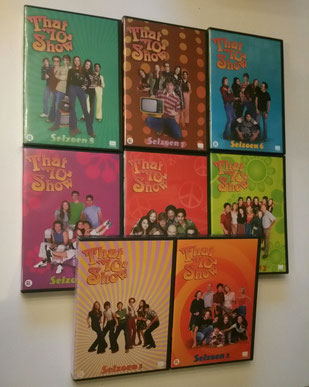 This is easy! Of course, we all know Mila Kunis and Ashton Kutcher. If you haven't watched That '70s Show you might not know, but they both played in this series. They even were a couple! That '70s Show is all about a group of teenage friends. 
The group of friends consists of: 
Jackie (Mila Kunis)
Hyde (Danny Masterson)
Donna (Laura Prepon)
Fez (Wilmer Valderrama) 
Eric (Topher Grace) And
Kelso (Ashton Kutcher)
Besides this group, we also often see Eric's parents, because the group hangs out at his house. They are Kitty (Debra Jo Rupp)  and Red (Kurtwood Smith). 
Of course, we know Mila Kunis for LOTS of movies. Just to name a few of them: Friends with Benefits, Ted, Black Swan, Bad Moms and Date Night. And who doesn't know Ashton Kutcher? I have also seen him star in the Butterfly Effect, Dude Where's My Car and New Year's Eve. I must admit: I've heard the most about these 2. I've seen some other members of the cast occasionally. But not that often. 
Oh shame on me!! Of course, I have. I watch Orange is the New Black. Alex Vause is played by Laura Prepon. It's because they're so totally different there that I always forget! I've also seen Kurtwood in Robocop and Topher is also known for Spider-Man 3. 
Who will like this?
If you like comedy and the setting of the '70s, you'll love this. Everything feels like the '70s, the clothes, the music everything. It's just nice to see a TV series about a group of friends which is not the standard high school series. It's always fun to watch: There are a lot of jokes and there's always something going on. The friends are an excellent group. I think the chemistry is great and you can feel that. It feels genuine and fun. All of the members of the group have their own specific character traits. I can just look at them and already laugh. Jackie can be super bitchy. And Kelso can be, how can say it nice, not smart haha. Eric is so insecure sometimes, because he likes Donna. It's fun. You feel part of their group.  
Because That '70s Show was a huge success, Fox also started a series called That '80s Show. That wasn't as successful. It only aired from January to May 2002. 
How many seasons?
There were 8 seasons. The show aired from 1998 to 2006.
My opinion
I like That '70s Show! It makes me laugh and the actors are great. I have watched it when I was younger on TV and now I have all the seasons on DVD. At a certain moment, it was for sale on a Dutch second-hand website and it was quite cheap. Couldn't miss that chance obviously. What I loved the most about the series is the friendship in the group. It's so much to watch. They go through so much and you see them fight, fall in love, be bored, be funny and so much more! You really get to know them. I also love Eric's parents. Red and Kitty are an unforgettable duo. That voice of Kitty! And the attitude of Red! Ever noticed how often Red says dumb ass? Or any sentence with 'my foot in your ass'. Hahaha. Remember the circle? They often sit in a circle. The camera focuses on the character that speaks. Going around in the circle. It's such a distinct way of filming and always thought it was great for this series. These circle conversations were awesome. 
Rate
Who's your favorite? What's your favorite series? Have been addicted to a series? What series (or genres) would you like to see in our "Series Tip of the Week"?