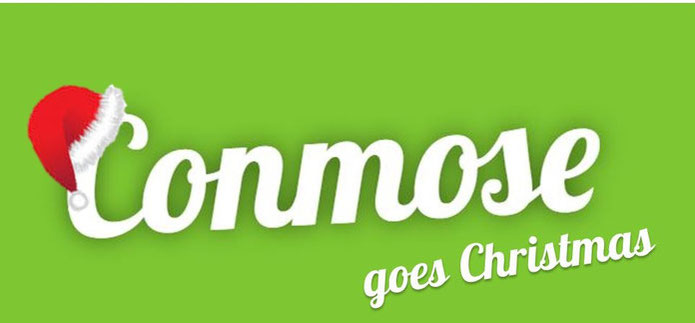 This the Conmose Christmas Week! For a few days, we'll give you some movie suggestions related to Christmas/ New Year's Eve. We're talking about movies here, so there's something for everyone. There are not only family Christmas movies. No! There's so many genres of Christmas movies. We'll tell you about them in the Conmose Christmas Days. Today we're talking about horror movies!  
Santa's Slay
Santa's Slay (2005) is a horror movie about Santa Claus who's actually a demon. 1000 Years ago he played a game of curling with an angel and lost. Because of his loss, he had to deliver the Christmas presents for 1000 years. Now these years are (almost) over and he's free to kill again. And that is exactly what happens. Santa goes on a killing spree while a family that discovers the story tries to escape... 
I thought this movie was okay. It isn't one of the best horror movies I've seen. But definitely not as bad as I feared it would be. It's a nice watch if you want to watch a Christmas horror movie. 
Silent Night, Bloody Night
This a 1972 horror movie. A man inherits a mansion. It's a former mental home. He decides to sell the house. But then a serial killer escapes from an institution. He makes frightening phone calls to the people near the mansion and kills them.. 
Black Christmas
I've watched Black Christmas this week for the first time! It takes 98 minutes. Christmas is coming! A 13 year old girl is found dead (killed). A group of sorority girls are on their Christmas break. But then a stranger is stalking them. And murdering people.. 
Gremlins
Here's a movie most of you might already know. I hadn't seen it until last week. I knew I really had to watch this movie! I've only seen part one till so far. The story goes like this: Billy gets a new pet. But: There are some specific conditions. Don't let it get wet, Don't expose it to bright light and don't let it eat after midnight. Then, Billy accidentally breaks these rules and the consequences are terrible!   
Holidays
I also wanted to watch a movie that's quite new. I watched Holidays (2016) on Netflix. This movie is not just about Christmas. It contains a number of short stories. which are all related to one holiday. There are stories about Valentines Day, St. Patrick's Day, Easter, Mothers day, Fathers day, Halloween, Christmas and New Year's Eve.  Prepare for some really tough stories! Really! I won't describe all of the stories. But they are all horror stories. I've never seen such a disgusting Easter bunny I can promise you that.. I thought it was fun to watch. But careful, you're idea of a specific holiday could be ruined forever. 
More?
Of course there are many many other Christmas related horror movies you could watch.There are a lot of great ones. These are just a few tips. 
Let us know in the comments: what'your favorite (horror) Christmas movie?