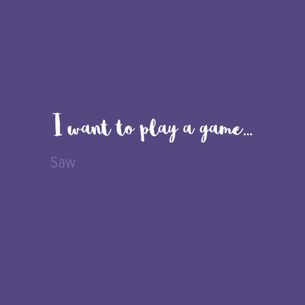 Oh yeah! It's time for another challenge. We do love challenges! This time we decided to a movie/ series quote conversation challenge. Say what? A Movie/ Series quote conversation challenge. I've seen it in Suits before and I love it. 
Let me explain: Liv and I will have a conversation below. But: We can ONLY use quotes from movies/ series to communicate. Well.. Let's see how that goes :). 
Oh, and don't forget: if you have a nice challenge for us, let us know in the comments! 
Our conversation
Carola: I want to play a game.. (Saw)
Liv: You talking to me? (Taxi Driver)
Carola: If you want to be somebody, if you want to go somewhere, you better wake up and pay attention. (Sister Act)
Liv: What we've got here is failure to communicate... (Cool Hand Luke)
Carola: Winners don't make excuses (Suits)
Liv: Well, nobody's perfect.. (Some like it hot)
Carola: When life gets confusing, there's only one thing to do: attend a fabulous party. (Sex and the City) 
Liv: Excellent! (Bill and Ted's Excellent Adventure).
Carola: This is the beginning of a beautiful friendship.  (Casablanca) 
Liv: Friendship is everything. Friendship is more than talent. It is more than the government. It is almost the equal of family (The Godfather)
Carola: "Would I rather be feared or loved? Easy, both! I want people to be afraid of how much the love me." (The Office)
Liv: Hope. It is the only thing stronger than fear. A little hope is effective. A lot of hope is dangerous.  (The Hunger Games)
Carola: Whatever you do,  don't fall asleep. (Nightmare on Elm Street) 
Liv: Luca Brasi sleeps with the fishes (The Godfather)
Carola: You gotta be fucking kidding (The Thing)
Liv: I kid you not! (Mutiny on the Caine)
Carola: Frankly my dear,  I don't give a damn. (Gone With the Wind) 
Liv: Screw you guys, I'm going home! (Southpark)