Once upon a time.. (Or a long time ago in a galaxy far far away...). Long before Conmose existed , Liv and I went to see the musical of the Sound of Music together in Breda (the Netherlands). As long as I can remember, I loved the movie. My sister loves it as well. And usually around the time of Christmas we would decide to watch the movie again. So I grew up with a fair share of the Sound of Music in my life. Same for me, I've always loved this movie and I have seen it a million times throughout my life. Small difference with the story of Carola is that I have a big brother and he doesn't like it at all (and that's the understatement of the century). I remember one time this became painfully clear to me. Let me take you back to the roaring 90s: my brother and I were eating soup and I was constantly singing the song "Edelweiss" ( mind you I'm no Adele or Beyonce). At a particular moment my brother was so fed up with it, he took the spoon and he hit me on my forehead. Well I guess I had that one coming. I can imagine that it was quite annoying (untill I have never admitted that to my brother; so Ingmar I hope you arr reading this one).
I've always liked it, even though I'm not into musicals as a specific genre. I like some. But I wouldn't call myself a musical lover. I loooove musicals, but not all of them. One of my other all time favorites is "Grease".
Anyhow,  I've always thought the music in this movie is just awesome. I really love the songs. I have to admit that when I was smaller, I didn't understand the end of the movie and the time in which the movie is set (Austria, just before World War II). 
I almost can't imagine that there's someone out there who hasn't heard of this movie. But ofcourse I know not everyone is familiar with the Sound of Music. Let us explain a little: The movie is about Maria (Julie Andrews) who is a nun. But she's not sure about what she wants and who she is. Because of that she gets an assignment: She will be a governess to a large family. The father (Christopher Plummer) is a widow and is looking for someone to look after his children and obeys the strict rules. At first this is very hard. Maria is completely different from Captain Von Trapp (the father). She likes to give the children space and let them play.  Captain Von Trapp is very strict and doesn't like to be contradicted. But Maria falls in love wit the children. But will she also manage to be on good terms with the Captain? 
The musical: The Sound of Music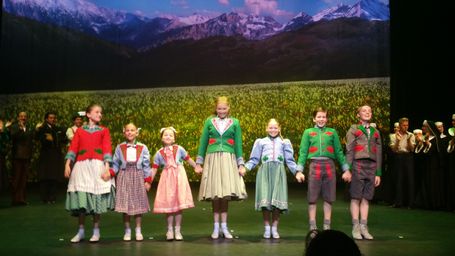 Liv and I didn't have to think long about seeing the musical: Of course we wanted to go! I was lyrical. I think it was actually the first time we went out to "party" without the guys". We were very happy to have great seats (second row). So we could see everything perfectly. On the picture here, you can the children of the Von Trapp family! I thought the musical was excellent. It stayed true to the story and I really enjoyed hearing all the songs!  The actors in the musical were awesome. They all did a great job. I remember that my favorite was the actress that played Liesl (in the middle of the picture). She did really well. She was my favorite too. After seeing the movie so many times, it was lovely to see the story on stage. It's so different from seeing a movie. 
The songs!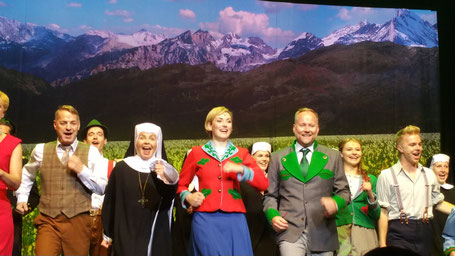 The Sounds of Music is famous for its songs. And I can understand why. They're great. and a big source of inspiration. I'm curious to hear: What are your favorite songs from the Sound of Music? Let us know in the comments! I really love several things. Songs that Liv and I usually sing are 'The hills are alive'. Hell yeah, we actually sang that on Mount Etna together, during our vacation in Sicilly. And the goodbye song (When the children leave the party and sing a goodbye to everyone.) We often do that (behind the scenes) after finishing a vlog or leaving a comic con hahahaha..
I personally really like the song 'I have confidence'. I think it's a really inspiring song. Even if you don't watch the movie/ have seen the musical. I recommend the song. It's such a motivating song. I'll quote a part of the song:
"So, let them bring on all their problems
I'll do better than my best
I have confidence they'll put me to the test
But I'll make them see I have confidence in me
Somehow I will impress them
I will be firm but kind". 
I love it! And of course I also really love the song 'My favorite things'. The song just tells you to think abut your favorite things when something bad happens. And that it might make you feel better. I think all of the songs are great, but I really have to agree with Carola. Those two songs are amazing. But I also love "Do, Re, Mi". Yeah I know it's corny, but it just leaves a smile on my face every time!
Well I guess that just leaves one thing to be said:
"So long, Farewell, Auf Wiedersehen, Goodbye!"