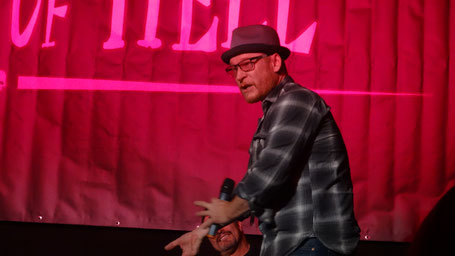 Friday, November 4th. Weekend of Hell. Liv & I are at a Q&A. Which Q&A? The Freddy vs Jason panel! I re-watched the movie Freddy vs Jason recently. It's no secret that I'm a horror movie addict. And I definitely love Nightmare on Elm Street and Friday the 13th. So you can imagine that I was excited to see this Q&A! There were 3 actors in this Q&A: Ken Kirzinger, Brendan Fletcher, and Zack Ward. Need a bit of help relating them to the movie? Ken plays the role of Jason Voorhees. Brendan plays the role of Mark Davis (The guy who was in the psychiatric hospital). Zack Ward is his brother in the movie. Yes, the one who was in a bath full of blood! The Q&A was great. It was so much fun to hear movie about the movie. Zack Ward was incredibly funny. Sharing his story about how they shot the bath scene. It was awesome to see. He described how he walked around with the 'blood' attached to his arm (You can see him showing it in the picture). It was fun! 
Zack Ward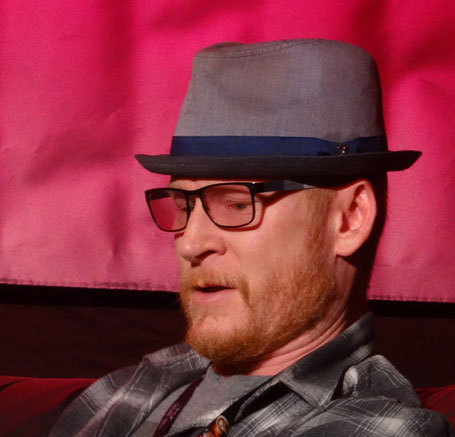 Okay, I know you guys always love some background info. So here we go! Let's talk about Zack Ward. Zack was one of the guests at Weekend of Hell 2016! I was very excited when Weekend of Hell announced him as a guest. I have seen the movie 'Don't Blink' on Netflix and watched Freddy vs Jason as well. Many people know him as Scut Farkus in A Christmas Story (1983). I have seen that movie as well. But only after watching Don't Blink and Freddy vs. Jason. 
Zack is not only an actor but also a director and producer. For Don't Blink, he both produced and acted. When I went to get an autograph at Weekend of Hell (I will tell you ALL about it below!!) they also gave me a flyer of his new movie: Restoration. Have any of you already seen it? Let me know what you thought of it!  The movie has been directed by Zack Ward (he's one of the writers as well). He also plays the role of Harold Stone. Restoration is a horror movie about a couple that moves into their new home. They discover an old teddybear with a girl's diary. Strange, supernatural things start to happen as from then.. 
As soon as I have this movie on DVD, I'll write a review about it for you! 
Zack Ward was at Weekend of Hell all 3 days. He seems like someone who loves chatting to everyone. When I walked by, he was often either talking to fans or talking to other actors. 
Getting the autograph!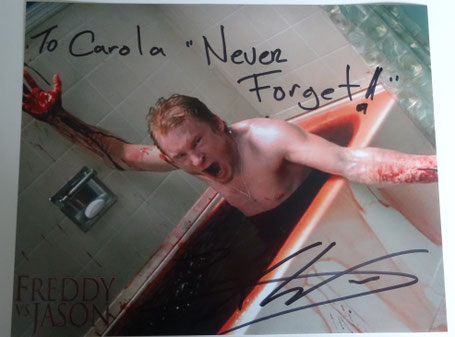 Nope, I didn't chicken out. I did it! Ok, I have to admit: It was a close call. We saw the Q&A on day 1. And I already knew I wanted an autograph. But most of you know me a little by now.. I'm not such a tough cookie. Of course I am! But just not at the particular moment that I want to get an autograph ;). I really did my best to chicken out and run. But Liv made me do it! (Thanks Liv ;) ). 
It was day 2. We had time to get an autograph. But:There was someone at Zack Ward's table. I mean: Then I can't go right? you understand that! I don't wan to queue, if not totally necessary. I don't want to rush someone. and I don't want to feel rushed myself either! Therefore, I decided to walk around one more time. Just wait a little bit longer. And again. And again. And another time. But really, there was no other way! And then walked by so many times, I looked foolish. Well, when you look foolish, that's exactly the moment to go right? We can agree on that!
But of course, at some point you have to go. Otherwise, you'll miss your chance. And we wouldn't want that to happen right? Nope.   I even bought him stroopwafels. So I hád to give him these. But wait.. not yet. Just one more round.. Liv started singing 'This is the moment' in my ear. Which made me confused, scared, chicken out, laugh and man up at the same time. Haha. Liv knows how to give me the little push I need. It's a good thing. But of course not at that particular moment ;). 
Ok, breath in, breath out. It can't be that hard. I decided to do it. Let's do this! And there I went. Off to the table where Zack Ward was sitting. No, don't even think about it. I wasn't able to do a normal conversation haha. I babbled/ coughed something like that I had seen Don't Blink and Freddy vs Jason. And I picked the blood bath photo. Still feeling nervous. Of course. Liv filmed the whole thing. And just looking at it makes me feel the same way again haha. Zack Ward was actually a very kind guy haha. No need to be so nervous. I gave him the stroopwafels. He was very happy with it. Hope liked them if he tried it out!