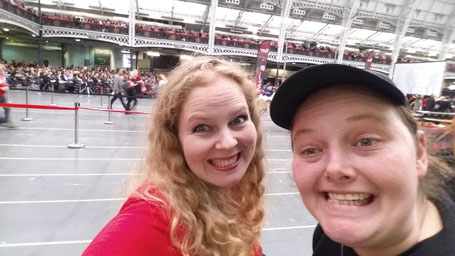 The title of this post already gives away a little bit of what this will be about.. Though it's not only funny moments, but also embarrassing moments. They'll probably be funny for you ;). Liv and I made a series of vlogs to show you the things that happen when we attend comic cons. This is part 5. Have you checked out the other parts? 
We (read: I, Carola) say the strangest things. And, really... I don't mind haha. It keeps things alive and interesting. It's just: When you meet an actor you really like often you can't say anything at all. I'm having a sort of brain freeze.  But sometimes, just sometimes, I feel courageous and I start talking. And then, then the strange things happen. It's hard to explain. But then again, it also happens when I don't speak.. Check our vlog about meeting Kim Coates! And hey, we have to live this life the best we can right? Like the themesong of Sons of Anarchy already tells us: 
"This life is short, baby that's a fact
Better live it right, you ain't comin back.
Gotta raise some hell, 'fore they take you down
Gotta live this life
Gotta look this world in the eye
(...)
You better have soul, nothing less
Cause when its business time, it's life or death
The king is dead, the light goes on
You'll lose your head when the deal goes down
Better keep your eyes on the road ahead
Gotta live this life