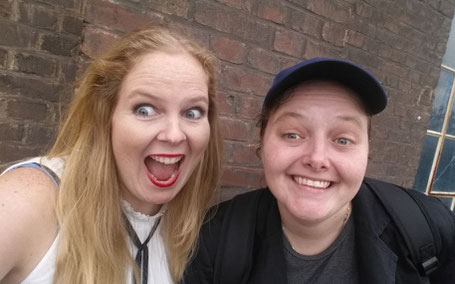 Liv: After a post from F.A.C.T.S. about an article in "De Morgen", I decided to read it and I feel like I have to respond. The article is written by Tim F. van der Mensbrugghe and he writes about his visit to F.A.C.T.S. The first sentence of the article irritates me intensely and it's just the beginning. It says: "Ten thousands of freaks visited FACTS last weekend…" The meaning of the word freak is: a person or animal that is extremely unusual and not like any others of his type. First of all, correct me if I'm wrong, the fact that the article talks about ten thousands of freaks completely contradicts the meaning of the word freak. But more importantly how are you a freak just because you like movies, series, comics, games or anime? The article states that the reporter felt like a freak because he was not dressed up. Well there are a lot of people who are not dressed up at FACTS or other conventions (me included) and that is just fine. In the rest of the article the reporter talks about nerds, freaks and geeks and he goes out of his way to talk down almost everything that has to do with convention life. Well let me tell you one thing about these freaks, geeks and nerds: they are the friendliest, kindest and most creative people you can meet. The cosplayers, yes Mr. van der Mensbrugghe that is what they are called, are a very important part of the whole convention experience. The most important part of cosplay is to respect each other and respect everyone for what they are. People can be their selves or can dress up like their idol and there is nobody that judges you. Well unless of course in case of the cosplay contest. I know there is some satire in this article,but
the part about the parents and their children who attend is the part that irritated me the most. He literally writes: Help! The nerds are procreating. Yeah well Mr. van Mensbrugghe I sure hope so, because a lot of "Normal"people can take example from these so called nerds. Like you said then thousands of people and no fighting or aggression. The only fights you can find at a convention are drawing battles or choreographed fights in the cosplay contest. This is pretty exceptional for an event with that many visitors. Go take a look at the average football match or dance event for example. These nerds probably teach their children to accept people like they are and to be their selves.
The writer of the article calls people that attend conventions freaks geeks and nerds. Well I guess I am a big nerd and guess what I'm proud of it!
Carola: I'm not mad and I really believe that writing should not be about negativity and writing bad stuff about someone.  So I'm not going to do that. I was disappointed reading the article. I don't want to go into the article too much. But what disappoints me the most is the use of the word 'freak' and the preconception, that people don't have anything outside Comic Cons/ cosplaying. I'll illustrate this by two quotes from the article (translated to English) 
"They wander from stall to stall, looking for artifacts that will open the gates to the ultimate escapism, away from reduced minimum wages, exploding Muslim terrorists and felled forests. "  and (About the bus driver): "He leads the freaks back to a life without fantasy, where bickering about free trade is the biggest news." 
Uhm, no! I'm not expecting any 'artifact' to bring me to another world. I don't earn minimum wage (And why does this even matter. I mean: What does it tell about anyone?). I'm not escaping everything. It might be shocking for some: But I have a great life and I love it. Going to Comic Cons isn't an escape. It's my hobby. And it makes me happy. But we're not no one outside of the walls of a Comic Con.  I'm just wondering: Why would you say that? That's really my question. You don't know all this people and clearly don't understand. Why say such a thing. A thing that isn't true. 
I love comics, movies & series. Comic Cons are awesome! I love the ambiance, the people, the cosplayers. I feel at home at a convention and made so much friends already. And I'm proud of that. Proud to be a part of it. And to see how everyone respects one another. ow everyone at a con is willing to help. 
Rather than focusing on the article, I'd like to talk about the way of writing. Of course we thought about our way of writing and what we wanted to achieve when we started Conmose. We write about movies, series, cosplay, comic cons and anything related. Of course: Sometimes I don't like a movie or was disappointed by a comic con or a guest I met. What do I do? I do write about it. I mean: It is about being honest in writing about these subjects. But we decided upfront: We just don't be about bashing people or cons. If I'm disappointed in meeting an actor, I will tell what I encountered. I will tell about it and what I felt. But I'll never, néver tell people that someone is a jerk, or that you should never go and see them. Because hey, this was my experience. All I can do is share. But it might be different for you. We also decided to write how we want. About what we want. I don't want to write 'popular' or make controversial statements to gain more visitors. It's all about being yourself. In our blogs and vlogs, we just are who we are. That's why we share our embarrassing moments with you and show when we're insecure at a Comic Con. And you an be who you are! And that's all right. Because we're all different. Nobody is perfect. Let's embrace that, share experiences and have respect for everyone.