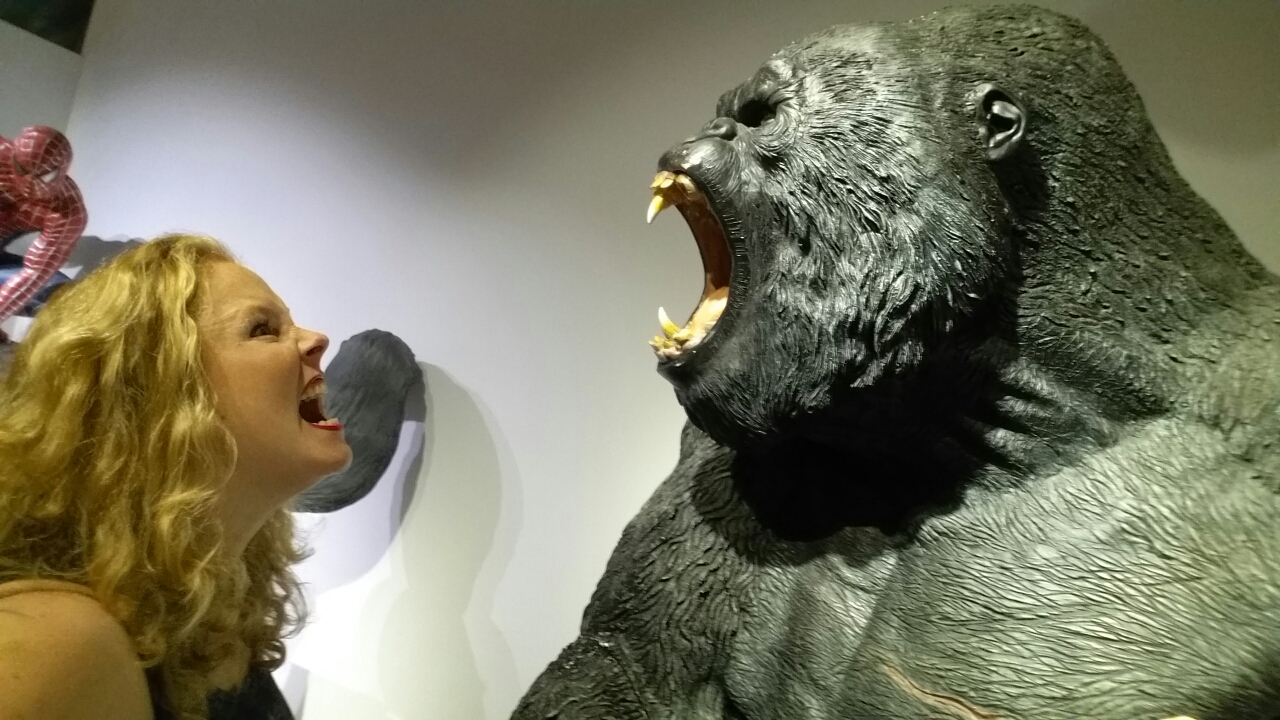 Sig and I were on holiday in Krakow (Poland). There, we visited the Polonia Wax Museum. I'll share our experience with you. To give a fair impression of the museum, I'll discuss it as a whole and not only the part about movies. Let's talk about the museum! I know the Wax Images Museum in Amsterdam. That's really huge and gives you some great photo opportunities. So of course I was happy to see that Poland has a Wax Museum as well! If you're not familiar with the concept: It's a museum with images (sculptures) made out of wax. Mostly singers, actors, politicians, sportsmen etc. So it's a nice opportunity to make photo with them if you haven't or won't meet them in real life.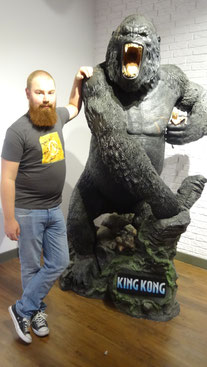 I had already checked Tripadvisor before going to the museum. On Tripadvisor, people can leave reviews of hotels, museums, cities, restaurants etc. It had some mixed reviews. (There were only had around 33 reviews. And it got 3 out of 5 stars. Opinions were mixed. From "Great" to "Small and expensive". But hey, we need to write about these things right? So we went.  (Without really high expectations). 
The museum is situated at the old town square in Krakow and is easy to find. Looking at the museum, you see the entrance with 2 images already: Dobby (Harry Potter) and Albert Einstein. The museum has several kinds of images. It starts with religious figures, than politicians, sportsmen and the last part is about movies.  
The goal of the Polonia Wax museum is to show about the history of Poland and the world. To make you feel like you stood next to these important people. The museum was actually founded in 2016. So it's still very young! On their website, they write this is just the beginning. They will keep developing & creating to expand their current exhibition. Now let's talk about what we saw inside! 
Religious figures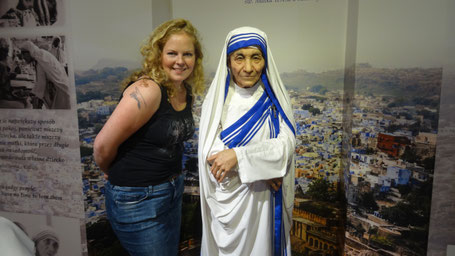 The museum started with some sculptures of religious figures like the Pope, mother Theresa. At each image/ statue there was information about this person. I took the opportunity to take a photo with the image of mother Theresa, as you can see in this post. Of course we did see more sculptures. I'll highlight a few: 
Father Tadeusz Rydzyk: He is a Polish Roman Catholic priest and Redemptorist. He's also the founder and director of the conservative radio Maryja station. He also founded the the University of Social and Medial Culture in Toruń. 
Maximillian Kolbe: We had already heard about him. And seeing this wax sculpture was very special. We heard his story during our trip to Auschwitz. He volunteered to die in place of a stranger in the German death camp of Auschwitz. He has been declared The Patron Saint of Our Difficult Century by Pope John Paul II. 
Politicians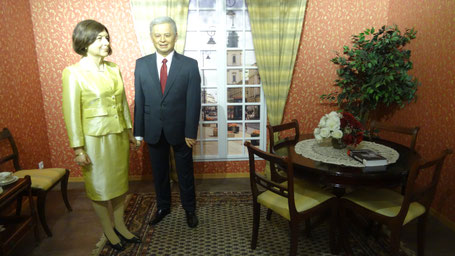 Next were the politicians. (Polish politicians). We saw for example Lech Wałęsa, a retired Polish politician and labor activist. In 1983 he received the Nobel Peace Prize. He wa president of Poland from 1990 to 1995.  We also saw Lech Kaczýnski. He was president of Poland from 2005 to 2010. He died on 10 April 2010 in the crash of a Polish Air Force jet. It happened during the attempt to land in at Smolensk-North airport in Russia.
At this part of the museum we learned a lot about Polish politics and saw the main important figures for Poland. It was quite interesting ! After this we saw few images of important athletes. For me that was the least interesting. But if you're really into sports, this might be fun. But this part only contained 4 images. 
Movies!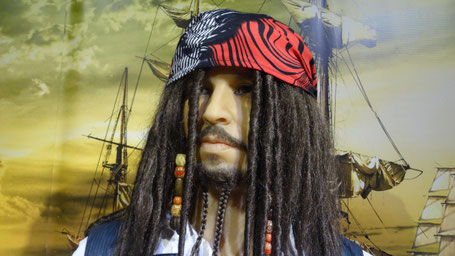 Then, it was time for the part of the museum about movies! I have to admit immediately: This was the most disappointing part! There were only 3 sculptures made out of wax. These were from Pirates of the Caribbean. The images we saw earlier in the museum were of really good quality. These sculptures from Pirates of the Caribbean were ok. I wouldn't recognize Johnny Depp in it though. Check out the picture here yourself. Let me know in the comments. Do you see Johnny Depp in this sculpture? The other statues (in the movie part) weren't even wax. They were more like low quality images from latex or plastic. They actually don't belong in a wax museum. There was no information at all for these sculptures. For some, I don't even know who they are supposed to be. The statues we did recognize were: 2 from Avatar, 1 from Ice Age, the Hulk, a Power Ranger and Spider man. Sig and I had fun making pictures (as you can see below), but some the images were also in quite bad shape (King Kong missed a tooth for example.  
Overall Thoughts Polonia Wax Museum
- Seeing the religious figures and politicians was interesting for us. There was enough information available in English. I liked learning more about Polish history. 
- Sports: There were only 4 sculptures of athletes. It was ok, but for me not particularly interesting. 
- Movies: We had fun making pictures but the images looked far from real and some were in quite bad shape. They were not made out of wax (except for the ones from Pirates of the Caribbean). 
- We spent about 20 minutes in the museum (And we réally rook our time) 
- We payed about 32 zloty to get in. Compared to other museums we visited, this was VERY expensive. ( usually we payed around 10-15 zloty which is 2-4 euros/ dollars.