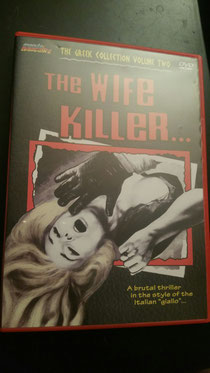 Hi! Today we're introducing a new and monthly blog: Movies we watched last month! We will tell you all about all the movies we saw! Since we don't write reviews on everything we watch, this is a nice way to show you what we have seen. If you'd like to see a review of a movie, or want to know more, just let us know in the comments! 
The first movie I watched in September was "The Wife Killer".  I watched it at home with Sig.  It was one of the movies Sig had bought at Amsterdam Comic Con.  It's a Greek horror movie  from 1976. Duration: 87 minutes.  Plot: Jim wants to marry his lover Laura. But: he's already married!  To a rich woman.  He hires someone to kill his wife so he can inherit her millions.. 
This is movie that might be hard to find! At least if you're searching for this title.. This movies is known under several names. When I googled the movie, I found it on IMDB as "Death Kiss". But when I opened the link, the movies was named "Eglima Sto Kavouri". The picture of the movies said "The Rape Killer" though...
Well, since my dvd says "The Wife Killer", I'll just stick to that name (even though no one else seems to).
 I thought the movie was nice. I must admit immediately that it's more Sigmund who loves the 'old' horror movies. I'm leaning more towards 1980/1990/2000 movies. (Misery, Child's Play, Scream and even newer: Saw & the Devil's Rejects).But: It was a good watch though!  
De Marathon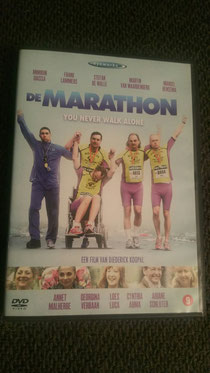 Haha you're probably thinking: What is THIS? Well I can't blame you if you haven't heard of this before. I watched "De Marathon" on a Saturday evening with Sig.  It's been in our collection for a while now. We wanted to see it, but never actually felt like watching it. That's how it goes with some dvds.
Untill one night we didn't know which movie to watch. We decided it was time to finally watch "De Marathon"!  
It's a Dutch movie about a few guys working in a garage.  The garage isn't doing that well. They are thinking of ways to save the garage. Then a marathon catches their eye. They decide to run the marathon to save the garage. They're just not really in shape.. At this the challenge starts. Will these guys be able to finish the marathon?  Duration of the movie : 112 minutes. Genre : Drama/ Comedy
It was ok to watch.  It was quite funny, I liked the humor and the cursing. I know, it must sound really bad that I like the cursing. It's hard to explain. Well, I have to right? Otherwise I shouldn't write all of this own (#youonlyhadonejob). Usually I'm not that much up for swearing in movies. But in this, it fits the way they want to present the group, the rawness and the state that they're in. I can just see them do it. I can feel the frustration.  It gave the movie a raw edge.  But I have to admit : it's no longer a part of our collection anymore..  That is due to the predictability of the movie and there was a bit too much drama in the end. I just felt the movie couldn't be this light/ funny and have this drama and sensitivity as well. It just didn't carried out as well as I'd hoped. 
The Manson Family
"The Manson Family" was our Sunday evening movie of the first week of September.  It's a thriller and takes 99 minutes.  This was one weird movie! I can tell you that. It's about the notorious Manson Family murders. But in the form of super 8 movies. It's a mix of styles: Movie, documentary, interviews. Somehow this didn't work for me. I was just watching from a distance. Not getting close to the story or what they wanted to accomplish with it. The movie contained a lot of sexuality and graphic violence. It was all a bit too much for me and too straggly. We did keep the dvd in our collection. It wasn't too bad. (And Sig thought the movie was ok). 
Un Blanco Vestito per Mariale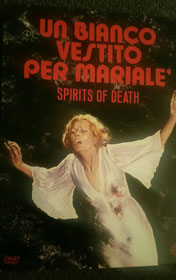 We also watched "Un Blanco Vestito per Mariale". This is an Italian horror movie!  On Imdb you'll find this movie as "A white dress for Mariale".  Alternative titles are "Spirits of Death" and "Awaited Death". The movie is directed by Romano Scavolini. Sig has bought this dvd recently: At Comic Con Amsterdam!  The movie takes  85 minutes and is from 1972. 
A child sees her father kill her mother. Years later, she lives in her husbands castle. She doesn't have much contact with other people. So she decides to invite some friends over to have a little bit of fun. Then, the first dead body turns up. And this is only the beginning.. 
Actors in this movie are for example: Ida Galli, Ivan Rassimov, Luigi Pistilli.
The Mechanic: Resurrection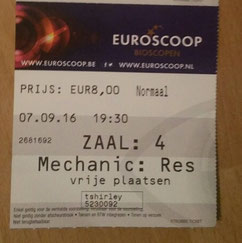 Of course I went to see "The Mechanic: Resurrection" in the cinema! As I've told you before: I'm a huge Jason Statham fan. And I watch literally every movie he stars in. I've seen "The Mechanic" already (only the one with Jason Statham. I haven't seen the original version with Charles Bronson yet). In t)"The Mechanic: Resurrection", Arthur (Jason Statham) is forced to do 3 impossible assassinations and make it look like an accident. Otherwise they will kill the girl he loves. 
To be very honest: I was disappointed by this movie. It was a typical action movie with way too many obvious events. Way. Too. Many. At first I was optimistic. I thought: This is going to be good, surprising and original. But at the times I thought: This is SO obvious.. He (Arthur) needs to know better.. It just exactly was what it looked like. There were some surprises at the end. But not the big reveals I had hoped for. All in all it was a good action movie. Great action scenes (loved them!). It's just.. You'll have to bear the predictable plot! 
The Dreamers
One night, we decided to watch an arthouse movie. We looked through our dvd collection and decided to watch "The Dreamers". The movie is about a young American who is studying in Paris in 1968. He becomes friends with a French brother & sister. They share a passion for film. While other students riot, they stay in their home. Deciding their own rules and experimenting. 
I didn't really like the movie. It didn't go anywhere and was sometimes just to awkward to watch. Sufficient to say: This movie is no longer part of our dvd collection. 
Demons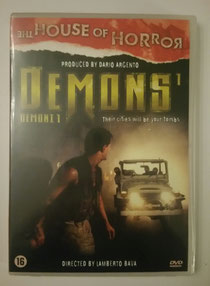 "Demons" (a.k.a. "Dèmoni") is an Italian horror movie from 1985, produced by Dario Argento. The duration of the movie is 84 minutes. Imdb even classifies this movies both as horror and Romantic.  Strange, isn't it? 
A few people are going to see a movie in a new cinema. One of the visitors puts on a scary mask for fun, but scratches herself. Later, she sees that the same happens in the movie they're watching in the cinema. And like in the movie, the wound began to fester. Soon she starts to change into a bloodthirsty demon. Whomever she hurts, awaits the same fate as her.. And to make it even worse: The cinema is closed, so they're trapped..
I love zombies, zombie movies, zombie series. Everything :). Of course not all of them are just as good. But in general, it's a genre I like! I liked this movie as well. There's enough tension & gore!  
Auschwitz: the Nazis and the final solution
I will write a separate post about this documentary, so I won't tell too much about it yet. Netflix recommended this documentary for me. And it was good timing. Sig & I would visit Krakow the week after. And we also wanted to visit Auschwitz. So we decided to watch the documentary (Which is rated a 8,7 at Imdb) before going to Krakow. I will write about this documentary & our visit to Auschwitz later.
I can just say it's very good and informative documentary. It's definitely worth a way watch if you want to know more about Auschwitz.  
Robocop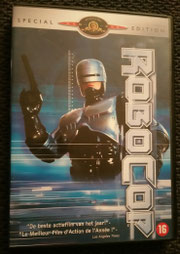 At the moment I'm a bit bitter, writing about "Robocop" haha. So you're warned ;). Peter Weller (who plays Robocop) was announced as a guest for Weekend of Hell (A horror convention). I already knew him for his role in Dexter. So was excited to watch more. And decided to see "Robocop". I hadn't seen the movie yet so I thought it would be a nice preparation for Weekend of Hell. Unfortunately, today I read the news that he had to cancel Weekend of Hell (He needs to be in Honolulu for work). 
But: On to "Robocop". You're not here to hear my complaints ;). I actually liked the movie. And was planning on watching part 2 as well. (I'll now have a bit more time for that). In "Robocop", a terminally wounded cop returns as a powerful cyborg. Things start to get complicated, when he's haunted by memories.. 
Liv
Red 2
Saturdaynight, what to do? Ahhh Netflix to the rescue! I loved the movie "Red" and I've been meaning to watch the sequel for quite a while. The movie has to be somewhere in my collection, but I don't feel like looking for it, so I'm delighted to find it on Netflix.  Duration: 116 minutes. 
I liked the movie, but not half as much as I liked the first one. It's a nice way to spend your Saturday evening and a true popcorn movie (don't think just eat and enjoy yourself). 
"Red 2" is about a group of retired, but still extremely dangerous (and somewhat crazy) special agents. Bruce Willis plays the role of Frank Moses, but there are alot of great actors in this movie. What to think of Helen Mirren, John Malkovich and Anthony Hopkins. Mary-Louise Parker is pretty cool in her role of Sarah (Frank's girlfriend).
The Call
Back from vacation and back to real life! Time to watch a movie. I browsed Netflix and found "The Call" , a 2013 crime thriller, starring Hale Berry. The movie is about 911 operator  Jordan(Hale Berry), who gets a call from a girl that is about to be kidnapped. Jordan is a veteran at her work, but she makes a mistake and the girl ends up being murdered. Jordan  holds herself responsible for this and she quits being an operator. Six months later we see her being a teacher at the 911 headquarters. When she is doing a round on the floor with some new trainees, there is a call from another girl being abducted. The girls calls from the trunk of a car and Jordan has to take over the call, because of her experience.  AThat is the beginning of a race against the clock to find the girl. 
I thought the movie was ok. At some points the story is  kind of predictable, but it was suspenseful enough to keep me interested. It was nice to see Hale Berry again and I thought Michael Eklund was good in his role of the bad guy. The movie has a duration of 94 minutes and that is just long enough to keep the movie exciting. Conclusion: It is ok, but nothing special. But worth watching on a monday evening!